Research
Health, Risk, Society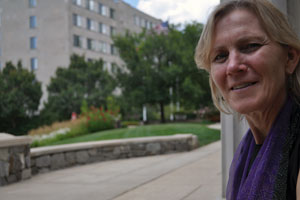 Hard science is the bedrock of medical training, but as Kim Blankenship sees it, social science should be a core element. 
"Health and medicine are very social," says the new Department of Sociology professor and chair. "There are biological components to health that are very important, but you can't promote health without understanding the social dimensions."
It's not enough, for example, that medical research on HIV/AIDS, Blankenship's area of expertise, tends to focus on bio-medical technology.
"A vaccine can work 100 percent of the time, but if people don't want to take it because of religion or suspicion of the government, it won't work in reality," says Blankenship.
Blankenship is helping to launch a departmental initiative to introduce a health and society component across the sociology curriculum. She will also spearhead the creation of the Center on Health, Risk and Society, a multidisciplinary, university-wide group of scholars who share an interest in health-related issues.
In recent years, Blankenship's work on the social and legal implications of HIV/AIDS has earned her national recognition. She has received multiple research grants, including one from the Bill and Melinda Gates Foundation, to study community mobilization interventions addressing HIV/AIDS risk among female sex workers in India. She is also working on a project funded by the National Institute on Drug Abuse to analyze the impact of movement between the criminal justice system and the community on HIV/AIDS risk and race disparities in risk.
In 1986 Blankenship joined Yale University, where she was a professor in the Department of Sociology and an associate research scientist in the Department of Internal Medicine and the Yale School of Public Health. In 1998 she became associate director of Yale's Center for Interdisciplinary Research on AIDS. She joined the faculty of the Duke Global Health Institute and the university's sociology department in 2008.
Blankenship looks forward to bringing her public health expertise to both her research and her teaching at AU.
"I'm impressed with the commitment of the department and the university to build research in general—and particularly on the social determinants of health—and with how they balance this interest with a commitment to strong undergraduate education," she says. "I like being able to have that combination."