Arts
Sotheby's London Semester: Where Art Meets Business
American University's Arts Management Program is celebrating 10 years of a successful partnership with Sotheby's Institute of Art, which gives its students an opportunity for 15 weeks of intensive study in London. The program combines academic learning with real world experiences, giving students a 360-degree view of the art world and access to the world's largest art business. Alumni have gone on to work at the Smithsonian Institution, American for the Arts, the Mansion at Strathmore, Portland Japanese Garden, and many other arts institutions.
"Our 10-year partnership with Sotheby's is one of many ways our program connects students to the wide world of arts management," says E. Andrew Taylor, interim program director of American University's Arts Management Program. "Students benefit from the widened horizon and the deep dive into the business of visual art. We all benefit when those students bring their insights and experiences back into our classrooms."
The Sotheby's Experience
Program alumna Marie Sicola (MA arts management '20) went to London as part of the Sotheby's program during her time at AU. Sicola has worked as a local arts programmer, a gallerist, and now as an operations associate for the Smithsonian Institution's Arts and Industries Building. She believes that each of these positions has given her the opportunity to see the power of art in individual lives, communities, and society.
But the Sotheby's experience was unique. Sicola says the experience taught how to effectively communicate and work with people from all over the world. And it gave her a deep knowledge of the museum world. "I learned so much about museum work and the many jobs that exist to make a museum exhibition come to life," she says. "Like most study abroad programs, the Sotheby's experience also taught me how to live in another country and learn in another country, which I found incredibly valuable for my personal growth."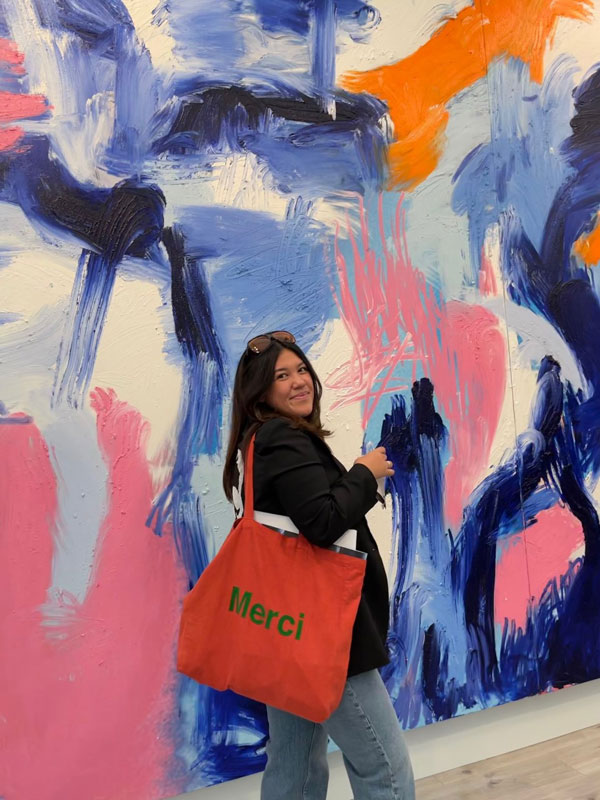 Carissa Jimenez, a current AU arts management student at Sotheby's London this semester, says that her time at Sotheby's has widened her knowledge about the complexities of the art market and how to navigate through it. "There are so many things that I absolutely love about this program. I have met so many amazing people from all around the world, some of whom have become my closest friends," she says. "Guest speakers from across the art world spectrum have visited and lectured about their experiences in the industry and what they have learned from it. We've also seen so much historically famous art in person that I had only read about in books or online. Additionally, we have visited many museums and galleries across London with an exclusive look on exhibitions, shows, and auction sales."
Immersed in Art
Sicola says the thing she found most valuable in the program was the structure that allowed visits to a different museum or gallery every day. The location of London's Sotheby's campus facilitates this, within walking distance of the British Museum, National Gallery, and Sotheby's Auction House, as well as many art galleries.
"In the mornings we would have lectures with guest speakers who were professionals in the field, and then in the afternoon we would go to a museum/gallery and apply what we had discussed in the morning," Sicola explains. "I found it to be a very fulfilling way to digest information. It made me love museums and galleries so much more and really see why learning about the specific details mattered."
Jimenez is having a similar experience. "What is amazing about the Art and Business course is that you spend half the week learning about the business of art, and the other learning about modern or contemporary art history," she says.
Jimenez wants to someday open her own gallery, making a space and providing more access to art education and development opportunities for minority artists and artists from underrepresented communities. She says that her understanding of the business side and history of art, thanks to Sotheby's, will play an important role in her work to open her own gallery.
More Art Than You Can Imagine
Both Sicola and Jimenez would recommend the Sotheby's program as a unique part of the AU arts management experience. "I would tell a student they should do a semester at Sotheby's because they will see more art than they could ever imagine, meet some of the most interesting people, and experience an inspiring international art community," says Sicola. "Plus, traveling around Europe while you are in London is so easy!"
Jimenez agrees. "If you're considering the Sotheby's program, whatever course you may choose, take the opportunity to go," she says. "I have met lifelong friends, made wonderful connections with professors and speakers, and experienced living in London, which is another whole experience!"
Taylor points out that Sotheby's has been a wonderful partner to American University over the past decade, and he's looking forward to the next ten years. "Sotheby's is continually impressed with the quality and commitment of our students. And we are thrilled with the content, care, and connections they offer those who dive into the immersive London learning experience," he says.