Science
STEAM Faire Goes Virtual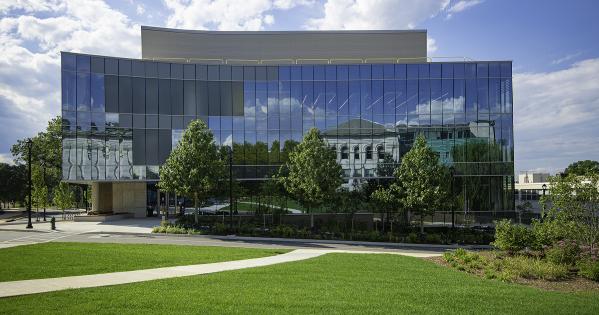 This year, American University's STEAM Faire went virtual, featuring an informal virtual tour of the Don Myers Technology and Innovation Building (DMTI) followed by a Q&A session with STEM student group leaders. The event ended with a special opportunity to tour (virtually, of course) the life sciences and chemistry departments in the brand new, 125-square-foot Hall of Sciences. The Hall of Sciences is the latest development in AU's ambitious commitment to further scientific research to address some of the world's most pressing problems, from environmental degradation to disease and health disparities.
The tour of DMTI was hosted by Kathryn Walters-Conte, AU Director of STEM Partnerships and Outreach. Participants got to see the American University Center for Innovation, which showcases student entrepreneurship and is the home of AU's ICorps Program. The tour then went down the hall to see Professor of Physics Nathan Harshman, who talked about the Physics Department, ongoing research, and the Design and Build Lab where students can bring their ideas to life. Finally, the tour ended with Andy Phelps, Director of the AU Game Lab and a Professor of Film and Media Arts in the School of Communication, to discuss innovations in game technology.
After the tour, student leaders of various STEM clubs and groups convened via Zoom to introduce their clubs and answer questions. The clubs cover a wide range of STEM interest and include the Aerospace Society, Not Math Club, BioClub, Public Health Society, Phi Delta Epsilon (Pre-Medical Fraternity), and HOSA: Future Health Professionals. Underrepresented Students in STEM was also present, which aims to address underrepresentation in STEM fields.
Finally, the STEAM Faire concluded with another informal tour led by Walters-Conte, through the life sciences and chemistry departments of the new Hall of Sciences. It began with Meg Bentley, Senior Professorial Lecturer and Director of Biology Teaching Labs, showcasing the amazing new tools and instruments available for students in the introductory biology labs. The tour then went to the Chemistry Department to talk with Matthew Hartings, Associate Professor of Chemistry, about the work being done in the new research labs. Next, the tour moved on to Monika Konikleva, Associate Professor of Chemistry and her research assistant, pre-med post-baccalaureate alum Mari Cohen, to discuss their work in the new facilities. Naden Krogan, Associate Professor of Biology then introduced his work with plant development. Finally, Biology graduate student Maria Ochiai and undergraduate Public Health student Taylor McManus talked about the student research experience in their new lab with Katie DeCicco-Skinner, Associate Professor of Biology.
While the STEAM Faire had to make major adjustments this year, it offered a window into the flourishing world of STEM at American University.