Celebrate Science and More: AU's First STEAM Faire on Friday! Tech Talks, Games, Workshops, Prizes, Tours, and Food at new Don Myers Building.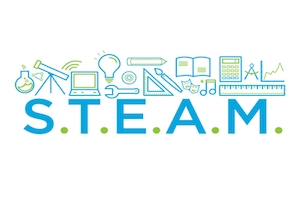 Solar System explosions, racing cockroaches, optical illusions, and an anatomy fashion show … the sciences and arts are coming to life at the new Don Myers Technology and Innovation Building on Friday, October 20, from noon to 4 p.m.
It's American University's first STEAM Faire—a celebration of Science, Technology, Entrepreneurship, Arts, and Mathematics. The event is free, and the entire AU community is welcome to stop by for tech talks, workshops, games and prizes, tours of the new building, and food.
"This is a great opportunity to experience our new, cutting-edge Don Myers Technology and Innovation Building," said Kathryn Walters-Conte, College of Arts and Sciences science coordinator and director of American University's Masters in Biotechnology Program. "It's also a great chance to learn about the exciting science, technology, entrepreneurship, art, and mathematics work going on right now at AU—and get inspired by it."
Exhibits and Demonstrations
Stop by Myers Plaza from 1–4 p.m. to check out exhibits and demonstrations across the sciences, arts and from the Kogod Incubator. From the Society of Physics Students presenting Physics Phor All, to the Kogod Incubator's Technovate! exhibit, to the BRAIN at AU club's What Inside Your Head exhibit, there is something for everyone.

LIGO Keynote Speaker
Want to learn more about American University's Nobel Prize winning LIGO project? The STEAM Faire's keynote speaker is Nergis Mavalvala, McArthur Genius Award winner and MIT Professor working with AU's Professor of Physics Gregg Harry. Mavalvala will speak at noon in the Myers' building's Collaboration Lab (Room 111).
Tech Talks
Join us to listen as American University faculty members present short tech talks based on their latest research. From noon until 4 p.m. in the Myers' building's Collaboration Lab (Room 111).

Workshops and Tours
Check out the AU Game Design Lab, a series of optical illusions, and STEAMworks, the university's new Makerspace.