Arts
Studio Art Program Achievements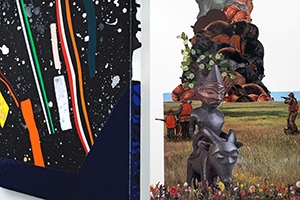 Recent news and updates about Studio Art Program faculty and alumni.
Faculty
Zoë Charlton is a 2014 Rubys grantee in the literary and visual arts. Sponsored by the The Greater Baltimore Cultural Alliance, the artist grant will support work on the Cultural Currency: Tourists, Trophies, and Tokens series.
Zoë Charlton and Magnolia Laurie were finalists for this year's Janet & Walter Sondheim Artscape Prize. Their work was on display at the Baltimore Museum of Art from June 24 through August 9.
Zoë Charlton and Tim Doud's exhibition ally was featured at RandallScottProjects September 12-October 10, 2015. BmoreArt published an article about the exhibition.
Tim Doud's work was included in the RandallScottProjects exhibition at Texas Contemporary, an international art fair in Houston, Texas.
Andy Holtin's work was included in the exhibition Technovisual: Art in the Age of Code at the American Association for the Advancement of Science.
The Gertrude Herbert Institute of Art presented Slow Looking: Recent Works by Don Kimes.
Danielle Mysliwiec's work was featured in the group exhibition Painting, More or Less... at Transmitter Gallery (NY) from October 30 - December 6, 2015.
Danielle Mysliwiec won a Vermont Studio Center (VSC) Fellowship for a May 2016 VSC residency.
Alumni
Michael Dotson is featured in Goop's "15 Young Artists To Watch Now."
Julia Rommel had a successful show at Bureau in New York City.
Peter Russo is the director and one of the founders of Triple Canopy (included in the Whitney Biennial last year).