Science
Sunspots Help NASA Understand Flares and Life Around Stars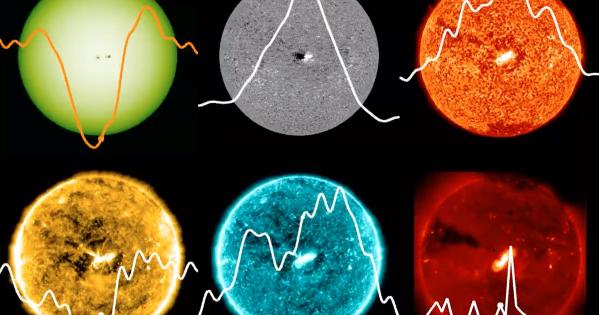 A new study, published in The Astrophysical Journal and co-authored by an international team of scientists including American University's Vladimir Airapetian, looked at transiting sunspots (darkened patches on the Sun caused by its magnetic field) at one pixel, resulting in a simulated view of distant stars.
Our Sun is a magnetic star that powers large eruptions affecting our planet. This simulated view represents the expected signals from our Sun at a distance of light years from us and can help scientists understand stellar activity and the conditions for life on planets orbiting other stars.
Airapetian is an astrophysicist at NASA's Goddard Space Flight Center in Greenbelt, Maryland, as well as a Research Professor in Residence in American University's Department of Physics and a Distinguished Visiting Professor at Kyoto University, Japan. He is a leading expert on the connections between solar and stellar magnetic activity and the conditions favoring the origins of life in the early solar system and other exoplanetary systems, says Philip Johnson, professor and chair of AU's physics department.
"Dr. Airapetian's latest work with colleagues at Japanese Space Agency and Lockheed Martin Corporation is particularly creative and exciting, because it is paving the way for using what they have been learning about our Sun to gain insights about the possible conditions for life around other stars," he explains. This is particularly important for understanding the multi-observatory multi-wavelength observational data of nearby young solar analogs resembling our Sun when life arose on Earth.
Sun as a Star
The study is titled Sun-as-a-star Spectral Irradiance Observations of Transiting Active Regions. "It uses the multi-wavelength observational data of the United States and Japanese space-based observatories studying the Sun over the last ten years to lay the foundation and the framework of a 'Sun as a star,'" explains Airapetian.
"This will help to understand the signatures of flare-producing magnetic starspots transiting across stellar surfaces. This is crucial for decoding the signatures of lights from stars with orbiting exoplanets to assess the radiation from starspot-associated radiation on evolution of atmospheres of terrestrial type exoplanets that can be crucial for habitability. Our methodology can provide new observational strategies to search for signatures of life with the upcoming missions including the James Webb Space Telescope."