Humanities
Nuclear Studies Institute: Teaching for Peace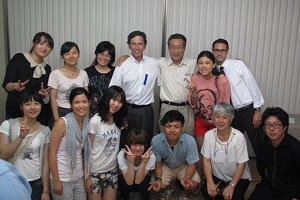 For the past 25 years, history professor Peter Kuznick has been focusing on a topic that most people would rather not touch: nuclear war.
"One of the sad things for me," he says, "is that nobody talks about nuclear history in the United States, and students don't really learn about it."
This is mainly what prompted Kuznick to found the Nuclear Studies Institute at AU in 1995-50 years after the bombing of Hiroshima and Nagasaki. Its mission is to educate the public about the history of nuclear weapons and the nuclear arms race.
Kuznick was also inspired by AU alumna Akiko Naono, whose grandfather was killed in the Hiroshima bombing. During the institute's inaugural summer, he worked with Naono and fellow history professor Valerie French to host an exhibition of artifacts from Hiroshima and Nagasaki, the first such exhibit outside of Japan. Officials in the two cities were eager to find an alternative venue after the Smithsonian Institution cancelled its planned Enola Gay exhibit under political pressure from Congress and veterans groups.
The AU exhibit, which included personal objects, like the lunchbox of an 11-year-old girl who was vaporized in the bombing, endeavored "to grapple honestly with the moral and military implications of the atomic bombings, including the fact that they knowingly opened the door to potentially ending all life on the planet," says Kuznick.
Since that first summer, Kuznick, who directs the institute, has led AU students on an annual study-abroad trip to Kyoto, Hiroshima, and Nagasaki, during which they live, travel, and study with students and professors from two Japanese universities. The educational and cultural exchange is often a deeply emotional and sometimes life changing experience for students.
This past summer,there was the added element of celebrity,when Academy Award-winning director Oliver Stone, Kuznick's collaborator on the New York Times best-selling book and 12-part Show-time television series The Untold History of the United States, joined the trip.
"In Japan, we are looked upon as America's peace university," Kuznick explains.
AU was selected to serve as the center of next year's events in the United States commemorating the 70th anniversary of the bombings. The American University Museum at the Katzen Arts Center will display 6 of the 15 renowned Hiroshima Panels, a series of large murals by internationally acclaimed artists Iri and Toshi Maruki.
The works, which have not been shown in this country for decades, depict the suffering of the bombing victims. Kuznick likens them to Pablo Picasso's painting Guernica and describes the figures depicted in the murals as "ghosts walking through hell."
While the murals are controversial and haunting, says Kuznick, they provide a springboard to get people talking about our history-the bad as well as the good.
"This is essential. Countries have to face their historical responsibility, and educating the public about our past is the first step."