On Campus
Back to School Tips for Undergraduates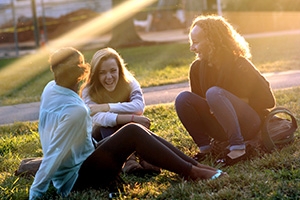 The Undergraduate Advising Office shares words of wisdom for the year ahead:
Get to Know your Professors. Go to office hours and talk, even when you don't have a specific question. These relationships will help you grow, and also will help when you need a recommendation for graduate school.

Schedule Accordingly. Not a morning person? Do not register for classes before 10:10 a.m. Can't stop yawning after 7 p.m.? Then steer clear of any classes starting at 8:10 p.m.

Get Involved. Being active on campus will not only help you perform better academically, but also allow you to expand your social circle.

Take Advantage of Academic Support. The Academic Support and Access Center offers free tutoring for certain classes; the Writing Center will help you shape your research paper; and the Math/Stats Lab will help you hone your skills.

Learn How to Retain Information. Either type or handwrite your class notes over again within a day after class. Information retention is higher when the information is reviewed within 24 hours of hearing it.

Go to the Career Center often. Workshops, networking events, and individual appointments will help you figure out what options you have for your future.

Be Open to Exploring. If you don't know what you want to major in, that is okay! We offer a ton of resources to help you narrow down your options.

Take Care of Yourself. Getting enough sleep, eating right, and exercising will all help you stay healthy and do well academically. We want you at your best!

Study Abroad. When else can you study and explore another country?

Visit your Academic Counselor. Not only are they knowledgeable about the university, they are awesome people and want to get to know you!