Achievements
AU Honors College of Arts and Sciences Faculty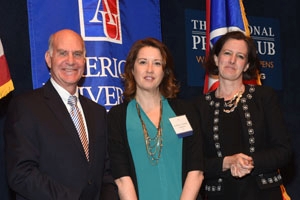 Each year the American University Faculty Awards honor outstanding faculty who have made significant contributions in the areas of teaching, research, and service. This year, three College of Arts and Sciences professors received awards:  
Kathleen Gunthert, Outstanding Teaching in a Full-Time Appointment

Terry Davidson, Outstanding Scholarship, Research, Creative Activity, or Other Professional Contributions

Elizabeth Malloy, Morton Bender Prize 
"We are proud of the work and dedication of these three colleagues, who so greatly deserve this recognition," said Peter Starr, dean of the College of Arts and Sciences. "Their outstanding achievements as teachers, scholars, and mentors epitomize the College's tradition of excellence."

Kathleen Gunthert 
Kathleen Gunthert, professor of psychology, won the 2015 American University Outstanding Teaching in a Full-Time Appointment Award.  
"Kate joined the Department of Psychology in 2002 and immediately made her mark as an exceptional classroom teacher," said David Haaga, department chair. "Both inside and outside the classroom, she combines incisive, critical analysis with a constructive tone, enabling students and colleagues to 'hear' and benefit from her input. She is an outstanding teacher in every setting and in every sense of the word."  
Gunthert teaches a wide range of courses including intro classes, a graduate assessment practicum course for clinical psychology doctoral students, seminars on stress and coping at undergraduate and graduate levels, a survey course in psychopathology, and an honors seminar.  
She also served as editor-in-chief of the Behavior Therapist journal, leads the department's biweekly journal club on emotion regulation research, and serves as a mentor to students in the clinical psychology doctoral program. She chaired the Dean's Advisory Committee in 2012-13 and is currently serving as director of undergraduate studies in psychology. Her research focuses on the influence of everyday stress and coping on depression, anxiety, and psychotherapy outcomes. 
Terry Davidson 
Terry Davidson, professor of psychology and director of the Center for Behavioral Neuroscience, won the Outstanding Scholarship, Research, Creative Activity, or Other Professional Contributions.  
Davidson joined the faculty of the Department of Psychology at American University in 2012, when he founded the Center for Behavioral Neuroscience. His research, which focuses on the relevance of learning and memory mechanisms for understanding food intake and body weight regulation, is published regularly in prestigious journals. He serves as a member of an NIH working group, speaks at national and international conferences, and was recently elected as president of the Eastern Psychological Association.  
"Terry is a first-rate scientist, with a prolific record of publications and grant funding," said Haaga. "At the same time, he has dedicated himself to extensive and highly effective efforts to shape the research agenda of the field, to disseminate science for the benefit of public health, and to facilitate an interdisciplinary, collaborative approach to science at American University."  
Elizabeth (Betty) Malloy 
Elizabeth (Betty) Malloy, professor of mathematics and statistics, won the Morton Bender Prize. 
"Since Betty was granted tenure two and a half years ago, she has been extraordinarily active in research, teaching, and service, developing an excellent record in each, and often taking on leadership roles," said Jeffrey Adler, chair of the Department of Mathematics and Statistics. 
Malloy is known for lending her statistical expertise to many arenas, from health in DC public schools to nicotine addiction to workplace injuries. She develops new statistical methodologies for flexible modeling of exposure-response relationships, and for judging whether a given model is appropriate. One external reviewer said, "Her work will contribute to setting or changing government standards for occupational and environmental exposures, which has the potential to change the course and quality of many lives." 
"Receiving the award was a lovely (and humbling) surprise," said Malloy. "I feel so fortunate for all of my wonderful colleagues, and this really is a reflection of their efforts and all of the opportunities available here."