Achievements
Child and Kraut Named University Professors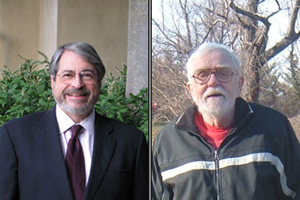 Professors Jack Child (LFS/SIS) and Alan Kraut (History/SIS) have been named University Professors marking careers that are characterized by notable success in research, teaching, and public service.  
Professor Jack Child joined the faculty of American University in 1980 after a distinguished career in the U.S. Army. He has consistently bridged the concerns of SIS and the College in the areas of scholarship, teaching, and service. Child is the author of thirteen books, including major works on the military geopolitics of South America, the Central American peace process, competing strategic claims in Antarctica, and (most recently) the semiotics and politics of Latin American postage stamps. He is a teacher of the highest order—as well known for his authorship of CD-ROM programs in Latin American studies as he is for his guest appearances (as Fidel Castro) in a course on myth, media, and power. Child has served as SIS associate dean, director of the English Language Institute, and founding director of AU's Center for Teaching Excellence (now CTRL). Child's appointment as a University Professor caps a career that has been recognized by a CAS Faculty/Administrator Award for Outstanding Service, a University Award for Teaching in the General Education Program, and an SIS Alumnus of the Year Award.  
Initially trained as a historian of the civil war, Professor Alan Kraut is best known for his work in two additional fields: the history of immigration and ethnicity and the history of medicine and public health. The author of eight prize-winning books, Kraut has held visiting appointments at Harvard and Cornell, at the National Institutes of Health, and at the Francis Clark Wood Institute for the History of Medicine. He serves on the faculty of the Uniformed University of the Health Sciences. His grants and fellowships include awards from the National Endowment for the Humanities, the American Philosophical Society, the American Historical Association, the Smithsonian, and the Eleanor Roosevelt Institute. Kraut is an exceptional teacher, having received both CAS and University awards for outstanding teaching. He was honored as the University's Scholar/Teacher of the Year in 1999. An important "public historian," he has served as a consultant for government agencies and for documentary films including work shown on PBS, the History Channel and ESPN. Most recently, he has chaired the History Advisory Committee of the Statue of Liberty-Ellis Island Foundation.