Science
Preparing to be a Veterinarian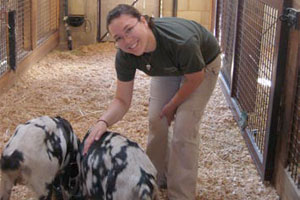 The fauna on campus may be limited to birds and squirrels, but a short ride on the AU shuttle takes pre-veterinary students directly to a winning internship opportunity at Friendship Hospital for Animals where students gain hands on experience surrounded by animals.
Within minutes of beginning the first day of his internship at Friendship Hospital for Animals, Jon Williams, CAS '14, was quickly introduced to veterinary medicine as he was handed a newborn puppy.  He was shown how to wipe the pup clean and suction his nose and throat.  Half an hour later, Jon basked in the glow of a job well done as he watched the newborn pup and his littermates sleeping together in a heated box.
"My internship was very hands on," says Williams. His pre-veterinary internship entailed working with numerous animals and having direct communication with their owners. When not working with the animals himself, he learned through observation.  On a daily basis he watched surgeries "ranging from mundane spays and neuters, to intricate tasks, like wiring broken bones and correcting vision." 
Williams enjoyed his internship for a number of reasons, but most of all because it did not feel like a job.  He explained, "The difference between my internship and a job was that a job is work, a vocation, however, my internship was my avocation. I love animals and I love helping them. That was my job at the internship, and when one's vocation matches pace with his avocation, happiness follows."
Numerous other pre-veterinary students have gained experience at the Friendship Hospital for Animals. Kathleen Kimball, CAS '12, gained vital hands on experience at the hospital which ultimately helped her secure an animal management internship at the Oakland Zoo in California.  At the zoo, she cared for eight different types of animals--feeding them, cleaning the exhibit, and conducting basic weekly training.  "It was a priceless experience for a pre-vet student like me to have, especially since there was such a wide array of creatures to care for, not to mention a one-of-a-kind outlook on each of their personalities and health histories."
These internship experiences complement pre-vet students' coursework while giving an opportunity to affirm career aspirations. For more information about pre-veterinary student internships, please contact Dr. Lynne Arneson at larneso@american.edu.