Achievements
Students Honored with WGSS Feminist Research Award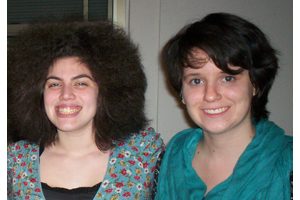 Kathleen McKenna (WGSS and sociology '12) and Carmen Rios (WGSS and public communication '12) are the first two recipients of the WGSS Feminist Research Award. This award is given to WGSS students who show rigorous and engaged intellectual inquiry in topics pertaining to women's, gender, or sexuality studies. Selection for this award is also based on the effectiveness of students' research to incite social and political action on women's, gender, or sexuality issues. Upon receiving the first Feminist Research Award in the fall of 2011, Kathleen McKenna and Carmen Rios presented their research at the 2012 College of Arts and Sciences Student Research Conference. Kathleen's presentation was entitled, "Trapped by the State: Exploring the Struggles of Incarcerated Trans Women and How Prisons Can Protect Them" and Carmen's presentation was entitled, "Creating a Successful Campaign Strategy for Reducing Sexual Violence on College Campuses."
Kathleen McKenna's award-winning research addresses the experiences of trans women who are incarcerated in prisons. McKenna examined oral and written histories, often via pen-pal, describing lived experiences of trans women currently and previously incarcerated in the U.S. McKenna compiled their stories, struggles, and suggestions for prison improvement in a zine to explain the conditions trans women face from arrest to incarceration. McKenna felt that making a zine would make this information widely accessible to a non-academic audience, including prison justice activists. In the end, McKenna's zine and research reveals the startling frequency of violence faced by trans women in prison. Mckenna states, "Violence against trans women in prison goes largely underreported, and most prisons are not focusing on harm reduction." McKenna hopes that her work will inspire future improvements for protecting this vulnerable population in and outside of jail. 
Carmen Rios, current Director of Women's Initiative, was the co-recipient of the Feminist Research Award for her efforts to end sexual violence on college campuses. Rios says, "the topic of sexual violence is consistently relevant to college-aged women, since one out of every four undergraduate women will experience sexual assault." Consequently, Rios conducted research on how campuses have taken action to educate students on the topic of sexual violence, rape, sexual assault, stalking, and dating violence. She specifically studied the primary prevention approach that works to reduce the number of incidents by stopping them before they occur. Rios found that some programs taking this approach have been highly successful, while others have not. Drawing from a combination of case studies and personal interviews, Rios helped create an efficient and successful education curriculum for (con)sensual—the educational campaign about consent at American University. Working with sex educators, university administrators, and activists, Rios hopes that her research will make (con)sensual available to campuses nationwide, and create a brand that works to eliminate rape and other forms of sexual violence at universities. 
For more information on the Feminist Research Award and application process, please contact Dr. Gay Young at gyoung@american.edu.