Arts
When the Students Run the Show AU's first Corcoran Legacy Collection exhibit opens, curated by students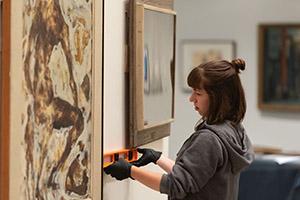 What inspires a major art exhibit?
Eighteen lucky AU graduate students found out firsthand as they assembled the debut exhibition from the massive art collection donated to American University by the Corcoran Gallery of Art.
The 87-piece show, which opened at the AU Museum this week, is called Moves Like Walter: New Curators Open the Corcoran Legacy Collection. The inspiration behind the show is American art curator Walter Hopps (1932-2005), described by the Washington Post as a "sort of a gonzo museum director — elusive, unpredictable, outlandish in his range, jagged in his vision, heedless of rules."
The students studied Hopps last spring in a curatorial practice class taught by AU Museum Director Jack Rasmussen. Hopps, who briefly served as head of the Corcoran, was known for being erratic, challenging, and always, always late. Yet he brought a fiercely personal and imaginative perspective to the curatorial process — one that the students embraced as they conceived, curated, and supervised installation of the exhibition.
Corcoran Legacy Collection: A Once-in-a-Lifetime Gift
Rasmussen started by giving his students access to AU's Corcoran Legacy Collection, an incredible collection of nearly 9,000 artworks acquired by the university after the Corcoran closed in 2014.
Rasmussen described the acquisition as a "once-in-a-lifetime opportunity." It includes works by masters Pablo Picasso and Rembrandt; Italian painter Titian; German Renaissance painter and printmaker Albrecht Dürer; and American artists Winslow Homer, John Singer Sargent, and Andy Warhol. The collection also features Washington-region artists including members of the Washington Color School and figurative artists Sarah Baker, Manon Cleary, and Claudia DeMonte, which support the AU Museum's collection of twentieth-century Washington art and complement programming through AU's Alper Initiative for Washington Art.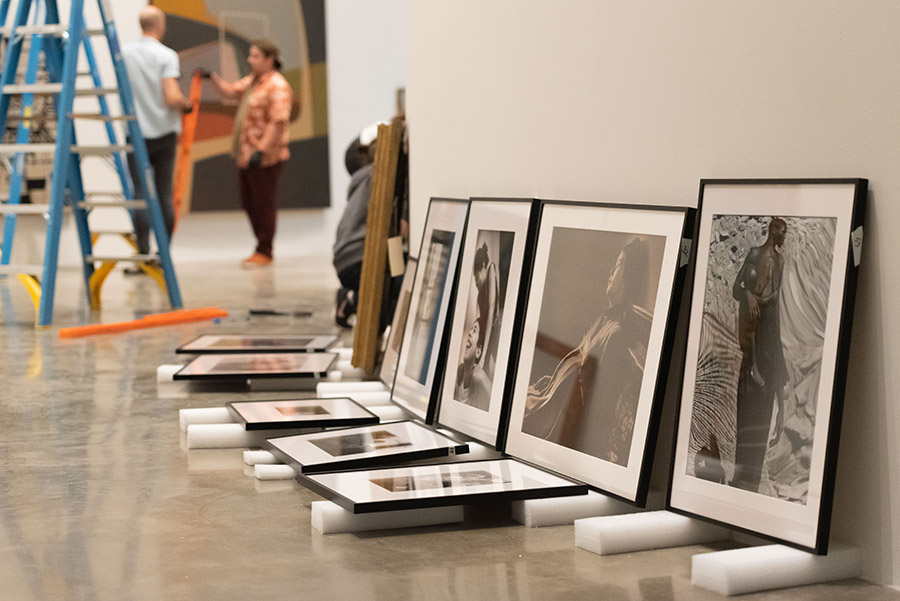 The Students Run the Show
The students got to dive into the Corcoran collection on their own, going through racks of paintings and archival boxes of art photographs. "Their job was to put together an exhibition that means something," said Rasmussen. "For me, it was the idea of young curators coming into a collection basically formed in the late nineteenth, early twentieth century and seeing what's relevant today."
The 18 students settled into roughly five groups and identified themes that "spoke to them" including race, gender, motherhood, abstraction, and the nostalgia of place. With Hopps as inspiration, students juxtaposed old and new, traditional and radical, like a nineteenth-century painting with contemporary photographs.
"By using [Hopps] as a curatorial model, we hoped to create an exhibition that takes risks and does not exclude any thoughts. It will not clean up into neat statements," wrote student curator Abigail Swaringam (MA art history). "Instead, we hope to break rules, open as many dialogues as possible, and engage in surprising conversations about history, art, institutions, and people."
The result is a playful and provocative interpretation of the Corcoran's gift. Students focused on the provocative idea that the Corcoran Legacy Collection reflects the beliefs and values of late nineteenth- and twentieth-century America. The artworks chosen explore the evolution and representations of different types of people and art through time.
The show features work by women and artists of color and includes work by Joan Cassis, Alan Feltus, George Peter Alexander Healy, Carroll Sockwell, Edmund Charles Tarbell, William Tolliver, and Arthur Tress.
The student curators were all graduate students in art history, arts management, and studio art: J'han D. Brady (MFA studio art), Erika Bryant-Northcutt (MA arts management), Hope Cagle (MA arts management), Alexandra Cantalupo (MA arts management),La'Nae Charles (MA arts management), Caroline Hana Salant (MA arts management), Kathryn Heine (MA art history), Yue Li (MA arts history), Qianlan Miao (MA art history), Shereka Mosley (MA art history), Michael Quituisaca (MA art history), Kayla Redman (MA arts management), Carolyn Russo (MA art history), Anya Simmons (MA arts management), Hannah Southern (MA art history), Abby Swaringam (MA art history), Elizabeth Von Buhr (MA art history), Tomora Wright (MA arts management).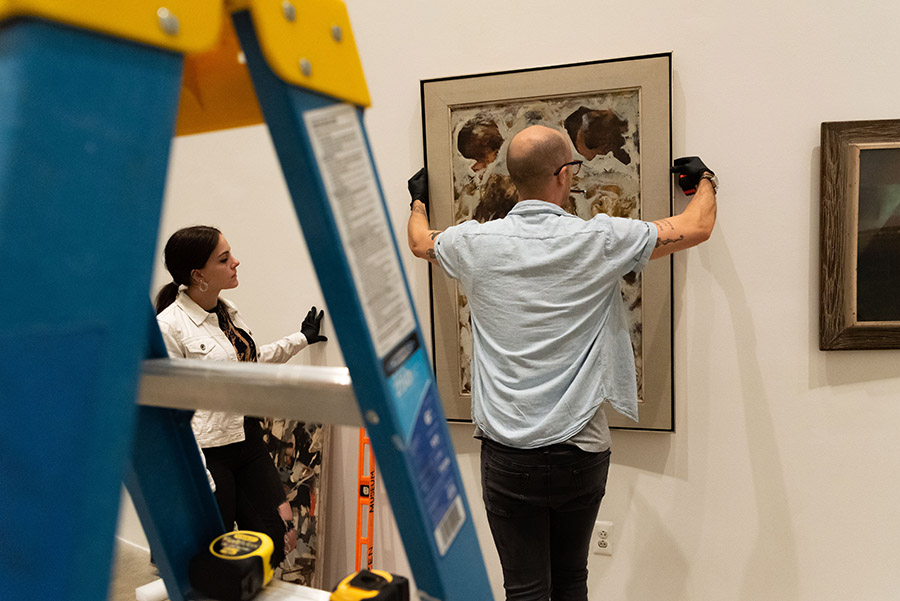 Installation and Exhibit Opening
The works of art were installed last week by a team of professional art handlers who moved and hung the art. The students oversaw the layout of the works in the space and helped direct the art handlers as to where the art should be hung.
The exhibition is open through December 15 at the American University Museum at the Katzen Arts Center. There will be a Gallery Talk, open to the public on September 28, from 7-8 p.m. Please RSVP in advance.
"As a group, we hope that the viewing of this exhibition will prompt viewers to take more risks, ask more questions, and love art feverishly," said Swaringam.