In the Community
AU Representatives Invited to World AIDS Day at the White House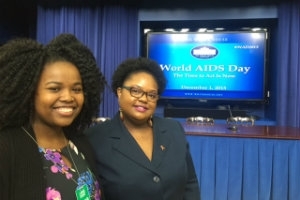 Earlier this month, Dr. Martinique Free, instructor in the Department of Health Studies, and junior public health major Jennifer Thelus represented American University at the White House at World AIDS Day. The event's theme was "The Time to Act is Now."
Globally, nearly 37 million people are living with HIV, including 1.2 million in the United States. Despite scientific advances in treatment, and prevention options like pre-exposure prophylaxis (PrEP), many people across the world still lack access to life-saving and life-enhancing services. 
"World AIDS Day is not just about bringing awareness, showing support for those impacted, and honoring people we have lost to HIV/AIDS," said Free. "It is also about the world recommitting to its efforts in ending the spread of the disease."
Goals and Actions
During the event, the government released its updated 2020 National HIV/AIDS strategy Federal Action Plan, outlining sustainable development goals in an effort to lead the world towards an AIDS-free generation. The plan outlines immediate actions, achievable by the year 2016, that federal agencies will execute to move the nation toward improving its HIV prevention and care outcomes. 
Four key areas, considered to be longer-term actions to be achieved within three-to-five years, were discussed at the event: 
• widespread testing and linkage to care, enabling people living with HIV to access treatment early
• provision of broad support for people living with HIV to remain engaged in comprehensive care, including support for treatment adherence
• universal viral suppression among people living with HIV (from 54 percent in 2012 to 90 percent by 2020) 
• full access to comprehensive Pre-Exposure Prophylaxis (PrEP) when appropriate. 
New Preventative Methods
One of the most critical issues, according to Free, is access to preventative methods, including PrEP, a one-pill-a-day regimen for people who are at risk for contracting HIV. Taken consistently in combination with other preventative methods, PrEP decreases the spread of HIV significantly. 
"If we want to move towards an AIDS-Free generation, we must put an emphasis on making PrEP easily accessible. We must also provide financial assistance for those who lack health insurance," said Free. "Since PrEP is for HIV negative individuals, and not all insurance companies cover it, a financial barrier exists, which makes it less accessible to those in need."