Achievements
Writing at the Intersection of Race and Disability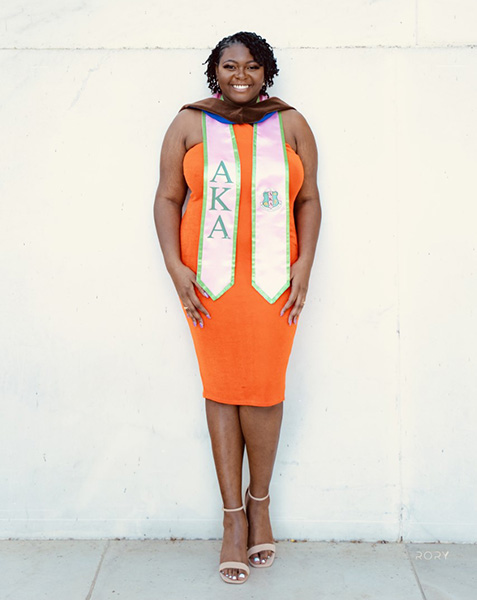 With firm roots in South Carolina soil, Alexus Blanding (MFA creative writing '21) is now a proud DC transplant. But when she first began applying to graduate schools several years ago, she was torn between American University and another school in New York City.
The District of Columbia was a huge draw for Blanding and her family, who traveled there regularly during Blanding's childhood. But what really solidified Blanding's decision to attend American University was meeting Dolen Perkins-Valdez, associate professor of literature and New York Times bestselling author of two novels: Wench and Balm.
Blanding had attended an AU Graduate Admitted Students Day, organized by the College of Arts and Sciences. At the very end of a morning session, she mentioned casually that she still had "lots of questions" about her program. Perkins-Valdez sought her out at lunchtime and sat down for half an hour to talk about the craft of writing, AU's program, and fellowships. Blanding was touched and impressed that Perkins-Valdez would take the time to find her and share so much knowledge. "I was amazed by her dedication to helping me think about my craft as a fellow writer," she says.
Race, Gender, and Disability Advocacy
Blanding, who is Black, has appreciated the diversity of students and faculty in her program. "I'm not the only person who looks like me or experiences life as a minority," she says.
Blanding is visually impaired, and she uses a white cane to assist her in moving around. Disability, like race and gender, is a powerful theme in her writing — and in her everyday life. At American University, she has worked to advocate for disabled students and educate the nondisabled about disabilities, pushing the university (and those around her) to learn and grow.
Stephanie Grant, director of AU's MFA Creative Writing Program and author of two novels, The Passion of Alice and Map of Ireland, says that Blanding "has been a passionate advocate for students with disabilities and students of color, transforming the culture of the MFA Program, as well as the university itself, helping both to become more accessible to a diverse group of students facing barriers."
Perkins-Valdez says that Blanding has taught her and others about their own limitations. "From the moment she entered the MFA program in Creative Writing, Alexus Blanding changed every room she entered. Her steady and unwavering demand for the recognition of her intersectionality helped me and others recognize our own limitations and unconscious biases," she explained. "In the fiction stories she workshopped, Alexus insisted that, like race and gender, a disability was not peripheral. It was not a sidenote to a character, to be ignored in the discussion of some concept of "universal" experience. Likewise, she reminded us that as a student at AU, a disability was not a mere administrative accommodation; it was not a simple adjustment to one's teaching modality. Disabled people offer a unique perspective, a way of being, and, yes, a way of seeing."
Writer, Editor, Publicist
During grad school, Blanding had planned on volunteering at the National Institutes of Health's (NIH) Children's Inn, which provides residential services and programs to adolescents with rare and serious diseases. Blanding's two siblings are patients at the NIH. Her brother Kendrick was also a patient until his passing in January 2012. The Inn has provided much joy and comfort to Blanding and her family during their extended stays away from their South Carolina home.
Ultimately, the pandemic struck down Blanding's hopes to work at the Children's Inn. She was disappointed, but she did not let it slow her down in terms of other remarkable accomplishments during her time at AU.
Blanding served as fiction editor and managing editor of FOLIO, American University's Literary Journal. She also interned at the American Psychological Association in the District and assisted in the publication of its Winter 2020 titles.
She currently works as a publicity intern at Flatiron Books, an imprint of Macmillan Publishers, where she has assisted on campaigns for New York Times bestselling books like Gabriela Garcia's Of Women and Salt and Emmanuel Acho's Uncomfortable Conversations with a Black Man. She is particularly proud of her work publicizing The Three Mothers: How the Mothers of Martin Luther King, Jr., Malcolm X, and James Baldwin Shaped a Nation by Anna Malaika Tubbs, which resulted in the book being chosen as a New York Times Editors' Choice and featured in Success magazine and on NPR.
Since 2016, Blanding has been a proud member of Alpha Kappa Alpha Sorority, Incorporated and says she uses her organization's founding principles to guide her creative work and philanthropic efforts.
Equity, Inclusion, and Accessibility
Blanding's passion for equity, inclusion, and accessibility ultimately led her to become a panelist for several of CAS's Prospective and Admitted Students events. She volunteered to speak about disabilities and accessibility, both in front of large groups, and one-on-one with potential students who might be scared to ask questions in front of crowds.
Blanding contributed an essay, "Not Good, Not Great, But All Right" to the Blackprint, American University's minority student-run publication, for its July 4, 2020, special edition, "The Revolution '20." The essay was an ekphrastic response to Kendrick Lamar's "Alright," and pondered the ways in which the single embodies the heart of the Black Lives Matter Movement.
Blanding's thesis, Not by Sight: Stories and Perceptions, is a collection of short stories that interrogate the intersections of race, ability, and gender, and how these characteristics inform our self-identities and how we are perceived by others.She looks forward to making her mark on the literary world through publishing the work of others and creating work of her own. At the same time, her professors are looking forward to seeing what she writes next, and they are thankful for her impact on their own views of intersectionality and disability.
"Alexus taught me that 'sight' is something more than physical vision," says Perkins-Valdez. "Being mindful of how we 'see' each other is, in fact, at the root of our humanity. I am a better person and professor for having known Alexus, and I will forever be grateful to her for these lessons and more."