On Campus
The You That You Create Event Brings Together Faculty and Students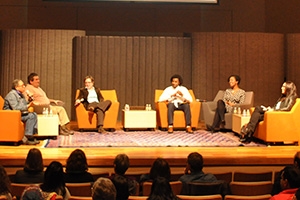 Six College of Arts and Sciences faculty members spoke to a packed and enthusiastic audience last week about how they have personally experienced the effects of race, class, dis/ability, gender, and sexual identity. 
More than 100 people attended The You That You Create event at the Katzen Arts Center's Abramson Family Recital Hall. Faculty speakers included Kyle Dargan (literature), Caleen Jennings (performing arts), Marc Medwin (performing arts), Celine-Marie Pascale (sociology), Theresa Runstedtler (history), and Kathryn Walters-Conte (biology). Faculty members shared formative moments in their lives, using the lens of identity, difference, and power. Following the faculty discussion, audience members asked—and tweeted—questions. They also shared stories about their own lives. 
"The event's format promoted a very intimate and moving conversation among faculty about their experiences with various forms of discrimination—past and present," said Pascale, associate dean of undergraduate studies in the College of Arts and Sciences. "One student in the audience remarked that everyone has been hearing the stories of students, and it was very powerful to hear from faculty. I think the evening helped to build a bridge between faculty and students. I am so glad we had the opportunity to model one way of having open, honest conversations on topics that are difficult because they are so personal and so political."  
The event was sponsored by College of Arts and Sciences Dean's Office.