Internships
Faith and Social Justice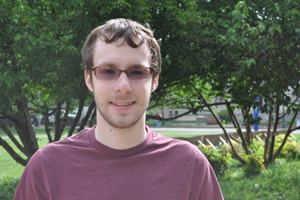 Zachary Belinsky, BA religious studies '14, sees religion as a force to unite members of society rather than divide them. Belinsky has worked tirelessly at AU to bring faith communities together and to start the dialogues that can ultimately make the world a more productive, harmonious place. As a result, when he started looking into fulfilling the internship requirement for his major, the Interfaith Conference of Metropolitan Washington seemed like a perfect choice.
Belinsky, who serves on the Interfaith Council at AU as well as the Shabbat Committee that plans Friday night services and dinners for the Jewish community on campus, was originally attracted to the Interfaith Conference because of his positive experiences facilitating dialogues across faiths at AU. "It turns out that the IFC does so much more than that," he says. "They actively work on a variety of social justice issues with the belief that a wide range of faith traditions share social justice as a common ideology. We can draw upon these common beliefs and speak much more strongly with a collective voice than as individual faith groups." Belinsky also serves as the Interfaith representative in AU's Buddhist Exploration group and was one of the founding members of the Religious Studies Club.
Through his work at the IFC, Belinsky has served as an assistant to IFC executive director Reverend Clark Lobenstine, which gave him a great deal of freedom to work on several large IFC projects. One such initiative is the IFC's 2012 Spring Public Dialogue. This year's dialogue, entitled "Understanding the Swastika: The Use and Abuse of Religious Symbols," took place on Sunday, April 29, at Washington Hebrew Congregation and featured clergy from the Buddhist, Hindu, Protestant, and Jewish faiths. "This dialogue is extremely important," says Belinsky. "I hope it will allow us to acknowledge the reminder it provides of the Holocaust while at the same time understanding the central importance it plays in many other religions."

"It has been really rewarding to see this project come together," he says. "So few people understand that the swastika was originally and still is a very sacred symbol in a lot of Eastern traditions." In religions such as Buddhism, Hinduism, and Jainism, the swastika signifies good fortune and luck. "People just don't realize this and assume that anyone using a swastika is a neo-Nazi or is expressing hatred. Because of this, it becomes very difficult for those people to express their faith in the form of that symbol in Western countries where the only association is with the Nazis."
Belinsky has also been directly involved with helping to set some of the key policy positions of the IFC. As the American public began debating the Department of Health and Human Services' mandate that insurance plans cover contraceptives, Belinsky watched as various faith groups struggled to find agreement on the issue. "My director was in a very awkward position," he says. "There was disagreement even within our own board of directors over this extremely contentious issue."
Seeing this struggle to find a position, Belinsky stepped up to draft the IFC's statement on the contraceptive mandate, examining the issue from a wide range of religious and political views. "It took quite a bit of research to truly understand this issue," he explains. "The way it is represented in the media and by certain religious groups is not necessarily accurate to the wording of the legislation."

Belinsky emphasized how the issue of contraception is a religious freedom issue, but it also concerns social justice. "This issue isn't one or the other," says Belinsky. "It's both. The goal of our statement was to condemn the use of this issue as a political wedge between people of faith." His statement is still in the final approval process, but Cardinal Donald Wuerl of the Archdiocese of Washington recently approved it.

"I was really proud of this statement," says Belinsky, "because this is really what the IFC is all about. It may look like these religious groups are in opposition to each other, but they're really not. There are things that we can all say in unison on these topics. It might not be the full statement, but that's what compromise is about—finding the pieces we can all agree on in order to promote social justice."