Science
Caught in the Rat Race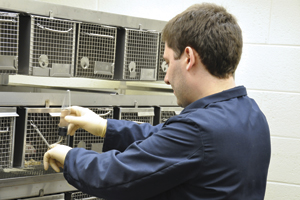 Zach Hurwitz, a PhD student in the psychology department, is working to change the way clinicians view abusive drug use. His research with the psychopharmacology lab and Professor Tony Riley examines the balance between the rewarding and aversive effects of drugs.
Hailing from the suburbs of Philadelphia, Hurwitz completed his bachelor's degree in psychology at American University and started his master's degree through the combined bachelor's-master's program in 2008. After spending a year in the program, he was invited to apply to the behavior, cognition, and neuroscience (BCaN) PhD program.
"Really, what made me stay around was the openness of all the faculty members," Hurwitz said. "If I had a research question or a question about my data, or if I'd just analyzed my data and I was really excited about it, I knew I could go to certain faculty members and knock on their door and they'd be happy to talk with me about it.
"We're all colleagues. It's not professors and graduate students—we're colleagues. And I think that's a very important distinction to make in terms of how the dynamic is set."
Hurwitz's research looks at both internal (hormones, stress, genetic predisposition, etc.) and external (drug history, environment, etc.) factors and how they relate to drug abuse. The research done in AU's psychopharmacology lab has shown that the rewarding effects of drugs are not the only factor influencing individuals who take drugs; there is a balance between the rewarding and aversive effects. Hurwitz's interests lie in the factors that alter this balance.
For instance, some studies have shown that adolescents, relative to adults, are less susceptible to the bad feelings brought on by drugs (anxiety, sleep disturbance, etc.) and more susceptible to the good feelings (euphoria, happiness, etc.). Additionally, research has shown that animals introduced to a drug at a younger age are more likely to use the drug at a later age and are less affected by the drug's aversive, deleterious effects down the road.
This information is important for clinicians who treat patients with drug problems. "If we know that people at a younger age are more sensitive to the 'feel good' effects of drugs and less sensitive to the 'feel bad' effects of drugs the first time they try it, then it gives insight into why some individuals may continue to use drugs to the point of addiction," Hurwitz said. "Furthermore, it gives some background to getting a better understanding of why individuals at a younger age do drugs and how that affects them into adulthood."
Hurwitz's research is done using animal models, specifically rats. He and the other researchers in the psychopharmacology lab use a variety of behavioral techniques to assay the rewarding and aversive properties of drugs like cocaine and morphine.
He described a technique called the "Conditioned Place Preference" that the laboratory frequently uses to test rewarding properties of a drug. The rewarding properties are paired with certain environmental cues, and a vehicle, like a saline control, is paired with a different environment. In the absence of the drug, the animal is allowed to choose which environment it prefers. If the animal spends more time on the side associated with the drug, then it indicates that the drug is rewarding.
"For the aversive side, we use a procedure called 'Conditioned Taste Aversion,'" Hurwitz said. The procedure involves pairing the drugs with a novel solution, such as saccharine. When the animals drink the solution, they are injected with the drug. "Over subsequent trials, the animals learn to avoid that saccharine due to the fact that it's associated with the aversive effects of that drug," said Hurwitz. "That's relative to a control, whereby you give an animal saccharine followed by a vehicle and they will continue drinking because they don't feel any of the bad effects of the drug."
He says his biggest challenges have been in refining his writing skills as a scientist.
"As an undergraduate, and even in high school, I was really taught to try to write the way I think. And sometimes, that can be very verbose and wordy," Hurwitz says. "The biggest roadblock at the outset was learning to write as a scientist and learning how to properly convey my ideas in an objective manner in a way that both scientists and laypeople could understand, but also so laypeople could read it and not have a biased opinion."
Hurwitz has already seen some of the benefits of the effort he put into his writing and his work. His master's thesis, "The Differential Expression of Male Sexual Behavior in the Lewis Fischer Sprague-Dawley Rat Strains," was recently published in the peer-reviewed journal Learning and Behavior.
"Writing my thesis and protocols and working on my research were very arduous tasks, but at the same time, when I was able to see my paper in its final format and what it looked like in a journal, it was all worth it in the end," said Hurwitz.
"I plan to do more research and publish more papers. I look forward to making it so there are many more rewarding experiences like this in my career."