Instrumental Ensembles at AU
Please use the links or browse below for more about our ensembles:

Please see also: Performance Auditions (with upcoming dates for music, dance, theatre, and cast auditions) and Vocal Ensembles.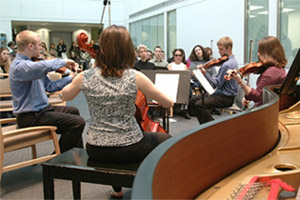 Auditions
Auditions are held at the beginning of the semester in conjunction with the American University Symphony Orchestra auditions and by appointment.
About AU Chamber Ensembles
The American University Chamber Players are comprised of student groups from our Chamber Ensembles (Perf 145/545) and provide students with the special opportunity of making music in small, intimate numbers. Ensembles vary with regard to size and instrumentation depending upon the students' level, instrumentation, and schedule. Groups have ranged in size from duos to octets, are coached by members of our in-residence faculty, and are presented in recital at the end of every semester and additionally when appropriate.
Recent performance opportunities in addition to the end-of-semester recital include:
Master classes with National Symphony Orchestra Concertmaster, Nurit Bar-Josef, Kenneth Slowik (artistic director of the Smithsonian Chamber Music Society), and AU Faculty
Community outreach at the Patricia M. Sitar Center for the Arts (a nationally acclaimed arts center for at-risk youth in the Adams Morgan neighborhood of Washington, DC)
Art galleries, places of worship, and historic homes throughout Washington
Featured performers at AU events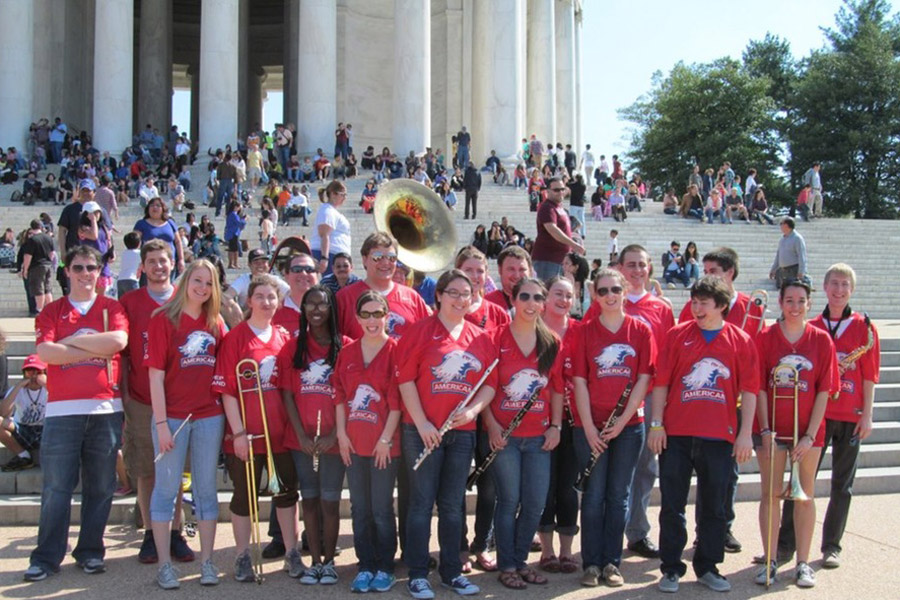 The "Screamin' Eagles" accept auditions on a rolling basis. For more information, contact us.
West African Drumming Ensemble
Students will learn and perform traditional drumming techniques and rhythms of West Africa on hand-crafted instruments such as djembe and dunun while also learning about the history and social context of the art form. No previous experience required. May be taken for either one or zero credit. Meets Tuesdays 5:30-7:30 PM in Katzen 151. Instructor: Amadou Kouyate. Amadou Kouyate is the 150th generation of the Kouyate family of Manding Djali (oral historians/musicians of West Africa) and the first generation born of his father's lineage in America. Amadou performs a musical montage on the 21-string Kora and rhythmic presentations on Djembe and Koutiro drums. PERF-145-04 (1 credit) or PERF-045-04 (zero credit).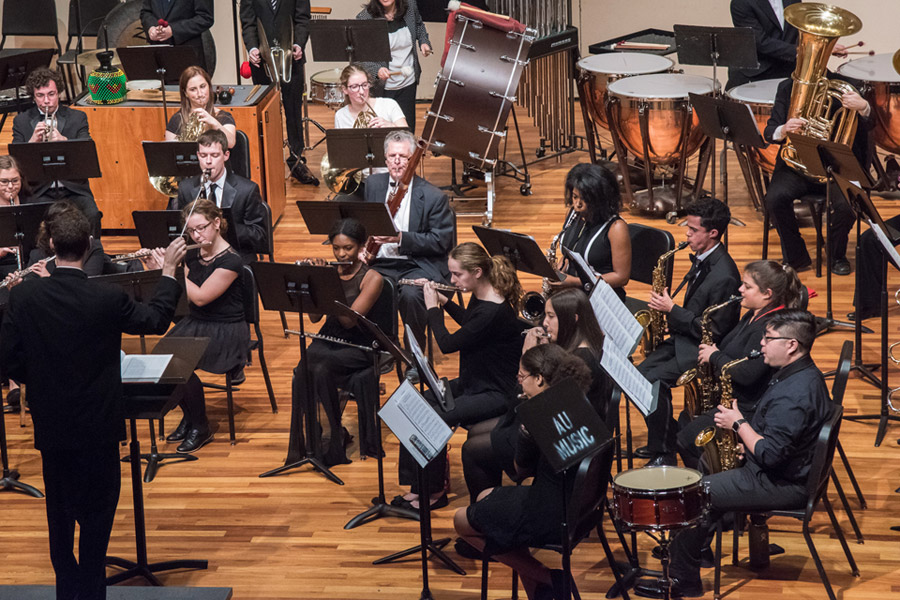 Auditions
AU undergraduate and graduate students as well as community members and staff are welcome to join the AU Symphonic Band. Rehearsals are held on Monday evenings from 5:30 - 7:30 pm at the Katzen Arts Center. Auditions for seating take place during the first week of classes. Contact Matthew Brown, director of the Symphonic Band, with questions about membership (mbrown@american.edu).
About AU Symphonic Band
The AU Symphonic Band (PERF-147) is an ensemble for woodwind, brass, and percussion players that performs the highest quality wind repertoire. Its goal is to provide an opportunity for students with vastly different disciplines to interact socially and musically, nurture the highest level of musicianship, explore forms of human expression, and inspire a love of the arts.
Auditions
Auditions for AU Symphony Orchestra are held the first week of each semester for new players. Special, late auditions may also be arranged. For more information about auditions or AU Symphony Orchestra, please contact Matthew Brown, Conductor and Director of Orchestral Activities, at mbrown@american.edu or 202-885-3433.
About AU Symphony Orchestra
Conducted by Matthew Brown, the AU Symphony Orchestra has more than sixty accomplished members from the entire AU community: undergraduate and graduate music majors and non-music majors from every college at AU, music and non-music faculty and staff, and members of the Washington, DC, community. AU Symphony Orchestra represents the Music Program and the Department of Performing Arts, and is a major artistic organization of, and ambassador for, American University.
The orchestra rehearses onstage in the Katzen Arts Center Recital Hall on Thursday evenings, 5:30–8 p.m. Periodically, the ensemble is also lead in sectional rehearsals by members of AU's instrumental Music faculty, with whom all orchestral students–music majors and non-majors alike–have the opportunity to study.
AU Symphony Orchestra plays at least two major concert programs per season, each in repeat performances. The orchestra's repertoire consists of the major masterworks from the Baroque through the Twentieth Century.
Each year, AU Symphony Orchestra hosts a major event on campus, the Concerto and Aria Competition, in which undergraduate and graduate student instrumentalists and singers compete for the opportunity to perform in concert with the orchestra. Winners from a field of more than a dozen competitors are selected by a distinguished panel of judges from the Department of Performing Art's music faculty.
AU Symphony Orchestra frequently collaborates with the American University Choral Ensembles in performances of major works for chorus, vocal soloists, and orchestra. AU Symphony Orchestra also serves as a lab orchestra for conducting students in the Department of Performing Arts.

American University's jazz program is dedicated to providing an educational and enriching atmosphere through which the campus community can learn and foster an appreciation for jazz. Through performances, classes, symposia, student ensembles and clubs, students are able to engage in the historical, cultural, stylistic, and artistic aspects of jazz music. Furthermore, AU Jazz is engaged in outreach efforts throughout Washington, DC to expose the community to the greatness that is "America's Classical Music."
AU Jazz Orchestra
The AU Jazz Orchestra (PERF-145-002) is a big band ensemble for students and faculty who wish to study and perform jazz music. Classes are held every Wednesday Night, 5:30–8:00, at the Katzen Arts Center. The Jazz Orchestra has about three to four performances per year with two main concerts in the Katzen Arts Center Abramson Recital Hall.
Contact:
Joshua Bayer
josh@joshuabayer.com
AU Jazz Combo
The Jazz Combo is a smaller ensemble for students and faculty who wish to study and perform jazz music in a more intimate setting. The Combo performs jazz standards as well as original compositions. There is a focus on improvisation while also exploring swing, bebop, hard bop, jazz fusion, funk, blues, and R&B styles. The Jazz Combo performs with the Jazz Ensemble at concerts, campus events, and around the city of DC. The Combo also hosts a weekly on-campus jam session that's free and open to the public.
Contact:
Joshua Bayer
josh@joshuabayer.com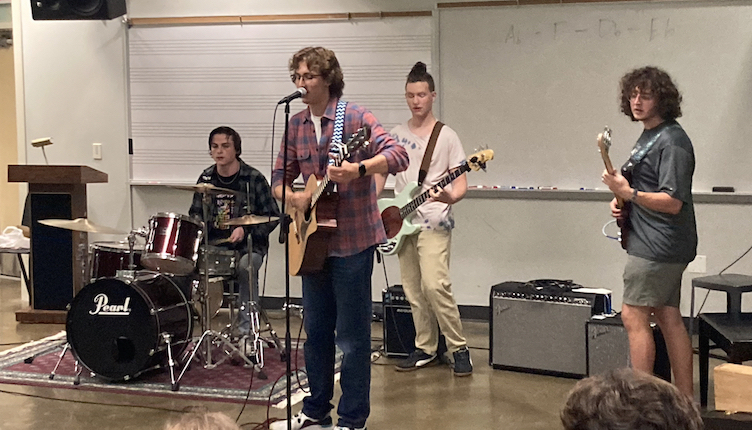 Singer-Songwriters' Hub
Contact: Matthew Brown
PERF-145-004: Singer Songwriters' Hub
Thursdays, 8:20-10:20 p.m., Katzen 151
Singer Songwriters' Hub is an ensemble devoted to improving, rehearsing, recording, performing and promoting original music written by student members. You'll meet and work with like-minded musicians and gain access to instruments and equipment. The Hub enables opportunities for rehearsing, recording and performing in various spaces in the Katzen Arts Center and beyond.
The group is open to any student interested in collaborating on original music, including songwriters, singers, instrumentalists, lyricists, recording engineers, or those interested in marketing and promotion. Regular attendance is required for those enrolled in the course.