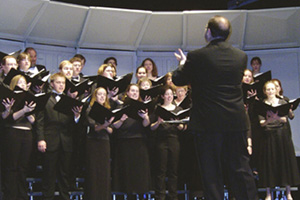 Membership in the American University Chorus has ranged over the years from 30 to its current level of about 80 singers. All singers must audition to become members in the AU Chorus and each year about 100 singers audition for 20 to 40 open slots. Auditions take place during the first week of classes each semester. The AU Chorus holds its rehearsals on Tuesday evenings, with additional sectional and added rehearsals on Monday evenings. The chorus has a tradition of performing a wide range of choral repertoire ranging from masterworks of choral literature, to small octavos, to newly composed choral works.
Recent performances have included Beethoven's Symphony No. 9, Brahms' Ein Deutsches Requiem and Schicksalsied, Bach's Magnificat, Bernstein's Chichester Psalms, John Cameron's Missa Celtica, Robert Convery's Songs of Children, Duke Ellington's Come Sunday, Handel's Solomon, Messiah, and Coronation Anthems, Haydn's Creation and Te Deum, Mendelssohn's Symphony No. 2 "Lobgesang," Mozart's Requiem and Vesperae Solennes de Confessore, Orff's Carmina Burana, and Vaughan Williams' Five Mystical Songs. AU Symphony Orchestra frequently collaborates with the American University Chorus in performances of major works for chorus, vocal soloists, and orchestra. Visit the choral archive to learn more about past performances.
Info at a glance:
Course: AMERICAN UNIVERSITY CHORUS (PERF-142 section 001, see Registrar Schedule)
Rehearsals: Tuesday evenings (7:30 to 10:15 pm) and select Monday evenings* (8:00 to 10:15 pm)*Note: not all singers will be required to attend every Monday rehearsal, but it is mandatory that members are available for both evenings. A complete and detailed schedule for the semester will be available at the time of the auditions. Students with class conflicts on either Monday or Tuesday (including classes that meet until 8:00 pm) should discuss their situation with the choral manager.
Office: Katzen Arts Center — Choral Office, Room 146 (phone: 202-885-3425)
Participants: AU Chorus is open to Undergraduate and Graduate Students, Faculty, Staff, Alumni, and Community Members. Membership usually ranges between 70 and 90 singers. Repertoire for the ensemble varies from suitable small-scale literature to large-scale choral-orchestral literature.