Project Overview
Imagine a subsidized, socially-conscious theatre that transcends class and geography. For a brief moment in American history, this was reality. The 1935-1939 Federal Theatre Project's (FTP) ideals, achievements, and contradictions serve as a starting point for the AU Theatre/Musical Theatre Program's 2021 Senior Capstone. This company of writers, directors, actors, designers, dramaturgs, and musicians have devised and produced performances of works from and inspired by the FTP, along with a selection of companion research projects, inviting audiences to delve into uncanny resonances between the FTP and the immediate present.
Prologue
Performances
Enjoy video of each live performance and program notes or playlist of all performances:
 
From the Capstone Artistic Directors
In an age of terrific implications as to wealth and poverty, as to the functions of government, as to peace and war, as to the relation of the artist to all these forces, the theatre must grow up. The theatre must become conscious of the implications of the changing social order, or the changing social order will ignore, and rightly, the implications of the theatre.
What reads like a statement summing up American theatre and life in the past year originates with Hallie Flanagan, who spoke these words in Washington, DC, in 1935 to mark the inception of the Federal Theatre Project. A subsidized, socially-conscious theatre that could transcend class and geography was, for a brief moment in American history, real.
Since the spring of 2020, the students who make up AU's 2021 Theatre Senior Capstone cohort have been using theatre to explore how the problems and promise of the seemingly distant past resonate uncannily with daily life. In "A Call For…" their creative research is wide-ranging:
adaptations of scenes from contemporaneous plays and musicals
original scenes and monologues, inspired by both the pioneering forms that flourished during the FTP and the high stakes of the Project's nation-wide scope

online interactive pieces that vivify the enduring roles race, politics, and society play in theatre
Collaboration lives in each of these ambitious projects. Sixteen seniors, two stage managers, and dozens of contributors beyond the class cohort: they have come together to offer visions of not only what an improbable and nearly ninety-year-old experiment means to them, but how we can meet and surpass its potential today.
In dark times, humans have always turned to the Arts. During the Black Plague, during the Great Depression, and now during the Covid-19 Pandemic, we rely on the Arts to lift our spirits and see us through to better days.
'A Call For A New Federal Theatre Project' is a rallying cry for the Arts in America to be given the respect and national support they deserve. Despite being short-lived, the FTP was a shining model of how our American government could subsidize a nationwide theatre program and served as the basis upon which the National Endowment for the Arts was built. Sadly, our NEA is ailing and our country's public funding for theatre has become almost non-existent. 
Working with the AU Theatre and Musical Theatre Capstone class of 2021 to bring their thoughtful and passionate pieces to life has been an immensely heartening creative and educational experience. Making theatre during this pandemic has been a unique challenge that has stymied our professional theatrical world and some of the solutions our students came up with to create work in our remote times were nothing short of ingenious. 
From their message, to their process, to their final products, I could not be more proud of our Capstone Cohort, their collaborators, and the incredibly inspiring work they've created together.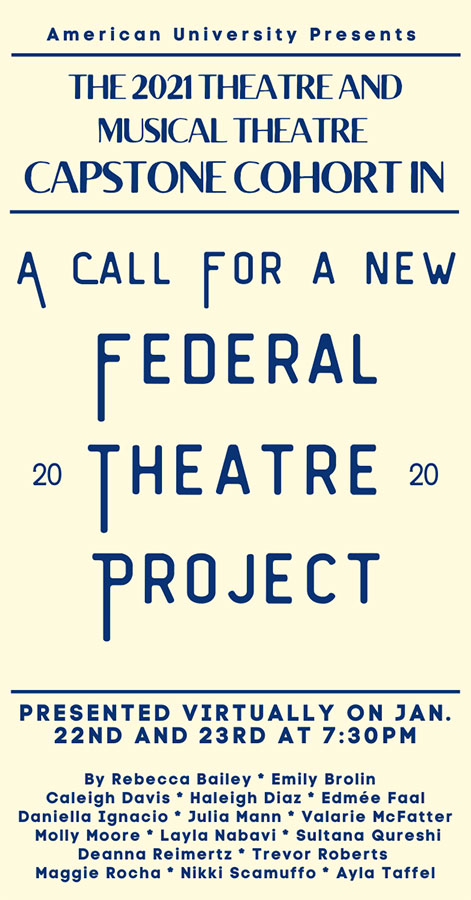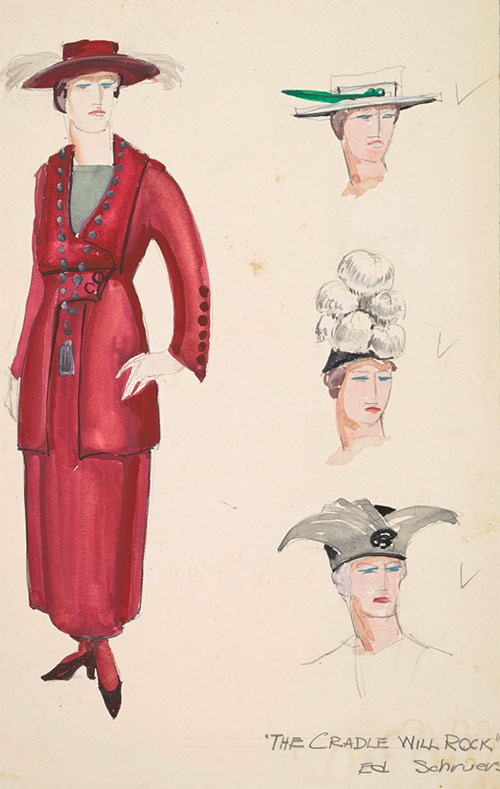 Schruers, Ed. The Cradle Will Rock: Red women's suit with matching hat and three alternate hats. New York, 1937. Library of Congress.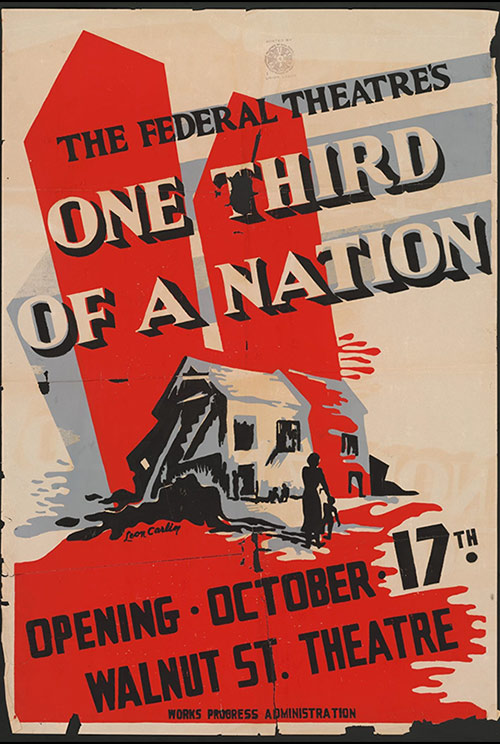 Poster from One Third of a Nation. Philadelphia, 1938. Library of Congress.
Top of page image credit: The Cradle Will Rock 25 Photographs, Library of Congress.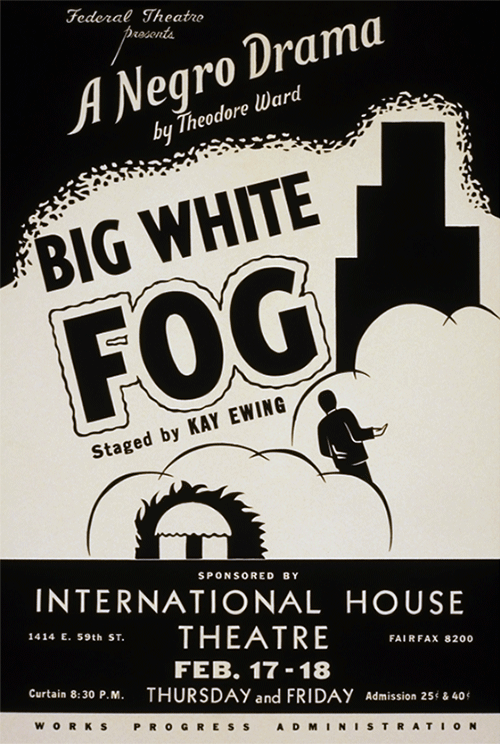 Poster from Chicago production of Power Blackstone Theatre. Finding Aid Box. Library of Congress.