Achievements
AU Students Named Pickering Fellows for 8th Consecutive Year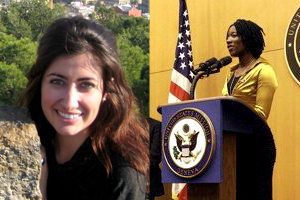 Even with national scholarships becoming increasingly competitive, American University students continue to garner prestigious awards. The Career Center's Office of Merit Awards is celebrating this year's 2010 Pickering Fellows.

The Thomas R. Pickering Foreign Affairs Fellowship, funded by the U.S. Department of State, provides fellows with financial support for the completion of their undergraduate and graduate degrees as they prepare to enter the United States Foreign Service.

This year, AU boasts two out of 40 Pickering Fellows nationwide, as well as a national finalist. Since 2003, at least nine AU students were awarded the prestigious fellowship, and seven more named national finalists.

With qualities like "dedication, initiative, integrity, … and a thorough intellectual background," this year's recipients "have demonstrated promise across a range of areas crucial to United States Foreign Service officers," says Caryl McFarland, assistant director of public policy and international affairs programs for the Woodrow Wilson National Fellowship Foundation, which administers the program.

Joan Echols, associate director of the Career Center's Office of Merit Awards, mentored AU junior Aleks Ristovic through her successful application. She says that Ms. Ristovic, SIS/CAS/BA '11, possesses many of the attributes that the U.S. Department of State looks for in future Foreign Service officers.

"Aleks has a great sensitivity to cultures and languages," says Ms. Echols. "She is a strong student with interesting internships."

Ristovic speaks several languages, studied in France, Brazil, and Argentina, and interned with National Geographic Television. She is currently pursuing a double major in international studies and philosophy, and plans to earn a MS in Foreign Service from Georgetown University in the near future.

Meanwhile, AU graduate student Pren-Tsilya Boa-Guehe, SIS/MA '12, successfully applied for the Pickering Fellowship on her own.

"It was a long, difficult process," says Ms. Boa-Guehe, "but it was worth the effort."

While her previous fellowship applications were unsuccessful, they prepared her to ace the Pickering's.

"I was a finalist for the [Charles B.] Rangel International Affairs Graduate Fellowship Program, but completely tanked the interview," says Boa-Guehe. "I used that experience to do better with the Pickering's application process."

Boa-Guehe, who is pursuing a degree in international development, speaks four languages and helps manage a charity organization her mother founded to assist citizens of the Ivory Coast. She applied to the Pickering Fellowship because she "wanted to join the Foreign Service while also pursuing an advanced degree."

Fellows commit to three years of service as a Foreign Service officer for the U.S. Department of State. In addition, the fellowship funds participation in a summer institute for undergraduates, as well as one domestic and one international internship with the U.S. Department of State for all fellows. Preferred candidates include women and members of minority groups that are historically underrepresented in the Foreign Service, as well as students who demonstrate financial need.