Alumni
Exploring the Brain-Pain Connection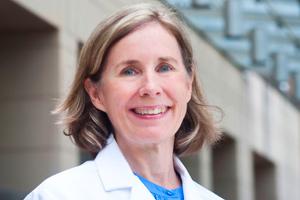 When Catherine Bushnell was working toward her master's and doctorate degrees in experimental psychology at AU, she was in the lab doing experiments seven days a week.
"Now students look at me with horror when I tell them that," the alumna said with a laugh.
The hard work and long hours paid off, though, as Bushnell was recently named the scientific director of the Division of Intramural Research at the National Institutes of Health's National Center for Complementary and Alternative Medicine. Her research will explore how the brain and psychological states affect pain perception.
"We're going to look at how psychological factors, like emotion and attention, affect how people perceive pain," Bushnell said. "We're going to look at how chronic pain affects people beyond the pain itself."
Bushnell said researchers can see pain-induced changes in the brain resembling those that happen during premature aging. This change seems to progress faster in people who have chronic pain.
Bushnell said her research goes hand in hand with pain medications.
"No one likes to have pain for a long time," she said. "The effectiveness of medications will depend on the psychological state of the person taking them. If we don't understand the factors, the drugs will be less effective."
Bushnell will also examine the different ways people try to deal with pain outside of medications, for instance through yoga.
"People are doing these things, but do they work, and how do they work? Is it the meditative component that's the most important or the exercise?" Bushnell said.
Scott Parker, a psychology professor in AU's College of Arts and Sciences, said Bushnell's research is "at the forefront" of research on not only chronic pain, but also the brain in general. "Her research contributes to our overall understanding of how the brain works, and learning more about the brain will be valuable in ways that may well surprise us," he said.
Parker met Bushnell when he applied for a position at AU. Bushnell was a graduate student and on the search committee that interviewed him.
"After I gave my presentation to the committee describing my research, she told me enthusiastically, 'I understood that,'" he said. "I've been crazy about her every since."
Stanley Weiss, a professor emeritus in AU's Psychology Department, was Bushnell's research supervisor and mentor for five years.
"She was an extremely bright, connected, intellectual young woman in the laboratory," he said. "Catherine was the first student to receive the University Student Award for Outstanding Scholarship at the graduate level."
Weiss pulled out two black-bound files, Bushnell's master's thesis and doctoral dissertation, with her name typed along the binding. With obvious pride, he paged through her lengthy curriculum vitae.
"This is exceptional," he said. "Everything goes on for pages and pages!"
Weiss said he recently found a letter of recommendation he wrote for Bushnell when going through papers.
"I said, 'In Dr. Bushnell you have an extremely talented, broadly-based researcher who I know will go on to make significant contributions to the field. She will not disappoint you,'" he quoted. "I guess that's one of my better predictions."
"What she learned here about the fundamental principles of conditioning and the stimulus control of operant behavior, as well as rigorous experimental design and control, played an important role in her scientific achievements," Weiss said. "Dr. Bushnell has talent, insight, and an appreciation of important questions to be asked. And there's no substitute for her perseverance. You can't be a successful scientist without perseverance."
Bushnell said she is very happy she did her graduate work in experimental psychology at AU, and suggests that students who want to follow in her footsteps go into the growing fields of psychology and neuroscience.
"In psychology they teach a lot of experimental techniques and how to analyze data," she said. "That translates to any material you study in the future. Technology changes, but psychology doesn't. It applies to anything you want to study."
Recruiting young people and developing a program to study pain at NIH are the two biggest activities Bushnell is looking forward to at her new position.
"It's nice that in this stage of my career where I know so many people around the globe, I can put that to use to bring a new program to NIH," she said.