Psychopharmacology Lab
4400 Massachusetts Avenue NW
Washington
,
DC
20016
United States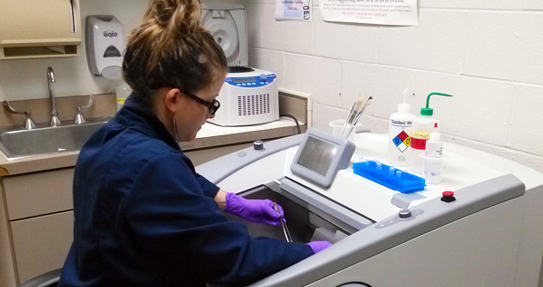 The Psychopharmacology Laboratory at American University focuses on a variety of research issues, all of which have animal models of drug use and abuse as their basis. We examine the genetic and epigenetic components of drug intake, prenatal and adolescent drug exposure, drug interactions, the neuropharmacological mediation of drug effects, the molecular-level biochemical mechanisms of neuroplasticity induced by chronic drug administration and the interaction of the reinforcing and aversive effects underlying drug acceptability.
These assessments are made through a variety of animal behavioral models, including drug self-administration, conditioned place preference and aversion, conditioned taste aversion, schedule-controlled responding, drug discrimination learning, locomotor testing and optogenetic manipulation. Additionally, we utilize several histological assays, such as fluorescence microscopy, qPCR, Western blot, immunohistochemistry, ELISA, spectrophotometry and high-performance liquid chromatography (HPLC), among others.
The lab consists of a core space surrounded by three behavioral running rooms and an additional room dedicated to drug storage and preparation, as well as wet assays and histology. The graduate student office is adjacent to the lab. All animal housing is in an adjacent secure facility which can house up to 500 animals in six individual temperature-controlled housing rooms. This area also houses food and bedding storage, cage and bottle washing facilities and common rooms for injections and surgeries.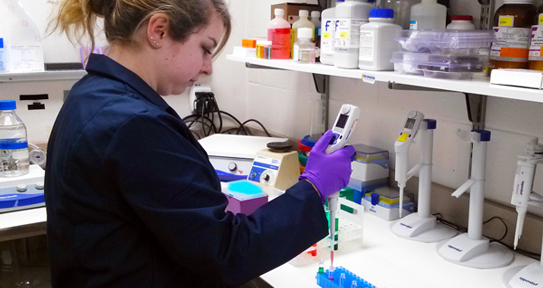 Olympus fluorescence microscope tethered to Image-Pro Plus software for image processing, enhancement and analysis
Ten chambers for schedule-controlled responding (including drug discrimination learning and schedule-induced polydipsia) tethered to a Med Associates interface
A full wet-lab bench used for the preparation of compounds for research projects and the preparation of biological tissues for subsequent analyses
Coulbourn Instruments operant chamber equipped with a Med Associates food hopper and drug infusion tether line and swivel
Eight San Diego Instruments automated conditioned place preference and locomotor testing chambers
Ten Colburn Instruments sound-attenuating operant chambers suitable for food and/or drug self-administration tethered to a Med Associates interface
VWR Symphony 2417R cold centrifuge
Jenway 6400 Spectrophotometer
Thermo Scientific CryoStar NX70 cryostat, a Jenway 6400 Spectrophotometer, a VWR Symphony 2417R cold centrifuge, a Fischer Scientific sonicator and a Daigger dissecting microscope
Q-Sonica ultrasonic homogenizer
Shimadzu UFLC-ECD
autosampler for HPLC analyses
Fully software-driven Leica stereotaxic instrument
Alumnae and Alumni
PhD Alumnae & Alumni
Doris Bitler
Greg Busse
Jennifer Cobuzzi
Robert Colnes
Bob Dacanay
Catherine Davis
Kevin Freeman
Katherine Ford
Meredith Fox
Beth Geter
Maria Gomez-Serrano
Sheri Grabus
Ivana Grakalic
Zach Hurwitz
Mary Anne Hutchison
Jermaine Jones
Mary Kautz
Heather King
Stephen Kohut
John Mastropaolo
Pam Melton
Debbie (Olin) Norris
Regina Ottaviani
Karen Pescatore
Rebecca Pomfrey
Said Pournaghash
Jovita Randall-Thompson
Jen Rinker
Pete Roma
Katie Serafine
Greg Simpson
Bai-Fang Xiao Sobel
Scott Smurthwaite
Scott Swartzwelder
Glenn Stevenson
Andrey Verendeev
Alison G.P. Wakeford
Bradley Wetzell
Debra Zellner
Master's Alumnae & Alumni
Dan Albaugh
Tracy (Titley) Aquino
Meredith (Blachett) Basil
Donna DeGeorge
Susan Etkind
Carolyn Ferrari
Shaun Flax
Kathy Ford
Jon Gore-Langton
Aurora Hutchinson
Ron Jeffreys
Lee Koetzner
Daniella Lancellotti
Diana Maltallana
Ashley Myracle
Jim Rebetta
David Shurtleff
Nuthia Sundararaman
Anita Taylor
Janani Vishwanath
Peter Winsauer
Katrina Zaiens
Faculty & Graduate Students
Undergraduates
Our Conditioned Taste Aversion (CTA) bibliography and database provide an overview and access to research dating from 1950s to the present.