4400 Massachusetts Avenue NW
Washington
,
DC
20016
United States
Public Health
4400 Massachusetts Avenue NW
Washington
,
DC
20016-8037
United States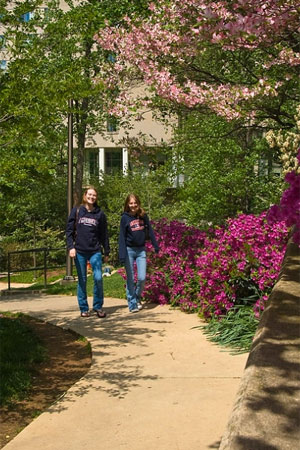 The Public Health Program in the Department of Health Sciences is rooted in a liberal arts curriculum that blends a practice-based perspective. The interdisciplinary approach prepares students for a wide range of professional careers in health and medicine, and to pursue graduate or professional education.
The carefully sequenced courses allow students to study the area of public health they are passionate about, while expanding their college experience to include other areas of interest.
The first year of the Public Health Scholars program lays the foundation for the public health major and the study abroad experience.
The summer sessions are a highlight of the program. Scholars from all of the three-year degree programs remain on campus and participate in small seminar-style classes and a lightened course-load that allows for opportunities to work, volunteer, and conduct research with faculty.
Select classes, listed below, are taken together as a cohort with other members of the Public Health Scholars Program.
Course Sequence
BA = 52 credits TOTAL



Year 1

Introduction to Public Health (PUBH 110)
Public Health Scholars Lab (PUBH 111)
Intro to Health Promotion (HPRM 240)
Intro to Human Health & Disease (PUBH 210)
Stats 202
Bioethics (PHIL 241) (summer)
Study Abroad Scholars Seminar/(PUBH 211) (summer)




Year 2 (Abroad in Fall)

Epidemiology (PUBH 340 )
Internship/PUBH 391 (Abroad or Summer)
Intro Health Research (PUBH 350) or Social Research
Program Planning (HPRM 335)




Year 3

Health Communication (HPRM 441)
Health Policy (HPRM 480)
Public Health Capstone (PUBH 480)
Global Health or Health Development


• Multicultural Health (HPRM 245) (any year)
• +3 electives


BS = 60 credits TOTAL



Year 1

Introduction to Public Health (PUBH 110)
Public Health Scholars Lab (PUBH 111)
Intro to Health Promotion (HPRM 240)
Intro to Human Health & Disease (PUBH 210)
Stats 202
Bioethics (PHIL 241) (summer)
Study Abroad Scholars Seminar/(PUBH 211) (summer)




Year 2 (Abroad in Fall)

Epidemiology (PUBH 340 )
Internship/PUBH 391 (Abroad or Summer)
Intro Health Research (PUBH 350) or Social Research
Program Planning (HPRM 335)




Year 3

Intro to Infectious Diseases (PUBH 320)
Health Communication (HPRM 441)
Health Policy (HPRM 480)
Public Health Capstone (PUBH 480)


• Multicultural Health (HPRM 245) (any year)
• +3 electives