CAS Dean's Office
4400 Massachusetts Avenue NW
Washington
,
DC
20016-8012
United States
The conference will take place on the newly built East Campus of the American University, easily accessible by car and public transportation, with free shuttle bus service from metro station "AU - Tenleytown."
The address is 3501 Nebraska Ave., NW Washington DC, 20016.
Entrance to the conference is from the campus interior, not from the street.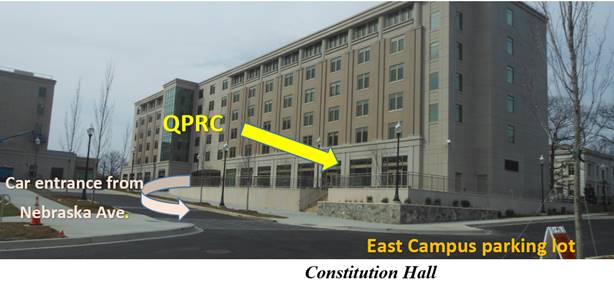 Accommodations
There are multiple hotels in the neighborhood of American University that offer a negotiated special rate for QPRC participants. For reservations, follow the link and click on the hotel logos in the linked page.
A budget solution: A block of hotel-type rooms will also be reserved on campus. Information will be posted here.
Public Transport
If you are taking the metro, get off at the Tenleytown/AU metro station on the red line. When you exit the metro, you take the AU Shuttle which is located at a MetroBus stop directly outside the metro exit. The ride is free, and you will not need to show any ID to take the bus. Take the AU shuttle to the Kerwin Hall stop. You can take either the Red Route or the Blue Route shuttles. When you exit the shuttle, you will see Constitution Hall directly across Nebraska Avenue. Cross the street at the light and enter the building from the interior of East Campus.
Driving/Parking
When driving to Constitution Hall, it is best to use the address:
3501 Nebraska Ave NW
Washington, DC 20016
Constitution Hall is located off of Nebraska Avenue between Massachusetts Avenue and New Mexico Avenue. There is a surface parking lot located on East Campus with a right turn only entrance off of Nebraska Ave. Once parked, you will need to enter your license plate number into the kiosk to pay for parking. Parking is $2.00/hr or $16.00/day.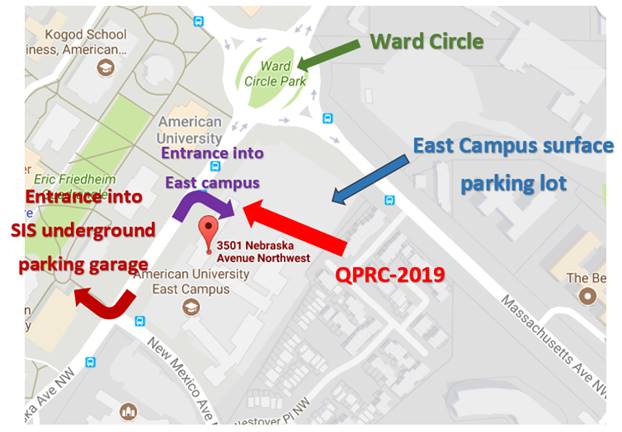 If you are driving on Nebraska Ave. from Ward Circle, there is no left turn into East Campus. It is then more convenient to use underground parking in the SIS Building. To enter this SIS parking garage, turn right from Nebraska Ave. at the intersection with New Mexico Ave. Parking meters are near the elevators. Parking fee is the same - $2.00/hr or $16.00/day. Watch for the signs, some parking slots are not allowed.