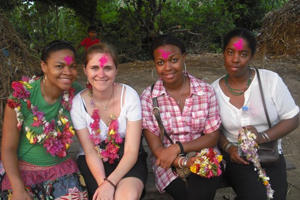 ITEP students are constantly seeking out new opportunities to apply their knowledge and skills to the field of international education. Featured here are examples of current ITEP students' recent and ongoing experiences in the field.
Internships
Alliance for Global Education: Program Intern
American University International Student and Scholar Services Office
Department of State: Web Team intern
ETS (Educational Testing Services): Governmental Relations Intern
Georgetown University: Office of Overseas Studies Graduate Intern
Intercultural Management Institute (IMI) at American University
NAFSA: Conference Intern
Sookmyung Women's University, Seoul, South Korea: Office of International Affairs Graduate Intern
University of Maryland, College Park Office of International Services
World Vision: Humanitarian and Emergency Affairs Intern
Volunteering:
American Councils for International Education: FLEX, A-SMYLE, and YES application readers
Association of International Education Administrators (AIEA) Conference in Washington, DC
College and Career Connections: ITEP student created an evaluation framework
Global Reach Out Initiative: peer mentoring programs for deaf youth in developing countries. This student traveled to India for a delegation with deaf university level students on self-advocacy issues, particularly related to improving student-teacher communication at the school.
Language, Education, and Technology Center (LETC): volunteer ESL teacher
NAFSA: The Association of International Educators, Region VIII Conference
TALK program at AU: co-facilitator
Washington Area Study Abroad Network "Life After Study Abroad" Conference
Jobs:
Alice Deal Middle School: Student Teacher, International Baccalaureate Middle Years Program
American Councils for International Education: Program Assistant, Teacher's Programs
American University: School of Education, Teaching and Health (SETH) Teaching Assistant
Bethesda-Chevy Chase High School: Student Teacher, International Baccalaureate Diploma Years Program
English as a Second Language Teacher
KidPower: write curriculum, create and deliver staff training
UPEACE/US: Program Director (began as an internship)
Research:
Research assistant with Prof. Adrea Lawrence, historical and contemporary data analysis concerning Native American populations in education
Student attitudes toward American University's study abroad reentry programs
Internationalization of American higher education
Study abroad recruitment strategies at mid-Atlantic universities
Ongoing research on the acquisition of education for female Sudanese refugees residing in camps in Chad. This research not only looks at the current programs for women 18 years and older but also the relationship between the refugee and host communities and the impact that relationship has on access to education resources; the relationship between the refugee community and the host government and their support of education initiatives within these camps; and the role international aid and NGOs are playing in providing educational resources to this population.
Presentations:
Short film: "Why Invest in Girls' Education in Developing Countries," screened at American University's Public Anthropology conference in October 2010
Powers, M. A. & Glasser, H. M. (2011). How twitter can impact experiences in liberal arts classrooms: Graduates' reflections. Paper discussion presented at the annual meeting of the American Educational Research Association, New Orleans, LA.
Conferences and Activities:
American Educational Research Association (AERA) Conference, on April 3-7, 2014 in Philadelphia, Pennsylvania. Submissions must be made by July 22, 2013.
Comparative International Education Society (CIES) Conference,

Association of International Education Administrators (AIEA) Conference, in Washington, DC
Forum on Education Abroad, Annual National Conference
NAFSA: The Association of International Educators, Region VIII Conference
NAFSA: The Association of International Educators, Annual National Conference
TALK program participant at American University