Jean Jinho Kim was born in Seoul, Korea and moved to the United States after graduating from high school. She earned her BFA in painting from West Virginia University in Morgantown and her MFA in studio art at American University in Washington, DC. Kim began with painting and evolved into 3-dimensional installations and sculptures. She intentionally selects familiar materials for her work, such as downspouts, aluminum, wood and autobody parts, to create new shapes and concepts with a recognizable foundation. Kim also creates particular forms using specific colors to bring relevant and current issues to life. Currently, Kim is a member of STABLE Arts community in Washington, DC. and has exhibited her work in several solo and numerous group exhibitions in the US, Germany, Italy, Hong Kong and South Korea. She participated in residency programs in Berlin, Germany and Seravezza, Italy. Kim's work has been reviewed by The Washington Post, The Korean Times, and Korea Daily.
Justin Randolph Thompson is a new media artist, cultural facilitator and educator born in Peekskill, NY in '79. Living between Italy and the US since 1999, Thompson is Co-Founder and Director of Black History Month Florence, a multi-faceted exploration of African and African Diasporic cultures in the context of Italy founded in 2016.
Thompson is a recipient of a Louise Comfort Tiffany Award, a Franklin Furnace Fund Award, a Visual Artist Grant from the Fundacion Marcelino Botin, two Foundation for Contemporary Arts Emergency Grants, A Jerome Fellowship from Franconia Sculpture Park and an Emerging Artist Fellowship from Socrates Sculpture Park. His life and work seek to deepen the discussions around socio-cultural stratification and hierarchical organization by employing fleeting temporary communities as monuments and fostering projects that connect academic discourse social activism and DIY networking strategies in annual and biennial gathering, sharing and gestures of collectivity.
View Justin Thompson's website.
Justin Thompson will join current students for an alumni coffee talk on October 7, 2020 at 1 p.m.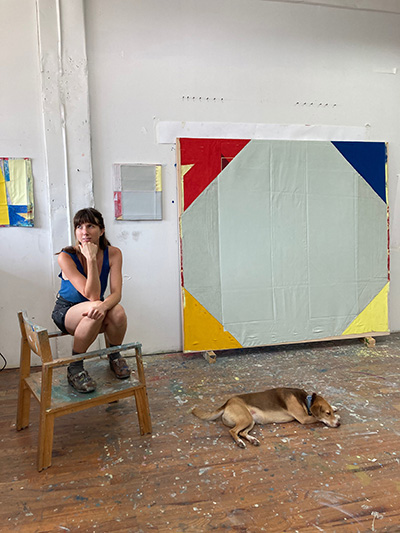 Julia Rommel received her MFA from American University in Washington, DC. Her first solo museum show, Two Italians, Six Lifeguards, was hosted by the Aldrich Museum, Ridgefield, CT in 2015. Recent solo and two-person exhibitions include: Twin Bed, Bureau at Tanya Leighton, Berlin, Germany; Stay-at-Home Dad with Mathew Cerletty, Standard (Oslo), Oslo, Norway; Man Alive, Bureau, New York; A Cheesecake With Your Name On It, Overduin & Co., Los Angeles, CA; The Little Match Stick, Bureau. Group exhibitions include Painting/Objects, The FLAG Art Foundation, New York; Zombie Formalism, ca. 1970/2016, Mitchell Algus Gallery, New York; In the Making, Luxembourg & Dayan, New York; Space Between, The FLAG Art Foundation, New York, NY; Where Were You, Lisson Gallery, London. Her work is in the collection of the Museum of Modern Art, New York; Whitney Museum of American Art, New York; Albright Knox Art Gallery, Buffalo; Hammer Museum, Los Angeles; and the Walker Art Center, Minneapolis. In 2018 she was an Artist-in-Residence at the Robert Rauschenberg Foundation, Captiva Island, Florida.
Julia Rommel will join current students for an alumni coffee talk on November 18, 2020 at 1 p.m.