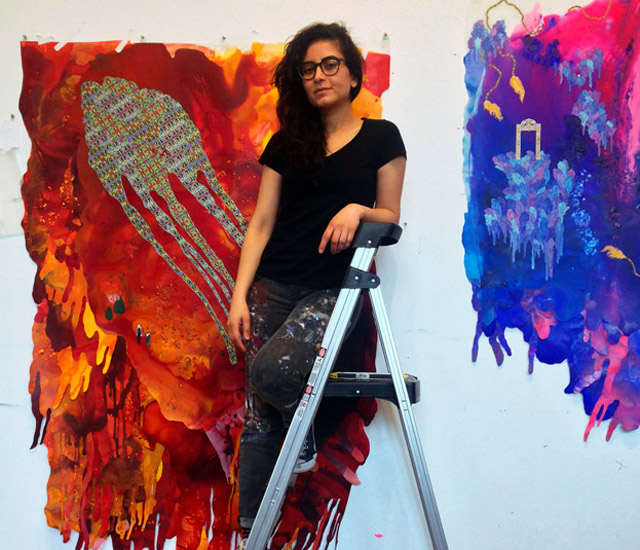 Hedieh Ilchi, CAS/MFA '11
My recent paintings reflect an ongoing interest in the fusion of visual codes.
Hedieh Ilchi's art draws from her cultural identity as an Iranian American. The recipient of numerous awards, she has exhibited at the Corcoran Gallery of Art, the Katzen Art Center, Irvine Contemporary, Civilian Art Projects, and Contemporary Wing. Her work has been reviewed in the Washington Post and Art Papers. She teaches at AU and is an artist in residence at the Arlington Arts Center.
Studio Art Program Master of Fine Arts
5:23
Get an inside look into the Studio Art MFA Program at American University's College of Arts and Sciences. Faculty and students discuss what sets this program apart from others.
struct
Cause

struct
ErrorCode
4060
Message
[Macromedia][SQLServer JDBC Driver][SQLServer]Cannot open database "RecruiterProd_MSCRM" requested by the login. The login failed.
NextException

struct
ErrorCode
18456
Message
[Macromedia][SQLServer JDBC Driver][SQLServer]Login failed for user 'cms_user'.
NextException

struct
ErrorCode
0
Message
[Macromedia][SQLServer JDBC Driver]An error occurred while attempting to log onto the database.
NextException

struct
ErrorCode
4060
Message
[Macromedia][SQLServer JDBC Driver][SQLServer]Cannot open database "RecruiterProd_MSCRM" requested by the login. The login failed.
NextException

struct
ErrorCode
18456
Message
[Macromedia][SQLServer JDBC Driver][SQLServer]Login failed for user 'cms_user'.
NextException

struct
ErrorCode
0
Message
[Macromedia][SQLServer JDBC Driver]An error occurred while attempting to log onto the database.
NextException

struct
ErrorCode
4060
Message
[Macromedia][SQLServer JDBC Driver][SQLServer]Cannot open database "RecruiterProd_MSCRM" requested by the login. The login failed.
NextException

struct
ErrorCode
18456
Message
[Macromedia][SQLServer JDBC Driver][SQLServer]Login failed for user 'cms_user'.
NextException

struct
ErrorCode
0
Message
[Macromedia][SQLServer JDBC Driver]An error occurred while attempting to log onto the database.
NextException

struct
ErrorCode
4060
Message
[Macromedia][SQLServer JDBC Driver][SQLServer]Cannot open database "RecruiterProd_MSCRM" requested by the login. The login failed.
NextException

struct
ErrorCode
18456
Message
[Macromedia][SQLServer JDBC Driver][SQLServer]Login failed for user 'cms_user'.
NextException

struct
ErrorCode
0
Message
[Macromedia][SQLServer JDBC Driver]An error occurred while attempting to log onto the database.
NextException

struct
ErrorCode
4060
Message
[Macromedia][SQLServer JDBC Driver][SQLServer]Cannot open database "RecruiterProd_MSCRM" requested by the login. The login failed.
NextException

struct
ErrorCode
18456
Message
[Macromedia][SQLServer JDBC Driver][SQLServer]Login failed for user 'cms_user'.
NextException

struct
ErrorCode
0
Message
[Macromedia][SQLServer JDBC Driver]An error occurred while attempting to log onto the database.
NextException

struct
ErrorCode
4060
Message
[Macromedia][SQLServer JDBC Driver][SQLServer]Cannot open database "RecruiterProd_MSCRM" requested by the login. The login failed.
NextException

struct
ErrorCode
18456
Message
[Macromedia][SQLServer JDBC Driver][SQLServer]Login failed for user 'cms_user'.
NextException

struct
ErrorCode
0
Message
[Macromedia][SQLServer JDBC Driver]An error occurred while attempting to log onto the database.
SQLState
08001
StackTrace
java.sql.SQLNonTransientConnectionException: [Macromedia][SQLServer JDBC Driver]An error occurred while attempting to log onto the database. at macromedia.jdbc.sqlserverbase.ddcw.b(Unknown Source) at macromedia.jdbc.sqlserverbase.ddcw.a(Unknown Source) at macromedia.jdbc.sqlserverbase.ddcv.b(Unknown Source) at macromedia.jdbc.sqlserverbase.ddcv.a(Unknown Source) at macromedia.jdbc.sqlserver.tds.ddj.a(Unknown Source) at macromedia.jdbc.sqlserver.tds.ddr.c(Unknown Source) at macromedia.jdbc.sqlserver.tds.ddj.a(Unknown Source) at macromedia.jdbc.sqlserver.SQLServerImplConnection.f(Unknown Source) at macromedia.jdbc.sqlserverbase.BaseConnection.b(Unknown Source) at macromedia.jdbc.sqlserverbase.BaseConnection.k(Unknown Source) at macromedia.jdbc.sqlserverbase.BaseConnection.b(Unknown Source) at macromedia.jdbc.sqlserverbase.BaseConnection.a(Unknown Source) at macromedia.jdbc.sqlserverbase.BaseDriver.connect(Unknown Source) at macromedia.jdbc.MacromediaDriver.$fr$connect(Unknown Source) at macromedia.jdbc.MacromediaDriver.connect(Unknown Source) at coldfusion.server.j2ee.sql.pool.JDBCPool.createPhysicalConnection(JDBCPool.java:644) at coldfusion.server.j2ee.sql.pool.ConnectionRunner$RunnableConnection.run(ConnectionRunner.java:67) at java.lang.Thread.run(Thread.java:748)
Suppressed
TagContext
Type
java.sql.SQLNonTransientConnectionException

SQLState
28000
StackTrace
java.sql.SQLInvalidAuthorizationSpecException: [Macromedia][SQLServer JDBC Driver][SQLServer]Login failed for user 'cms_user'. at macromedia.jdbc.sqlserverbase.ddcw.b(Unknown Source) at macromedia.jdbc.sqlserverbase.ddcw.a(Unknown Source) at macromedia.jdbc.sqlserverbase.ddcv.b(Unknown Source) at macromedia.jdbc.sqlserverbase.ddcv.a(Unknown Source) at macromedia.jdbc.sqlserver.tds.ddr.v(Unknown Source) at macromedia.jdbc.sqlserver.tds.ddr.a(Unknown Source) at macromedia.jdbc.sqlserver.tds.ddj.a(Unknown Source) at macromedia.jdbc.sqlserver.tds.ddr.c(Unknown Source) at macromedia.jdbc.sqlserver.tds.ddj.a(Unknown Source) at macromedia.jdbc.sqlserver.SQLServerImplConnection.f(Unknown Source) at macromedia.jdbc.sqlserverbase.BaseConnection.b(Unknown Source) at macromedia.jdbc.sqlserverbase.BaseConnection.k(Unknown Source) at macromedia.jdbc.sqlserverbase.BaseConnection.b(Unknown Source) at macromedia.jdbc.sqlserverbase.BaseConnection.a(Unknown Source) at macromedia.jdbc.sqlserverbase.BaseDriver.connect(Unknown Source) at macromedia.jdbc.MacromediaDriver.$fr$connect(Unknown Source) at macromedia.jdbc.MacromediaDriver.connect(Unknown Source) at coldfusion.server.j2ee.sql.pool.JDBCPool.createPhysicalConnection(JDBCPool.java:644) at coldfusion.server.j2ee.sql.pool.ConnectionRunner$RunnableConnection.run(ConnectionRunner.java:67) at java.lang.Thread.run(Thread.java:748)
Suppressed
TagContext
Type
java.sql.SQLInvalidAuthorizationSpecException

SQLState
08001
StackTrace
java.sql.SQLNonTransientConnectionException: [Macromedia][SQLServer JDBC Driver][SQLServer]Cannot open database "RecruiterProd_MSCRM" requested by the login. The login failed. at macromedia.jdbc.sqlserverbase.ddcw.b(Unknown Source) at macromedia.jdbc.sqlserverbase.ddcw.a(Unknown Source) at macromedia.jdbc.sqlserverbase.ddcv.b(Unknown Source) at macromedia.jdbc.sqlserverbase.ddcv.a(Unknown Source) at macromedia.jdbc.sqlserver.tds.ddr.v(Unknown Source) at macromedia.jdbc.sqlserver.tds.ddr.a(Unknown Source) at macromedia.jdbc.sqlserver.tds.ddj.a(Unknown Source) at macromedia.jdbc.sqlserver.tds.ddr.c(Unknown Source) at macromedia.jdbc.sqlserver.tds.ddj.a(Unknown Source) at macromedia.jdbc.sqlserver.SQLServerImplConnection.f(Unknown Source) at macromedia.jdbc.sqlserverbase.BaseConnection.b(Unknown Source) at macromedia.jdbc.sqlserverbase.BaseConnection.k(Unknown Source) at macromedia.jdbc.sqlserverbase.BaseConnection.b(Unknown Source) at macromedia.jdbc.sqlserverbase.BaseConnection.a(Unknown Source) at macromedia.jdbc.sqlserverbase.BaseDriver.connect(Unknown Source) at macromedia.jdbc.MacromediaDriver.$fr$connect(Unknown Source) at macromedia.jdbc.MacromediaDriver.connect(Unknown Source) at coldfusion.server.j2ee.sql.pool.JDBCPool.createPhysicalConnection(JDBCPool.java:644) at coldfusion.server.j2ee.sql.pool.ConnectionRunner$RunnableConnection.run(ConnectionRunner.java:67) at java.lang.Thread.run(Thread.java:748)
Suppressed
TagContext
Type
java.sql.SQLNonTransientConnectionException

SQLState
08001
StackTrace
java.sql.SQLNonTransientConnectionException: [Macromedia][SQLServer JDBC Driver]An error occurred while attempting to log onto the database. at macromedia.jdbc.sqlserverbase.ddcw.b(Unknown Source) at macromedia.jdbc.sqlserverbase.ddcw.a(Unknown Source) at macromedia.jdbc.sqlserverbase.ddcv.b(Unknown Source) at macromedia.jdbc.sqlserverbase.ddcv.a(Unknown Source) at macromedia.jdbc.sqlserver.tds.ddj.a(Unknown Source) at macromedia.jdbc.sqlserver.tds.ddr.c(Unknown Source) at macromedia.jdbc.sqlserver.tds.ddj.a(Unknown Source) at macromedia.jdbc.sqlserver.SQLServerImplConnection.f(Unknown Source) at macromedia.jdbc.sqlserverbase.BaseConnection.b(Unknown Source) at macromedia.jdbc.sqlserverbase.BaseConnection.k(Unknown Source) at macromedia.jdbc.sqlserverbase.BaseConnection.b(Unknown Source) at macromedia.jdbc.sqlserverbase.BaseConnection.a(Unknown Source) at macromedia.jdbc.sqlserverbase.BaseDriver.connect(Unknown Source) at macromedia.jdbc.MacromediaDriver.$fr$connect(Unknown Source) at macromedia.jdbc.MacromediaDriver.connect(Unknown Source) at coldfusion.server.j2ee.sql.pool.JDBCPool.createPhysicalConnection(JDBCPool.java:644) at coldfusion.server.j2ee.sql.pool.ConnectionRunner$RunnableConnection.run(ConnectionRunner.java:67) at java.lang.Thread.run(Thread.java:748)
Suppressed
TagContext
Type
java.sql.SQLNonTransientConnectionException

SQLState
28000
StackTrace
java.sql.SQLInvalidAuthorizationSpecException: [Macromedia][SQLServer JDBC Driver][SQLServer]Login failed for user 'cms_user'. at macromedia.jdbc.sqlserverbase.ddcw.b(Unknown Source) at macromedia.jdbc.sqlserverbase.ddcw.a(Unknown Source) at macromedia.jdbc.sqlserverbase.ddcv.b(Unknown Source) at macromedia.jdbc.sqlserverbase.ddcv.a(Unknown Source) at macromedia.jdbc.sqlserver.tds.ddr.v(Unknown Source) at macromedia.jdbc.sqlserver.tds.ddr.a(Unknown Source) at macromedia.jdbc.sqlserver.tds.ddj.a(Unknown Source) at macromedia.jdbc.sqlserver.tds.ddr.c(Unknown Source) at macromedia.jdbc.sqlserver.tds.ddj.a(Unknown Source) at macromedia.jdbc.sqlserver.SQLServerImplConnection.f(Unknown Source) at macromedia.jdbc.sqlserverbase.BaseConnection.b(Unknown Source) at macromedia.jdbc.sqlserverbase.BaseConnection.k(Unknown Source) at macromedia.jdbc.sqlserverbase.BaseConnection.b(Unknown Source) at macromedia.jdbc.sqlserverbase.BaseConnection.a(Unknown Source) at macromedia.jdbc.sqlserverbase.BaseDriver.connect(Unknown Source) at macromedia.jdbc.MacromediaDriver.$fr$connect(Unknown Source) at macromedia.jdbc.MacromediaDriver.connect(Unknown Source) at coldfusion.server.j2ee.sql.pool.JDBCPool.createPhysicalConnection(JDBCPool.java:644) at coldfusion.server.j2ee.sql.pool.ConnectionRunner$RunnableConnection.run(ConnectionRunner.java:67) at java.lang.Thread.run(Thread.java:748)
Suppressed
TagContext
Type
java.sql.SQLInvalidAuthorizationSpecException

SQLState
08001
StackTrace
java.sql.SQLNonTransientConnectionException: [Macromedia][SQLServer JDBC Driver][SQLServer]Cannot open database "RecruiterProd_MSCRM" requested by the login. The login failed. at macromedia.jdbc.sqlserverbase.ddcw.b(Unknown Source) at macromedia.jdbc.sqlserverbase.ddcw.a(Unknown Source) at macromedia.jdbc.sqlserverbase.ddcv.b(Unknown Source) at macromedia.jdbc.sqlserverbase.ddcv.a(Unknown Source) at macromedia.jdbc.sqlserver.tds.ddr.v(Unknown Source) at macromedia.jdbc.sqlserver.tds.ddr.a(Unknown Source) at macromedia.jdbc.sqlserver.tds.ddj.a(Unknown Source) at macromedia.jdbc.sqlserver.tds.ddr.c(Unknown Source) at macromedia.jdbc.sqlserver.tds.ddj.a(Unknown Source) at macromedia.jdbc.sqlserver.SQLServerImplConnection.f(Unknown Source) at macromedia.jdbc.sqlserverbase.BaseConnection.b(Unknown Source) at macromedia.jdbc.sqlserverbase.BaseConnection.k(Unknown Source) at macromedia.jdbc.sqlserverbase.BaseConnection.b(Unknown Source) at macromedia.jdbc.sqlserverbase.BaseConnection.a(Unknown Source) at macromedia.jdbc.sqlserverbase.BaseDriver.connect(Unknown Source) at macromedia.jdbc.MacromediaDriver.$fr$connect(Unknown Source) at macromedia.jdbc.MacromediaDriver.connect(Unknown Source) at coldfusion.server.j2ee.sql.pool.JDBCPool.createPhysicalConnection(JDBCPool.java:644) at coldfusion.server.j2ee.sql.pool.ConnectionRunner$RunnableConnection.run(ConnectionRunner.java:67) at java.lang.Thread.run(Thread.java:748)
Suppressed
TagContext
Type
java.sql.SQLNonTransientConnectionException

SQLState
08001
StackTrace
java.sql.SQLNonTransientConnectionException: [Macromedia][SQLServer JDBC Driver]An error occurred while attempting to log onto the database. at macromedia.jdbc.sqlserverbase.ddcw.b(Unknown Source) at macromedia.jdbc.sqlserverbase.ddcw.a(Unknown Source) at macromedia.jdbc.sqlserverbase.ddcv.b(Unknown Source) at macromedia.jdbc.sqlserverbase.ddcv.a(Unknown Source) at macromedia.jdbc.sqlserver.tds.ddj.a(Unknown Source) at macromedia.jdbc.sqlserver.tds.ddr.c(Unknown Source) at macromedia.jdbc.sqlserver.tds.ddj.a(Unknown Source) at macromedia.jdbc.sqlserver.SQLServerImplConnection.f(Unknown Source) at macromedia.jdbc.sqlserverbase.BaseConnection.b(Unknown Source) at macromedia.jdbc.sqlserverbase.BaseConnection.k(Unknown Source) at macromedia.jdbc.sqlserverbase.BaseConnection.b(Unknown Source) at macromedia.jdbc.sqlserverbase.BaseConnection.a(Unknown Source) at macromedia.jdbc.sqlserverbase.BaseDriver.connect(Unknown Source) at macromedia.jdbc.MacromediaDriver.$fr$connect(Unknown Source) at macromedia.jdbc.MacromediaDriver.connect(Unknown Source) at coldfusion.server.j2ee.sql.pool.JDBCPool.createPhysicalConnection(JDBCPool.java:644) at coldfusion.server.j2ee.sql.pool.ConnectionRunner$RunnableConnection.run(ConnectionRunner.java:67) at java.lang.Thread.run(Thread.java:748)
Suppressed
TagContext
Type
java.sql.SQLNonTransientConnectionException

SQLState
28000
StackTrace
java.sql.SQLInvalidAuthorizationSpecException: [Macromedia][SQLServer JDBC Driver][SQLServer]Login failed for user 'cms_user'. at macromedia.jdbc.sqlserverbase.ddcw.b(Unknown Source) at macromedia.jdbc.sqlserverbase.ddcw.a(Unknown Source) at macromedia.jdbc.sqlserverbase.ddcv.b(Unknown Source) at macromedia.jdbc.sqlserverbase.ddcv.a(Unknown Source) at macromedia.jdbc.sqlserver.tds.ddr.v(Unknown Source) at macromedia.jdbc.sqlserver.tds.ddr.a(Unknown Source) at macromedia.jdbc.sqlserver.tds.ddj.a(Unknown Source) at macromedia.jdbc.sqlserver.tds.ddr.c(Unknown Source) at macromedia.jdbc.sqlserver.tds.ddj.a(Unknown Source) at macromedia.jdbc.sqlserver.SQLServerImplConnection.f(Unknown Source) at macromedia.jdbc.sqlserverbase.BaseConnection.b(Unknown Source) at macromedia.jdbc.sqlserverbase.BaseConnection.k(Unknown Source) at macromedia.jdbc.sqlserverbase.BaseConnection.b(Unknown Source) at macromedia.jdbc.sqlserverbase.BaseConnection.a(Unknown Source) at macromedia.jdbc.sqlserverbase.BaseDriver.connect(Unknown Source) at macromedia.jdbc.MacromediaDriver.$fr$connect(Unknown Source) at macromedia.jdbc.MacromediaDriver.connect(Unknown Source) at coldfusion.server.j2ee.sql.pool.JDBCPool.createPhysicalConnection(JDBCPool.java:644) at coldfusion.server.j2ee.sql.pool.ConnectionRunner$RunnableConnection.run(ConnectionRunner.java:67) at java.lang.Thread.run(Thread.java:748)
Suppressed
TagContext
Type
java.sql.SQLInvalidAuthorizationSpecException

SQLState
08001
StackTrace
java.sql.SQLNonTransientConnectionException: [Macromedia][SQLServer JDBC Driver][SQLServer]Cannot open database "RecruiterProd_MSCRM" requested by the login. The login failed. at macromedia.jdbc.sqlserverbase.ddcw.b(Unknown Source) at macromedia.jdbc.sqlserverbase.ddcw.a(Unknown Source) at macromedia.jdbc.sqlserverbase.ddcv.b(Unknown Source) at macromedia.jdbc.sqlserverbase.ddcv.a(Unknown Source) at macromedia.jdbc.sqlserver.tds.ddr.v(Unknown Source) at macromedia.jdbc.sqlserver.tds.ddr.a(Unknown Source) at macromedia.jdbc.sqlserver.tds.ddj.a(Unknown Source) at macromedia.jdbc.sqlserver.tds.ddr.c(Unknown Source) at macromedia.jdbc.sqlserver.tds.ddj.a(Unknown Source) at macromedia.jdbc.sqlserver.SQLServerImplConnection.f(Unknown Source) at macromedia.jdbc.sqlserverbase.BaseConnection.b(Unknown Source) at macromedia.jdbc.sqlserverbase.BaseConnection.k(Unknown Source) at macromedia.jdbc.sqlserverbase.BaseConnection.b(Unknown Source) at macromedia.jdbc.sqlserverbase.BaseConnection.a(Unknown Source) at macromedia.jdbc.sqlserverbase.BaseDriver.connect(Unknown Source) at macromedia.jdbc.MacromediaDriver.$fr$connect(Unknown Source) at macromedia.jdbc.MacromediaDriver.connect(Unknown Source) at coldfusion.server.j2ee.sql.pool.JDBCPool.createPhysicalConnection(JDBCPool.java:644) at coldfusion.server.j2ee.sql.pool.ConnectionRunner$RunnableConnection.run(ConnectionRunner.java:67) at java.lang.Thread.run(Thread.java:748)
Suppressed
TagContext
Type
java.sql.SQLNonTransientConnectionException

SQLState
08001
StackTrace
java.sql.SQLNonTransientConnectionException: [Macromedia][SQLServer JDBC Driver]An error occurred while attempting to log onto the database. at macromedia.jdbc.sqlserverbase.ddcw.b(Unknown Source) at macromedia.jdbc.sqlserverbase.ddcw.a(Unknown Source) at macromedia.jdbc.sqlserverbase.ddcv.b(Unknown Source) at macromedia.jdbc.sqlserverbase.ddcv.a(Unknown Source) at macromedia.jdbc.sqlserver.tds.ddj.a(Unknown Source) at macromedia.jdbc.sqlserver.tds.ddr.c(Unknown Source) at macromedia.jdbc.sqlserver.tds.ddj.a(Unknown Source) at macromedia.jdbc.sqlserver.SQLServerImplConnection.f(Unknown Source) at macromedia.jdbc.sqlserverbase.BaseConnection.b(Unknown Source) at macromedia.jdbc.sqlserverbase.BaseConnection.k(Unknown Source) at macromedia.jdbc.sqlserverbase.BaseConnection.b(Unknown Source) at macromedia.jdbc.sqlserverbase.BaseConnection.a(Unknown Source) at macromedia.jdbc.sqlserverbase.BaseDriver.connect(Unknown Source) at macromedia.jdbc.MacromediaDriver.$fr$connect(Unknown Source) at macromedia.jdbc.MacromediaDriver.connect(Unknown Source) at coldfusion.server.j2ee.sql.pool.JDBCPool.createPhysicalConnection(JDBCPool.java:644) at coldfusion.server.j2ee.sql.pool.ConnectionRunner$RunnableConnection.run(ConnectionRunner.java:67) at java.lang.Thread.run(Thread.java:748)
Suppressed
TagContext
Type
java.sql.SQLNonTransientConnectionException

SQLState
28000
StackTrace
java.sql.SQLInvalidAuthorizationSpecException: [Macromedia][SQLServer JDBC Driver][SQLServer]Login failed for user 'cms_user'. at macromedia.jdbc.sqlserverbase.ddcw.b(Unknown Source) at macromedia.jdbc.sqlserverbase.ddcw.a(Unknown Source) at macromedia.jdbc.sqlserverbase.ddcv.b(Unknown Source) at macromedia.jdbc.sqlserverbase.ddcv.a(Unknown Source) at macromedia.jdbc.sqlserver.tds.ddr.v(Unknown Source) at macromedia.jdbc.sqlserver.tds.ddr.a(Unknown Source) at macromedia.jdbc.sqlserver.tds.ddj.a(Unknown Source) at macromedia.jdbc.sqlserver.tds.ddr.c(Unknown Source) at macromedia.jdbc.sqlserver.tds.ddj.a(Unknown Source) at macromedia.jdbc.sqlserver.SQLServerImplConnection.f(Unknown Source) at macromedia.jdbc.sqlserverbase.BaseConnection.b(Unknown Source) at macromedia.jdbc.sqlserverbase.BaseConnection.k(Unknown Source) at macromedia.jdbc.sqlserverbase.BaseConnection.b(Unknown Source) at macromedia.jdbc.sqlserverbase.BaseConnection.a(Unknown Source) at macromedia.jdbc.sqlserverbase.BaseDriver.connect(Unknown Source) at macromedia.jdbc.MacromediaDriver.$fr$connect(Unknown Source) at macromedia.jdbc.MacromediaDriver.connect(Unknown Source) at coldfusion.server.j2ee.sql.pool.JDBCPool.createPhysicalConnection(JDBCPool.java:644) at coldfusion.server.j2ee.sql.pool.ConnectionRunner$RunnableConnection.run(ConnectionRunner.java:67) at java.lang.Thread.run(Thread.java:748)
Suppressed
TagContext
Type
java.sql.SQLInvalidAuthorizationSpecException

SQLState
08001
StackTrace
java.sql.SQLNonTransientConnectionException: [Macromedia][SQLServer JDBC Driver][SQLServer]Cannot open database "RecruiterProd_MSCRM" requested by the login. The login failed. at macromedia.jdbc.sqlserverbase.ddcw.b(Unknown Source) at macromedia.jdbc.sqlserverbase.ddcw.a(Unknown Source) at macromedia.jdbc.sqlserverbase.ddcv.b(Unknown Source) at macromedia.jdbc.sqlserverbase.ddcv.a(Unknown Source) at macromedia.jdbc.sqlserver.tds.ddr.v(Unknown Source) at macromedia.jdbc.sqlserver.tds.ddr.a(Unknown Source) at macromedia.jdbc.sqlserver.tds.ddj.a(Unknown Source) at macromedia.jdbc.sqlserver.tds.ddr.c(Unknown Source) at macromedia.jdbc.sqlserver.tds.ddj.a(Unknown Source) at macromedia.jdbc.sqlserver.SQLServerImplConnection.f(Unknown Source) at macromedia.jdbc.sqlserverbase.BaseConnection.b(Unknown Source) at macromedia.jdbc.sqlserverbase.BaseConnection.k(Unknown Source) at macromedia.jdbc.sqlserverbase.BaseConnection.b(Unknown Source) at macromedia.jdbc.sqlserverbase.BaseConnection.a(Unknown Source) at macromedia.jdbc.sqlserverbase.BaseDriver.connect(Unknown Source) at macromedia.jdbc.MacromediaDriver.$fr$connect(Unknown Source) at macromedia.jdbc.MacromediaDriver.connect(Unknown Source) at coldfusion.server.j2ee.sql.pool.JDBCPool.createPhysicalConnection(JDBCPool.java:644) at coldfusion.server.j2ee.sql.pool.ConnectionRunner$RunnableConnection.run(ConnectionRunner.java:67) at java.lang.Thread.run(Thread.java:748)
Suppressed
TagContext
Type
java.sql.SQLNonTransientConnectionException

SQLState
08001
StackTrace
java.sql.SQLNonTransientConnectionException: [Macromedia][SQLServer JDBC Driver]An error occurred while attempting to log onto the database. at macromedia.jdbc.sqlserverbase.ddcw.b(Unknown Source) at macromedia.jdbc.sqlserverbase.ddcw.a(Unknown Source) at macromedia.jdbc.sqlserverbase.ddcv.b(Unknown Source) at macromedia.jdbc.sqlserverbase.ddcv.a(Unknown Source) at macromedia.jdbc.sqlserver.tds.ddj.a(Unknown Source) at macromedia.jdbc.sqlserver.tds.ddr.c(Unknown Source) at macromedia.jdbc.sqlserver.tds.ddj.a(Unknown Source) at macromedia.jdbc.sqlserver.SQLServerImplConnection.f(Unknown Source) at macromedia.jdbc.sqlserverbase.BaseConnection.b(Unknown Source) at macromedia.jdbc.sqlserverbase.BaseConnection.k(Unknown Source) at macromedia.jdbc.sqlserverbase.BaseConnection.b(Unknown Source) at macromedia.jdbc.sqlserverbase.BaseConnection.a(Unknown Source) at macromedia.jdbc.sqlserverbase.BaseDriver.connect(Unknown Source) at macromedia.jdbc.MacromediaDriver.$fr$connect(Unknown Source) at macromedia.jdbc.MacromediaDriver.connect(Unknown Source) at coldfusion.server.j2ee.sql.pool.JDBCPool.createPhysicalConnection(JDBCPool.java:644) at coldfusion.server.j2ee.sql.pool.ConnectionRunner$RunnableConnection.run(ConnectionRunner.java:67) at java.lang.Thread.run(Thread.java:748)
Suppressed
TagContext
Type
java.sql.SQLNonTransientConnectionException

SQLState
28000
StackTrace
java.sql.SQLInvalidAuthorizationSpecException: [Macromedia][SQLServer JDBC Driver][SQLServer]Login failed for user 'cms_user'. at macromedia.jdbc.sqlserverbase.ddcw.b(Unknown Source) at macromedia.jdbc.sqlserverbase.ddcw.a(Unknown Source) at macromedia.jdbc.sqlserverbase.ddcv.b(Unknown Source) at macromedia.jdbc.sqlserverbase.ddcv.a(Unknown Source) at macromedia.jdbc.sqlserver.tds.ddr.v(Unknown Source) at macromedia.jdbc.sqlserver.tds.ddr.a(Unknown Source) at macromedia.jdbc.sqlserver.tds.ddj.a(Unknown Source) at macromedia.jdbc.sqlserver.tds.ddr.c(Unknown Source) at macromedia.jdbc.sqlserver.tds.ddj.a(Unknown Source) at macromedia.jdbc.sqlserver.SQLServerImplConnection.f(Unknown Source) at macromedia.jdbc.sqlserverbase.BaseConnection.b(Unknown Source) at macromedia.jdbc.sqlserverbase.BaseConnection.k(Unknown Source) at macromedia.jdbc.sqlserverbase.BaseConnection.b(Unknown Source) at macromedia.jdbc.sqlserverbase.BaseConnection.a(Unknown Source) at macromedia.jdbc.sqlserverbase.BaseDriver.connect(Unknown Source) at macromedia.jdbc.MacromediaDriver.$fr$connect(Unknown Source) at macromedia.jdbc.MacromediaDriver.connect(Unknown Source) at coldfusion.server.j2ee.sql.pool.JDBCPool.createPhysicalConnection(JDBCPool.java:644) at coldfusion.server.j2ee.sql.pool.ConnectionRunner$RunnableConnection.run(ConnectionRunner.java:67) at java.lang.Thread.run(Thread.java:748)
Suppressed
TagContext
Type
java.sql.SQLInvalidAuthorizationSpecException

SQLState
08001
StackTrace
java.sql.SQLNonTransientConnectionException: [Macromedia][SQLServer JDBC Driver][SQLServer]Cannot open database "RecruiterProd_MSCRM" requested by the login. The login failed. at macromedia.jdbc.sqlserverbase.ddcw.b(Unknown Source) at macromedia.jdbc.sqlserverbase.ddcw.a(Unknown Source) at macromedia.jdbc.sqlserverbase.ddcv.b(Unknown Source) at macromedia.jdbc.sqlserverbase.ddcv.a(Unknown Source) at macromedia.jdbc.sqlserver.tds.ddr.v(Unknown Source) at macromedia.jdbc.sqlserver.tds.ddr.a(Unknown Source) at macromedia.jdbc.sqlserver.tds.ddj.a(Unknown Source) at macromedia.jdbc.sqlserver.tds.ddr.c(Unknown Source) at macromedia.jdbc.sqlserver.tds.ddj.a(Unknown Source) at macromedia.jdbc.sqlserver.SQLServerImplConnection.f(Unknown Source) at macromedia.jdbc.sqlserverbase.BaseConnection.b(Unknown Source) at macromedia.jdbc.sqlserverbase.BaseConnection.k(Unknown Source) at macromedia.jdbc.sqlserverbase.BaseConnection.b(Unknown Source) at macromedia.jdbc.sqlserverbase.BaseConnection.a(Unknown Source) at macromedia.jdbc.sqlserverbase.BaseDriver.connect(Unknown Source) at macromedia.jdbc.MacromediaDriver.$fr$connect(Unknown Source) at macromedia.jdbc.MacromediaDriver.connect(Unknown Source) at coldfusion.server.j2ee.sql.pool.JDBCPool.createPhysicalConnection(JDBCPool.java:644) at coldfusion.server.j2ee.sql.pool.ConnectionRunner$RunnableConnection.run(ConnectionRunner.java:67) at java.lang.Thread.run(Thread.java:748)
Suppressed
TagContext
Type
java.sql.SQLNonTransientConnectionException

SQLState
08001
StackTrace
java.sql.SQLNonTransientConnectionException: [Macromedia][SQLServer JDBC Driver]An error occurred while attempting to log onto the database. at macromedia.jdbc.sqlserverbase.ddcw.b(Unknown Source) at macromedia.jdbc.sqlserverbase.ddcw.a(Unknown Source) at macromedia.jdbc.sqlserverbase.ddcv.b(Unknown Source) at macromedia.jdbc.sqlserverbase.ddcv.a(Unknown Source) at macromedia.jdbc.sqlserver.tds.ddj.a(Unknown Source) at macromedia.jdbc.sqlserver.tds.ddr.c(Unknown Source) at macromedia.jdbc.sqlserver.tds.ddj.a(Unknown Source) at macromedia.jdbc.sqlserver.SQLServerImplConnection.f(Unknown Source) at macromedia.jdbc.sqlserverbase.BaseConnection.b(Unknown Source) at macromedia.jdbc.sqlserverbase.BaseConnection.k(Unknown Source) at macromedia.jdbc.sqlserverbase.BaseConnection.b(Unknown Source) at macromedia.jdbc.sqlserverbase.BaseConnection.a(Unknown Source) at macromedia.jdbc.sqlserverbase.BaseDriver.connect(Unknown Source) at macromedia.jdbc.MacromediaDriver.$fr$connect(Unknown Source) at macromedia.jdbc.MacromediaDriver.connect(Unknown Source) at coldfusion.server.j2ee.sql.pool.JDBCPool.createPhysicalConnection(JDBCPool.java:644) at coldfusion.server.j2ee.sql.pool.ConnectionRunner$RunnableConnection.run(ConnectionRunner.java:67) at java.lang.Thread.run(Thread.java:748)
Suppressed
TagContext
Type
java.sql.SQLNonTransientConnectionException

SQLState
28000
StackTrace
java.sql.SQLInvalidAuthorizationSpecException: [Macromedia][SQLServer JDBC Driver][SQLServer]Login failed for user 'cms_user'. at macromedia.jdbc.sqlserverbase.ddcw.b(Unknown Source) at macromedia.jdbc.sqlserverbase.ddcw.a(Unknown Source) at macromedia.jdbc.sqlserverbase.ddcv.b(Unknown Source) at macromedia.jdbc.sqlserverbase.ddcv.a(Unknown Source) at macromedia.jdbc.sqlserver.tds.ddr.v(Unknown Source) at macromedia.jdbc.sqlserver.tds.ddr.a(Unknown Source) at macromedia.jdbc.sqlserver.tds.ddj.a(Unknown Source) at macromedia.jdbc.sqlserver.tds.ddr.c(Unknown Source) at macromedia.jdbc.sqlserver.tds.ddj.a(Unknown Source) at macromedia.jdbc.sqlserver.SQLServerImplConnection.f(Unknown Source) at macromedia.jdbc.sqlserverbase.BaseConnection.b(Unknown Source) at macromedia.jdbc.sqlserverbase.BaseConnection.k(Unknown Source) at macromedia.jdbc.sqlserverbase.BaseConnection.b(Unknown Source) at macromedia.jdbc.sqlserverbase.BaseConnection.a(Unknown Source) at macromedia.jdbc.sqlserverbase.BaseDriver.connect(Unknown Source) at macromedia.jdbc.MacromediaDriver.$fr$connect(Unknown Source) at macromedia.jdbc.MacromediaDriver.connect(Unknown Source) at coldfusion.server.j2ee.sql.pool.JDBCPool.createPhysicalConnection(JDBCPool.java:644) at coldfusion.server.j2ee.sql.pool.ConnectionRunner$RunnableConnection.run(ConnectionRunner.java:67) at java.lang.Thread.run(Thread.java:748)
Suppressed
TagContext
Type
java.sql.SQLInvalidAuthorizationSpecException

SQLState
08001
StackTrace
java.sql.SQLNonTransientConnectionException: [Macromedia][SQLServer JDBC Driver][SQLServer]Cannot open database "RecruiterProd_MSCRM" requested by the login. The login failed. at macromedia.jdbc.sqlserverbase.ddcw.b(Unknown Source) at macromedia.jdbc.sqlserverbase.ddcw.a(Unknown Source) at macromedia.jdbc.sqlserverbase.ddcv.b(Unknown Source) at macromedia.jdbc.sqlserverbase.ddcv.a(Unknown Source) at macromedia.jdbc.sqlserver.tds.ddr.v(Unknown Source) at macromedia.jdbc.sqlserver.tds.ddr.a(Unknown Source) at macromedia.jdbc.sqlserver.tds.ddj.a(Unknown Source) at macromedia.jdbc.sqlserver.tds.ddr.c(Unknown Source) at macromedia.jdbc.sqlserver.tds.ddj.a(Unknown Source) at macromedia.jdbc.sqlserver.SQLServerImplConnection.f(Unknown Source) at macromedia.jdbc.sqlserverbase.BaseConnection.b(Unknown Source) at macromedia.jdbc.sqlserverbase.BaseConnection.k(Unknown Source) at macromedia.jdbc.sqlserverbase.BaseConnection.b(Unknown Source) at macromedia.jdbc.sqlserverbase.BaseConnection.a(Unknown Source) at macromedia.jdbc.sqlserverbase.BaseDriver.connect(Unknown Source) at macromedia.jdbc.MacromediaDriver.$fr$connect(Unknown Source) at macromedia.jdbc.MacromediaDriver.connect(Unknown Source) at coldfusion.server.j2ee.sql.pool.JDBCPool.createPhysicalConnection(JDBCPool.java:644) at coldfusion.server.j2ee.sql.pool.ConnectionRunner$RunnableConnection.run(ConnectionRunner.java:67) at java.lang.Thread.run(Thread.java:748)
Suppressed
TagContext
Type
java.sql.SQLNonTransientConnectionException

DataSource
Recruiter
Detail
[Macromedia][SQLServer JDBC Driver][SQLServer]Cannot open database "RecruiterProd_MSCRM" requested by the login. The login failed.
ErrorCode
08001
Exceptions

array
1

struct
class
java.sql.SQLNonTransientConnectionException
message
[Macromedia][SQLServer JDBC Driver][SQLServer]Cannot open database "RecruiterProd_MSCRM" requested by the login. The login failed.

2

struct
class
java.sql.SQLInvalidAuthorizationSpecException
message
[Macromedia][SQLServer JDBC Driver][SQLServer]Login failed for user 'cms_user'.

3

struct
class
java.sql.SQLNonTransientConnectionException
message
[Macromedia][SQLServer JDBC Driver]An error occurred while attempting to log onto the database.

4

struct
class
java.sql.SQLNonTransientConnectionException
message
[Macromedia][SQLServer JDBC Driver][SQLServer]Cannot open database "RecruiterProd_MSCRM" requested by the login. The login failed.

5

struct
class
java.sql.SQLInvalidAuthorizationSpecException
message
[Macromedia][SQLServer JDBC Driver][SQLServer]Login failed for user 'cms_user'.

6

struct
class
java.sql.SQLNonTransientConnectionException
message
[Macromedia][SQLServer JDBC Driver]An error occurred while attempting to log onto the database.

7

struct
class
java.sql.SQLNonTransientConnectionException
message
[Macromedia][SQLServer JDBC Driver][SQLServer]Cannot open database "RecruiterProd_MSCRM" requested by the login. The login failed.

8

struct
class
java.sql.SQLInvalidAuthorizationSpecException
message
[Macromedia][SQLServer JDBC Driver][SQLServer]Login failed for user 'cms_user'.

9

struct
class
java.sql.SQLNonTransientConnectionException
message
[Macromedia][SQLServer JDBC Driver]An error occurred while attempting to log onto the database.

10

struct
class
java.sql.SQLNonTransientConnectionException
message
[Macromedia][SQLServer JDBC Driver][SQLServer]Cannot open database "RecruiterProd_MSCRM" requested by the login. The login failed.

11

struct
class
java.sql.SQLInvalidAuthorizationSpecException
message
[Macromedia][SQLServer JDBC Driver][SQLServer]Login failed for user 'cms_user'.

12

struct
class
java.sql.SQLNonTransientConnectionException
message
[Macromedia][SQLServer JDBC Driver]An error occurred while attempting to log onto the database.

13

struct
class
java.sql.SQLNonTransientConnectionException
message
[Macromedia][SQLServer JDBC Driver][SQLServer]Cannot open database "RecruiterProd_MSCRM" requested by the login. The login failed.

14

struct
class
java.sql.SQLInvalidAuthorizationSpecException
message
[Macromedia][SQLServer JDBC Driver][SQLServer]Login failed for user 'cms_user'.

15

struct
class
java.sql.SQLNonTransientConnectionException
message
[Macromedia][SQLServer JDBC Driver]An error occurred while attempting to log onto the database.

16

struct
class
java.sql.SQLNonTransientConnectionException
message
[Macromedia][SQLServer JDBC Driver][SQLServer]Cannot open database "RecruiterProd_MSCRM" requested by the login. The login failed.

17

struct
class
java.sql.SQLInvalidAuthorizationSpecException
message
[Macromedia][SQLServer JDBC Driver][SQLServer]Login failed for user 'cms_user'.

18

struct
class
java.sql.SQLNonTransientConnectionException
message
[Macromedia][SQLServer JDBC Driver]An error occurred while attempting to log onto the database.

Message
Error Executing Database Query.
NativeErrorCode
4060
RootCause

struct
ErrorCode
4060
Message
[Macromedia][SQLServer JDBC Driver][SQLServer]Cannot open database "RecruiterProd_MSCRM" requested by the login. The login failed.
NextException

struct
ErrorCode
18456
Message
[Macromedia][SQLServer JDBC Driver][SQLServer]Login failed for user 'cms_user'.
NextException

struct
ErrorCode
0
Message
[Macromedia][SQLServer JDBC Driver]An error occurred while attempting to log onto the database.
NextException

struct
ErrorCode
4060
Message
[Macromedia][SQLServer JDBC Driver][SQLServer]Cannot open database "RecruiterProd_MSCRM" requested by the login. The login failed.
NextException

struct
ErrorCode
18456
Message
[Macromedia][SQLServer JDBC Driver][SQLServer]Login failed for user 'cms_user'.
NextException

struct
ErrorCode
0
Message
[Macromedia][SQLServer JDBC Driver]An error occurred while attempting to log onto the database.
NextException

struct
ErrorCode
4060
Message
[Macromedia][SQLServer JDBC Driver][SQLServer]Cannot open database "RecruiterProd_MSCRM" requested by the login. The login failed.
NextException

struct
ErrorCode
18456
Message
[Macromedia][SQLServer JDBC Driver][SQLServer]Login failed for user 'cms_user'.
NextException

struct
ErrorCode
0
Message
[Macromedia][SQLServer JDBC Driver]An error occurred while attempting to log onto the database.
NextException

struct
ErrorCode
4060
Message
[Macromedia][SQLServer JDBC Driver][SQLServer]Cannot open database "RecruiterProd_MSCRM" requested by the login. The login failed.
NextException

struct
ErrorCode
18456
Message
[Macromedia][SQLServer JDBC Driver][SQLServer]Login failed for user 'cms_user'.
NextException

struct
ErrorCode
0
Message
[Macromedia][SQLServer JDBC Driver]An error occurred while attempting to log onto the database.
NextException

struct
ErrorCode
4060
Message
[Macromedia][SQLServer JDBC Driver][SQLServer]Cannot open database "RecruiterProd_MSCRM" requested by the login. The login failed.
NextException

struct
ErrorCode
18456
Message
[Macromedia][SQLServer JDBC Driver][SQLServer]Login failed for user 'cms_user'.
NextException

struct
ErrorCode
0
Message
[Macromedia][SQLServer JDBC Driver]An error occurred while attempting to log onto the database.
NextException

struct
ErrorCode
4060
Message
[Macromedia][SQLServer JDBC Driver][SQLServer]Cannot open database "RecruiterProd_MSCRM" requested by the login. The login failed.
NextException

struct
ErrorCode
18456
Message
[Macromedia][SQLServer JDBC Driver][SQLServer]Login failed for user 'cms_user'.
NextException

struct
ErrorCode
0
Message
[Macromedia][SQLServer JDBC Driver]An error occurred while attempting to log onto the database.
SQLState
08001
StackTrace
java.sql.SQLNonTransientConnectionException: [Macromedia][SQLServer JDBC Driver]An error occurred while attempting to log onto the database. at macromedia.jdbc.sqlserverbase.ddcw.b(Unknown Source) at macromedia.jdbc.sqlserverbase.ddcw.a(Unknown Source) at macromedia.jdbc.sqlserverbase.ddcv.b(Unknown Source) at macromedia.jdbc.sqlserverbase.ddcv.a(Unknown Source) at macromedia.jdbc.sqlserver.tds.ddj.a(Unknown Source) at macromedia.jdbc.sqlserver.tds.ddr.c(Unknown Source) at macromedia.jdbc.sqlserver.tds.ddj.a(Unknown Source) at macromedia.jdbc.sqlserver.SQLServerImplConnection.f(Unknown Source) at macromedia.jdbc.sqlserverbase.BaseConnection.b(Unknown Source) at macromedia.jdbc.sqlserverbase.BaseConnection.k(Unknown Source) at macromedia.jdbc.sqlserverbase.BaseConnection.b(Unknown Source) at macromedia.jdbc.sqlserverbase.BaseConnection.a(Unknown Source) at macromedia.jdbc.sqlserverbase.BaseDriver.connect(Unknown Source) at macromedia.jdbc.MacromediaDriver.$fr$connect(Unknown Source) at macromedia.jdbc.MacromediaDriver.connect(Unknown Source) at coldfusion.server.j2ee.sql.pool.JDBCPool.createPhysicalConnection(JDBCPool.java:644) at coldfusion.server.j2ee.sql.pool.ConnectionRunner$RunnableConnection.run(ConnectionRunner.java:67) at java.lang.Thread.run(Thread.java:748)
Suppressed
TagContext
Type
java.sql.SQLNonTransientConnectionException

SQLState
28000
StackTrace
java.sql.SQLInvalidAuthorizationSpecException: [Macromedia][SQLServer JDBC Driver][SQLServer]Login failed for user 'cms_user'. at macromedia.jdbc.sqlserverbase.ddcw.b(Unknown Source) at macromedia.jdbc.sqlserverbase.ddcw.a(Unknown Source) at macromedia.jdbc.sqlserverbase.ddcv.b(Unknown Source) at macromedia.jdbc.sqlserverbase.ddcv.a(Unknown Source) at macromedia.jdbc.sqlserver.tds.ddr.v(Unknown Source) at macromedia.jdbc.sqlserver.tds.ddr.a(Unknown Source) at macromedia.jdbc.sqlserver.tds.ddj.a(Unknown Source) at macromedia.jdbc.sqlserver.tds.ddr.c(Unknown Source) at macromedia.jdbc.sqlserver.tds.ddj.a(Unknown Source) at macromedia.jdbc.sqlserver.SQLServerImplConnection.f(Unknown Source) at macromedia.jdbc.sqlserverbase.BaseConnection.b(Unknown Source) at macromedia.jdbc.sqlserverbase.BaseConnection.k(Unknown Source) at macromedia.jdbc.sqlserverbase.BaseConnection.b(Unknown Source) at macromedia.jdbc.sqlserverbase.BaseConnection.a(Unknown Source) at macromedia.jdbc.sqlserverbase.BaseDriver.connect(Unknown Source) at macromedia.jdbc.MacromediaDriver.$fr$connect(Unknown Source) at macromedia.jdbc.MacromediaDriver.connect(Unknown Source) at coldfusion.server.j2ee.sql.pool.JDBCPool.createPhysicalConnection(JDBCPool.java:644) at coldfusion.server.j2ee.sql.pool.ConnectionRunner$RunnableConnection.run(ConnectionRunner.java:67) at java.lang.Thread.run(Thread.java:748)
Suppressed
TagContext
Type
java.sql.SQLInvalidAuthorizationSpecException

SQLState
08001
StackTrace
java.sql.SQLNonTransientConnectionException: [Macromedia][SQLServer JDBC Driver][SQLServer]Cannot open database "RecruiterProd_MSCRM" requested by the login. The login failed. at macromedia.jdbc.sqlserverbase.ddcw.b(Unknown Source) at macromedia.jdbc.sqlserverbase.ddcw.a(Unknown Source) at macromedia.jdbc.sqlserverbase.ddcv.b(Unknown Source) at macromedia.jdbc.sqlserverbase.ddcv.a(Unknown Source) at macromedia.jdbc.sqlserver.tds.ddr.v(Unknown Source) at macromedia.jdbc.sqlserver.tds.ddr.a(Unknown Source) at macromedia.jdbc.sqlserver.tds.ddj.a(Unknown Source) at macromedia.jdbc.sqlserver.tds.ddr.c(Unknown Source) at macromedia.jdbc.sqlserver.tds.ddj.a(Unknown Source) at macromedia.jdbc.sqlserver.SQLServerImplConnection.f(Unknown Source) at macromedia.jdbc.sqlserverbase.BaseConnection.b(Unknown Source) at macromedia.jdbc.sqlserverbase.BaseConnection.k(Unknown Source) at macromedia.jdbc.sqlserverbase.BaseConnection.b(Unknown Source) at macromedia.jdbc.sqlserverbase.BaseConnection.a(Unknown Source) at macromedia.jdbc.sqlserverbase.BaseDriver.connect(Unknown Source) at macromedia.jdbc.MacromediaDriver.$fr$connect(Unknown Source) at macromedia.jdbc.MacromediaDriver.connect(Unknown Source) at coldfusion.server.j2ee.sql.pool.JDBCPool.createPhysicalConnection(JDBCPool.java:644) at coldfusion.server.j2ee.sql.pool.ConnectionRunner$RunnableConnection.run(ConnectionRunner.java:67) at java.lang.Thread.run(Thread.java:748)
Suppressed
TagContext
Type
java.sql.SQLNonTransientConnectionException

SQLState
08001
StackTrace
java.sql.SQLNonTransientConnectionException: [Macromedia][SQLServer JDBC Driver]An error occurred while attempting to log onto the database. at macromedia.jdbc.sqlserverbase.ddcw.b(Unknown Source) at macromedia.jdbc.sqlserverbase.ddcw.a(Unknown Source) at macromedia.jdbc.sqlserverbase.ddcv.b(Unknown Source) at macromedia.jdbc.sqlserverbase.ddcv.a(Unknown Source) at macromedia.jdbc.sqlserver.tds.ddj.a(Unknown Source) at macromedia.jdbc.sqlserver.tds.ddr.c(Unknown Source) at macromedia.jdbc.sqlserver.tds.ddj.a(Unknown Source) at macromedia.jdbc.sqlserver.SQLServerImplConnection.f(Unknown Source) at macromedia.jdbc.sqlserverbase.BaseConnection.b(Unknown Source) at macromedia.jdbc.sqlserverbase.BaseConnection.k(Unknown Source) at macromedia.jdbc.sqlserverbase.BaseConnection.b(Unknown Source) at macromedia.jdbc.sqlserverbase.BaseConnection.a(Unknown Source) at macromedia.jdbc.sqlserverbase.BaseDriver.connect(Unknown Source) at macromedia.jdbc.MacromediaDriver.$fr$connect(Unknown Source) at macromedia.jdbc.MacromediaDriver.connect(Unknown Source) at coldfusion.server.j2ee.sql.pool.JDBCPool.createPhysicalConnection(JDBCPool.java:644) at coldfusion.server.j2ee.sql.pool.ConnectionRunner$RunnableConnection.run(ConnectionRunner.java:67) at java.lang.Thread.run(Thread.java:748)
Suppressed
TagContext
Type
java.sql.SQLNonTransientConnectionException

SQLState
28000
StackTrace
java.sql.SQLInvalidAuthorizationSpecException: [Macromedia][SQLServer JDBC Driver][SQLServer]Login failed for user 'cms_user'. at macromedia.jdbc.sqlserverbase.ddcw.b(Unknown Source) at macromedia.jdbc.sqlserverbase.ddcw.a(Unknown Source) at macromedia.jdbc.sqlserverbase.ddcv.b(Unknown Source) at macromedia.jdbc.sqlserverbase.ddcv.a(Unknown Source) at macromedia.jdbc.sqlserver.tds.ddr.v(Unknown Source) at macromedia.jdbc.sqlserver.tds.ddr.a(Unknown Source) at macromedia.jdbc.sqlserver.tds.ddj.a(Unknown Source) at macromedia.jdbc.sqlserver.tds.ddr.c(Unknown Source) at macromedia.jdbc.sqlserver.tds.ddj.a(Unknown Source) at macromedia.jdbc.sqlserver.SQLServerImplConnection.f(Unknown Source) at macromedia.jdbc.sqlserverbase.BaseConnection.b(Unknown Source) at macromedia.jdbc.sqlserverbase.BaseConnection.k(Unknown Source) at macromedia.jdbc.sqlserverbase.BaseConnection.b(Unknown Source) at macromedia.jdbc.sqlserverbase.BaseConnection.a(Unknown Source) at macromedia.jdbc.sqlserverbase.BaseDriver.connect(Unknown Source) at macromedia.jdbc.MacromediaDriver.$fr$connect(Unknown Source) at macromedia.jdbc.MacromediaDriver.connect(Unknown Source) at coldfusion.server.j2ee.sql.pool.JDBCPool.createPhysicalConnection(JDBCPool.java:644) at coldfusion.server.j2ee.sql.pool.ConnectionRunner$RunnableConnection.run(ConnectionRunner.java:67) at java.lang.Thread.run(Thread.java:748)
Suppressed
TagContext
Type
java.sql.SQLInvalidAuthorizationSpecException

SQLState
08001
StackTrace
java.sql.SQLNonTransientConnectionException: [Macromedia][SQLServer JDBC Driver][SQLServer]Cannot open database "RecruiterProd_MSCRM" requested by the login. The login failed. at macromedia.jdbc.sqlserverbase.ddcw.b(Unknown Source) at macromedia.jdbc.sqlserverbase.ddcw.a(Unknown Source) at macromedia.jdbc.sqlserverbase.ddcv.b(Unknown Source) at macromedia.jdbc.sqlserverbase.ddcv.a(Unknown Source) at macromedia.jdbc.sqlserver.tds.ddr.v(Unknown Source) at macromedia.jdbc.sqlserver.tds.ddr.a(Unknown Source) at macromedia.jdbc.sqlserver.tds.ddj.a(Unknown Source) at macromedia.jdbc.sqlserver.tds.ddr.c(Unknown Source) at macromedia.jdbc.sqlserver.tds.ddj.a(Unknown Source) at macromedia.jdbc.sqlserver.SQLServerImplConnection.f(Unknown Source) at macromedia.jdbc.sqlserverbase.BaseConnection.b(Unknown Source) at macromedia.jdbc.sqlserverbase.BaseConnection.k(Unknown Source) at macromedia.jdbc.sqlserverbase.BaseConnection.b(Unknown Source) at macromedia.jdbc.sqlserverbase.BaseConnection.a(Unknown Source) at macromedia.jdbc.sqlserverbase.BaseDriver.connect(Unknown Source) at macromedia.jdbc.MacromediaDriver.$fr$connect(Unknown Source) at macromedia.jdbc.MacromediaDriver.connect(Unknown Source) at coldfusion.server.j2ee.sql.pool.JDBCPool.createPhysicalConnection(JDBCPool.java:644) at coldfusion.server.j2ee.sql.pool.ConnectionRunner$RunnableConnection.run(ConnectionRunner.java:67) at java.lang.Thread.run(Thread.java:748)
Suppressed
TagContext
Type
java.sql.SQLNonTransientConnectionException

SQLState
08001
StackTrace
java.sql.SQLNonTransientConnectionException: [Macromedia][SQLServer JDBC Driver]An error occurred while attempting to log onto the database. at macromedia.jdbc.sqlserverbase.ddcw.b(Unknown Source) at macromedia.jdbc.sqlserverbase.ddcw.a(Unknown Source) at macromedia.jdbc.sqlserverbase.ddcv.b(Unknown Source) at macromedia.jdbc.sqlserverbase.ddcv.a(Unknown Source) at macromedia.jdbc.sqlserver.tds.ddj.a(Unknown Source) at macromedia.jdbc.sqlserver.tds.ddr.c(Unknown Source) at macromedia.jdbc.sqlserver.tds.ddj.a(Unknown Source) at macromedia.jdbc.sqlserver.SQLServerImplConnection.f(Unknown Source) at macromedia.jdbc.sqlserverbase.BaseConnection.b(Unknown Source) at macromedia.jdbc.sqlserverbase.BaseConnection.k(Unknown Source) at macromedia.jdbc.sqlserverbase.BaseConnection.b(Unknown Source) at macromedia.jdbc.sqlserverbase.BaseConnection.a(Unknown Source) at macromedia.jdbc.sqlserverbase.BaseDriver.connect(Unknown Source) at macromedia.jdbc.MacromediaDriver.$fr$connect(Unknown Source) at macromedia.jdbc.MacromediaDriver.connect(Unknown Source) at coldfusion.server.j2ee.sql.pool.JDBCPool.createPhysicalConnection(JDBCPool.java:644) at coldfusion.server.j2ee.sql.pool.ConnectionRunner$RunnableConnection.run(ConnectionRunner.java:67) at java.lang.Thread.run(Thread.java:748)
Suppressed
TagContext
Type
java.sql.SQLNonTransientConnectionException

SQLState
28000
StackTrace
java.sql.SQLInvalidAuthorizationSpecException: [Macromedia][SQLServer JDBC Driver][SQLServer]Login failed for user 'cms_user'. at macromedia.jdbc.sqlserverbase.ddcw.b(Unknown Source) at macromedia.jdbc.sqlserverbase.ddcw.a(Unknown Source) at macromedia.jdbc.sqlserverbase.ddcv.b(Unknown Source) at macromedia.jdbc.sqlserverbase.ddcv.a(Unknown Source) at macromedia.jdbc.sqlserver.tds.ddr.v(Unknown Source) at macromedia.jdbc.sqlserver.tds.ddr.a(Unknown Source) at macromedia.jdbc.sqlserver.tds.ddj.a(Unknown Source) at macromedia.jdbc.sqlserver.tds.ddr.c(Unknown Source) at macromedia.jdbc.sqlserver.tds.ddj.a(Unknown Source) at macromedia.jdbc.sqlserver.SQLServerImplConnection.f(Unknown Source) at macromedia.jdbc.sqlserverbase.BaseConnection.b(Unknown Source) at macromedia.jdbc.sqlserverbase.BaseConnection.k(Unknown Source) at macromedia.jdbc.sqlserverbase.BaseConnection.b(Unknown Source) at macromedia.jdbc.sqlserverbase.BaseConnection.a(Unknown Source) at macromedia.jdbc.sqlserverbase.BaseDriver.connect(Unknown Source) at macromedia.jdbc.MacromediaDriver.$fr$connect(Unknown Source) at macromedia.jdbc.MacromediaDriver.connect(Unknown Source) at coldfusion.server.j2ee.sql.pool.JDBCPool.createPhysicalConnection(JDBCPool.java:644) at coldfusion.server.j2ee.sql.pool.ConnectionRunner$RunnableConnection.run(ConnectionRunner.java:67) at java.lang.Thread.run(Thread.java:748)
Suppressed
TagContext
Type
java.sql.SQLInvalidAuthorizationSpecException

SQLState
08001
StackTrace
java.sql.SQLNonTransientConnectionException: [Macromedia][SQLServer JDBC Driver][SQLServer]Cannot open database "RecruiterProd_MSCRM" requested by the login. The login failed. at macromedia.jdbc.sqlserverbase.ddcw.b(Unknown Source) at macromedia.jdbc.sqlserverbase.ddcw.a(Unknown Source) at macromedia.jdbc.sqlserverbase.ddcv.b(Unknown Source) at macromedia.jdbc.sqlserverbase.ddcv.a(Unknown Source) at macromedia.jdbc.sqlserver.tds.ddr.v(Unknown Source) at macromedia.jdbc.sqlserver.tds.ddr.a(Unknown Source) at macromedia.jdbc.sqlserver.tds.ddj.a(Unknown Source) at macromedia.jdbc.sqlserver.tds.ddr.c(Unknown Source) at macromedia.jdbc.sqlserver.tds.ddj.a(Unknown Source) at macromedia.jdbc.sqlserver.SQLServerImplConnection.f(Unknown Source) at macromedia.jdbc.sqlserverbase.BaseConnection.b(Unknown Source) at macromedia.jdbc.sqlserverbase.BaseConnection.k(Unknown Source) at macromedia.jdbc.sqlserverbase.BaseConnection.b(Unknown Source) at macromedia.jdbc.sqlserverbase.BaseConnection.a(Unknown Source) at macromedia.jdbc.sqlserverbase.BaseDriver.connect(Unknown Source) at macromedia.jdbc.MacromediaDriver.$fr$connect(Unknown Source) at macromedia.jdbc.MacromediaDriver.connect(Unknown Source) at coldfusion.server.j2ee.sql.pool.JDBCPool.createPhysicalConnection(JDBCPool.java:644) at coldfusion.server.j2ee.sql.pool.ConnectionRunner$RunnableConnection.run(ConnectionRunner.java:67) at java.lang.Thread.run(Thread.java:748)
Suppressed
TagContext
Type
java.sql.SQLNonTransientConnectionException

SQLState
08001
StackTrace
java.sql.SQLNonTransientConnectionException: [Macromedia][SQLServer JDBC Driver]An error occurred while attempting to log onto the database. at macromedia.jdbc.sqlserverbase.ddcw.b(Unknown Source) at macromedia.jdbc.sqlserverbase.ddcw.a(Unknown Source) at macromedia.jdbc.sqlserverbase.ddcv.b(Unknown Source) at macromedia.jdbc.sqlserverbase.ddcv.a(Unknown Source) at macromedia.jdbc.sqlserver.tds.ddj.a(Unknown Source) at macromedia.jdbc.sqlserver.tds.ddr.c(Unknown Source) at macromedia.jdbc.sqlserver.tds.ddj.a(Unknown Source) at macromedia.jdbc.sqlserver.SQLServerImplConnection.f(Unknown Source) at macromedia.jdbc.sqlserverbase.BaseConnection.b(Unknown Source) at macromedia.jdbc.sqlserverbase.BaseConnection.k(Unknown Source) at macromedia.jdbc.sqlserverbase.BaseConnection.b(Unknown Source) at macromedia.jdbc.sqlserverbase.BaseConnection.a(Unknown Source) at macromedia.jdbc.sqlserverbase.BaseDriver.connect(Unknown Source) at macromedia.jdbc.MacromediaDriver.$fr$connect(Unknown Source) at macromedia.jdbc.MacromediaDriver.connect(Unknown Source) at coldfusion.server.j2ee.sql.pool.JDBCPool.createPhysicalConnection(JDBCPool.java:644) at coldfusion.server.j2ee.sql.pool.ConnectionRunner$RunnableConnection.run(ConnectionRunner.java:67) at java.lang.Thread.run(Thread.java:748)
Suppressed
TagContext
Type
java.sql.SQLNonTransientConnectionException

SQLState
28000
StackTrace
java.sql.SQLInvalidAuthorizationSpecException: [Macromedia][SQLServer JDBC Driver][SQLServer]Login failed for user 'cms_user'. at macromedia.jdbc.sqlserverbase.ddcw.b(Unknown Source) at macromedia.jdbc.sqlserverbase.ddcw.a(Unknown Source) at macromedia.jdbc.sqlserverbase.ddcv.b(Unknown Source) at macromedia.jdbc.sqlserverbase.ddcv.a(Unknown Source) at macromedia.jdbc.sqlserver.tds.ddr.v(Unknown Source) at macromedia.jdbc.sqlserver.tds.ddr.a(Unknown Source) at macromedia.jdbc.sqlserver.tds.ddj.a(Unknown Source) at macromedia.jdbc.sqlserver.tds.ddr.c(Unknown Source) at macromedia.jdbc.sqlserver.tds.ddj.a(Unknown Source) at macromedia.jdbc.sqlserver.SQLServerImplConnection.f(Unknown Source) at macromedia.jdbc.sqlserverbase.BaseConnection.b(Unknown Source) at macromedia.jdbc.sqlserverbase.BaseConnection.k(Unknown Source) at macromedia.jdbc.sqlserverbase.BaseConnection.b(Unknown Source) at macromedia.jdbc.sqlserverbase.BaseConnection.a(Unknown Source) at macromedia.jdbc.sqlserverbase.BaseDriver.connect(Unknown Source) at macromedia.jdbc.MacromediaDriver.$fr$connect(Unknown Source) at macromedia.jdbc.MacromediaDriver.connect(Unknown Source) at coldfusion.server.j2ee.sql.pool.JDBCPool.createPhysicalConnection(JDBCPool.java:644) at coldfusion.server.j2ee.sql.pool.ConnectionRunner$RunnableConnection.run(ConnectionRunner.java:67) at java.lang.Thread.run(Thread.java:748)
Suppressed
TagContext
Type
java.sql.SQLInvalidAuthorizationSpecException

SQLState
08001
StackTrace
java.sql.SQLNonTransientConnectionException: [Macromedia][SQLServer JDBC Driver][SQLServer]Cannot open database "RecruiterProd_MSCRM" requested by the login. The login failed. at macromedia.jdbc.sqlserverbase.ddcw.b(Unknown Source) at macromedia.jdbc.sqlserverbase.ddcw.a(Unknown Source) at macromedia.jdbc.sqlserverbase.ddcv.b(Unknown Source) at macromedia.jdbc.sqlserverbase.ddcv.a(Unknown Source) at macromedia.jdbc.sqlserver.tds.ddr.v(Unknown Source) at macromedia.jdbc.sqlserver.tds.ddr.a(Unknown Source) at macromedia.jdbc.sqlserver.tds.ddj.a(Unknown Source) at macromedia.jdbc.sqlserver.tds.ddr.c(Unknown Source) at macromedia.jdbc.sqlserver.tds.ddj.a(Unknown Source) at macromedia.jdbc.sqlserver.SQLServerImplConnection.f(Unknown Source) at macromedia.jdbc.sqlserverbase.BaseConnection.b(Unknown Source) at macromedia.jdbc.sqlserverbase.BaseConnection.k(Unknown Source) at macromedia.jdbc.sqlserverbase.BaseConnection.b(Unknown Source) at macromedia.jdbc.sqlserverbase.BaseConnection.a(Unknown Source) at macromedia.jdbc.sqlserverbase.BaseDriver.connect(Unknown Source) at macromedia.jdbc.MacromediaDriver.$fr$connect(Unknown Source) at macromedia.jdbc.MacromediaDriver.connect(Unknown Source) at coldfusion.server.j2ee.sql.pool.JDBCPool.createPhysicalConnection(JDBCPool.java:644) at coldfusion.server.j2ee.sql.pool.ConnectionRunner$RunnableConnection.run(ConnectionRunner.java:67) at java.lang.Thread.run(Thread.java:748)
Suppressed
TagContext
Type
java.sql.SQLNonTransientConnectionException

SQLState
08001
StackTrace
java.sql.SQLNonTransientConnectionException: [Macromedia][SQLServer JDBC Driver]An error occurred while attempting to log onto the database. at macromedia.jdbc.sqlserverbase.ddcw.b(Unknown Source) at macromedia.jdbc.sqlserverbase.ddcw.a(Unknown Source) at macromedia.jdbc.sqlserverbase.ddcv.b(Unknown Source) at macromedia.jdbc.sqlserverbase.ddcv.a(Unknown Source) at macromedia.jdbc.sqlserver.tds.ddj.a(Unknown Source) at macromedia.jdbc.sqlserver.tds.ddr.c(Unknown Source) at macromedia.jdbc.sqlserver.tds.ddj.a(Unknown Source) at macromedia.jdbc.sqlserver.SQLServerImplConnection.f(Unknown Source) at macromedia.jdbc.sqlserverbase.BaseConnection.b(Unknown Source) at macromedia.jdbc.sqlserverbase.BaseConnection.k(Unknown Source) at macromedia.jdbc.sqlserverbase.BaseConnection.b(Unknown Source) at macromedia.jdbc.sqlserverbase.BaseConnection.a(Unknown Source) at macromedia.jdbc.sqlserverbase.BaseDriver.connect(Unknown Source) at macromedia.jdbc.MacromediaDriver.$fr$connect(Unknown Source) at macromedia.jdbc.MacromediaDriver.connect(Unknown Source) at coldfusion.server.j2ee.sql.pool.JDBCPool.createPhysicalConnection(JDBCPool.java:644) at coldfusion.server.j2ee.sql.pool.ConnectionRunner$RunnableConnection.run(ConnectionRunner.java:67) at java.lang.Thread.run(Thread.java:748)
Suppressed
TagContext
Type
java.sql.SQLNonTransientConnectionException

SQLState
28000
StackTrace
java.sql.SQLInvalidAuthorizationSpecException: [Macromedia][SQLServer JDBC Driver][SQLServer]Login failed for user 'cms_user'. at macromedia.jdbc.sqlserverbase.ddcw.b(Unknown Source) at macromedia.jdbc.sqlserverbase.ddcw.a(Unknown Source) at macromedia.jdbc.sqlserverbase.ddcv.b(Unknown Source) at macromedia.jdbc.sqlserverbase.ddcv.a(Unknown Source) at macromedia.jdbc.sqlserver.tds.ddr.v(Unknown Source) at macromedia.jdbc.sqlserver.tds.ddr.a(Unknown Source) at macromedia.jdbc.sqlserver.tds.ddj.a(Unknown Source) at macromedia.jdbc.sqlserver.tds.ddr.c(Unknown Source) at macromedia.jdbc.sqlserver.tds.ddj.a(Unknown Source) at macromedia.jdbc.sqlserver.SQLServerImplConnection.f(Unknown Source) at macromedia.jdbc.sqlserverbase.BaseConnection.b(Unknown Source) at macromedia.jdbc.sqlserverbase.BaseConnection.k(Unknown Source) at macromedia.jdbc.sqlserverbase.BaseConnection.b(Unknown Source) at macromedia.jdbc.sqlserverbase.BaseConnection.a(Unknown Source) at macromedia.jdbc.sqlserverbase.BaseDriver.connect(Unknown Source) at macromedia.jdbc.MacromediaDriver.$fr$connect(Unknown Source) at macromedia.jdbc.MacromediaDriver.connect(Unknown Source) at coldfusion.server.j2ee.sql.pool.JDBCPool.createPhysicalConnection(JDBCPool.java:644) at coldfusion.server.j2ee.sql.pool.ConnectionRunner$RunnableConnection.run(ConnectionRunner.java:67) at java.lang.Thread.run(Thread.java:748)
Suppressed
TagContext
Type
java.sql.SQLInvalidAuthorizationSpecException

SQLState
08001
StackTrace
java.sql.SQLNonTransientConnectionException: [Macromedia][SQLServer JDBC Driver][SQLServer]Cannot open database "RecruiterProd_MSCRM" requested by the login. The login failed. at macromedia.jdbc.sqlserverbase.ddcw.b(Unknown Source) at macromedia.jdbc.sqlserverbase.ddcw.a(Unknown Source) at macromedia.jdbc.sqlserverbase.ddcv.b(Unknown Source) at macromedia.jdbc.sqlserverbase.ddcv.a(Unknown Source) at macromedia.jdbc.sqlserver.tds.ddr.v(Unknown Source) at macromedia.jdbc.sqlserver.tds.ddr.a(Unknown Source) at macromedia.jdbc.sqlserver.tds.ddj.a(Unknown Source) at macromedia.jdbc.sqlserver.tds.ddr.c(Unknown Source) at macromedia.jdbc.sqlserver.tds.ddj.a(Unknown Source) at macromedia.jdbc.sqlserver.SQLServerImplConnection.f(Unknown Source) at macromedia.jdbc.sqlserverbase.BaseConnection.b(Unknown Source) at macromedia.jdbc.sqlserverbase.BaseConnection.k(Unknown Source) at macromedia.jdbc.sqlserverbase.BaseConnection.b(Unknown Source) at macromedia.jdbc.sqlserverbase.BaseConnection.a(Unknown Source) at macromedia.jdbc.sqlserverbase.BaseDriver.connect(Unknown Source) at macromedia.jdbc.MacromediaDriver.$fr$connect(Unknown Source) at macromedia.jdbc.MacromediaDriver.connect(Unknown Source) at coldfusion.server.j2ee.sql.pool.JDBCPool.createPhysicalConnection(JDBCPool.java:644) at coldfusion.server.j2ee.sql.pool.ConnectionRunner$RunnableConnection.run(ConnectionRunner.java:67) at java.lang.Thread.run(Thread.java:748)
Suppressed
TagContext
Type
java.sql.SQLNonTransientConnectionException

SQLState
08001
StackTrace
java.sql.SQLNonTransientConnectionException: [Macromedia][SQLServer JDBC Driver]An error occurred while attempting to log onto the database. at macromedia.jdbc.sqlserverbase.ddcw.b(Unknown Source) at macromedia.jdbc.sqlserverbase.ddcw.a(Unknown Source) at macromedia.jdbc.sqlserverbase.ddcv.b(Unknown Source) at macromedia.jdbc.sqlserverbase.ddcv.a(Unknown Source) at macromedia.jdbc.sqlserver.tds.ddj.a(Unknown Source) at macromedia.jdbc.sqlserver.tds.ddr.c(Unknown Source) at macromedia.jdbc.sqlserver.tds.ddj.a(Unknown Source) at macromedia.jdbc.sqlserver.SQLServerImplConnection.f(Unknown Source) at macromedia.jdbc.sqlserverbase.BaseConnection.b(Unknown Source) at macromedia.jdbc.sqlserverbase.BaseConnection.k(Unknown Source) at macromedia.jdbc.sqlserverbase.BaseConnection.b(Unknown Source) at macromedia.jdbc.sqlserverbase.BaseConnection.a(Unknown Source) at macromedia.jdbc.sqlserverbase.BaseDriver.connect(Unknown Source) at macromedia.jdbc.MacromediaDriver.$fr$connect(Unknown Source) at macromedia.jdbc.MacromediaDriver.connect(Unknown Source) at coldfusion.server.j2ee.sql.pool.JDBCPool.createPhysicalConnection(JDBCPool.java:644) at coldfusion.server.j2ee.sql.pool.ConnectionRunner$RunnableConnection.run(ConnectionRunner.java:67) at java.lang.Thread.run(Thread.java:748)
Suppressed
TagContext
Type
java.sql.SQLNonTransientConnectionException

SQLState
28000
StackTrace
java.sql.SQLInvalidAuthorizationSpecException: [Macromedia][SQLServer JDBC Driver][SQLServer]Login failed for user 'cms_user'. at macromedia.jdbc.sqlserverbase.ddcw.b(Unknown Source) at macromedia.jdbc.sqlserverbase.ddcw.a(Unknown Source) at macromedia.jdbc.sqlserverbase.ddcv.b(Unknown Source) at macromedia.jdbc.sqlserverbase.ddcv.a(Unknown Source) at macromedia.jdbc.sqlserver.tds.ddr.v(Unknown Source) at macromedia.jdbc.sqlserver.tds.ddr.a(Unknown Source) at macromedia.jdbc.sqlserver.tds.ddj.a(Unknown Source) at macromedia.jdbc.sqlserver.tds.ddr.c(Unknown Source) at macromedia.jdbc.sqlserver.tds.ddj.a(Unknown Source) at macromedia.jdbc.sqlserver.SQLServerImplConnection.f(Unknown Source) at macromedia.jdbc.sqlserverbase.BaseConnection.b(Unknown Source) at macromedia.jdbc.sqlserverbase.BaseConnection.k(Unknown Source) at macromedia.jdbc.sqlserverbase.BaseConnection.b(Unknown Source) at macromedia.jdbc.sqlserverbase.BaseConnection.a(Unknown Source) at macromedia.jdbc.sqlserverbase.BaseDriver.connect(Unknown Source) at macromedia.jdbc.MacromediaDriver.$fr$connect(Unknown Source) at macromedia.jdbc.MacromediaDriver.connect(Unknown Source) at coldfusion.server.j2ee.sql.pool.JDBCPool.createPhysicalConnection(JDBCPool.java:644) at coldfusion.server.j2ee.sql.pool.ConnectionRunner$RunnableConnection.run(ConnectionRunner.java:67) at java.lang.Thread.run(Thread.java:748)
Suppressed
TagContext
Type
java.sql.SQLInvalidAuthorizationSpecException

SQLState
08001
StackTrace
java.sql.SQLNonTransientConnectionException: [Macromedia][SQLServer JDBC Driver][SQLServer]Cannot open database "RecruiterProd_MSCRM" requested by the login. The login failed. at macromedia.jdbc.sqlserverbase.ddcw.b(Unknown Source) at macromedia.jdbc.sqlserverbase.ddcw.a(Unknown Source) at macromedia.jdbc.sqlserverbase.ddcv.b(Unknown Source) at macromedia.jdbc.sqlserverbase.ddcv.a(Unknown Source) at macromedia.jdbc.sqlserver.tds.ddr.v(Unknown Source) at macromedia.jdbc.sqlserver.tds.ddr.a(Unknown Source) at macromedia.jdbc.sqlserver.tds.ddj.a(Unknown Source) at macromedia.jdbc.sqlserver.tds.ddr.c(Unknown Source) at macromedia.jdbc.sqlserver.tds.ddj.a(Unknown Source) at macromedia.jdbc.sqlserver.SQLServerImplConnection.f(Unknown Source) at macromedia.jdbc.sqlserverbase.BaseConnection.b(Unknown Source) at macromedia.jdbc.sqlserverbase.BaseConnection.k(Unknown Source) at macromedia.jdbc.sqlserverbase.BaseConnection.b(Unknown Source) at macromedia.jdbc.sqlserverbase.BaseConnection.a(Unknown Source) at macromedia.jdbc.sqlserverbase.BaseDriver.connect(Unknown Source) at macromedia.jdbc.MacromediaDriver.$fr$connect(Unknown Source) at macromedia.jdbc.MacromediaDriver.connect(Unknown Source) at coldfusion.server.j2ee.sql.pool.JDBCPool.createPhysicalConnection(JDBCPool.java:644) at coldfusion.server.j2ee.sql.pool.ConnectionRunner$RunnableConnection.run(ConnectionRunner.java:67) at java.lang.Thread.run(Thread.java:748)
Suppressed
TagContext
Type
java.sql.SQLNonTransientConnectionException

SQLState
08001
Sql
SELECT p.Datatel_abbreviation as programCode, p.Datatel_Name as programName, p.datatel_academicprogramid as programGUID, d.A26_A26School as programSchool, d.A26_A26DESCRIPTION as programDept FROM a26_a26departmentsExtensionBase d, a26_a26_a26departments_datatel_academicprogBase dp, Datatel_academicprogramExtensionBase p WHERE dp.a26_a26departmentsid = d.a26_a26departmentsId AND p.datatel_academicprogramid = dp.datatel_academicprogramid AND p.DATATEL_ABBREVIATION = (param 1) ORDER BY programSchool ASC, programDept ASC, programName ASC
StackTrace
coldfusion.tagext.sql.QueryTag$DatabaseQueryException: Error Executing Database Query. at coldfusion.tagext.sql.QueryTag.startQueryExecution(QueryTag.java:866) at coldfusion.tagext.sql.QueryTag.doEndTag(QueryTag.java:768) at cfrecruiter2ecfc1154250551$funcGETGUID2.runFunction(\\american.edu\AU\APPS\CMS\PROD10\CMSData\au\customcf\degrees\cfc\recruiter.cfc:72) at coldfusion.runtime.UDFMethod.invoke(UDFMethod.java:492) at coldfusion.runtime.UDFMethod$ReturnTypeFilter.invoke(UDFMethod.java:425) at coldfusion.runtime.UDFMethod$ArgumentCollectionFilter.invoke(UDFMethod.java:388) at coldfusion.filter.FunctionAccessFilter.invoke(FunctionAccessFilter.java:95) at coldfusion.runtime.UDFMethod.runFilterChain(UDFMethod.java:339) at coldfusion.runtime.UDFMethod.invoke(UDFMethod.java:538) at coldfusion.runtime.TemplateProxy.invoke(TemplateProxy.java:655) at coldfusion.runtime.TemplateProxy.invoke(TemplateProxy.java:464) at coldfusion.runtime.CfJspPage._invoke(CfJspPage.java:3019) at coldfusion.runtime.CfJspPage._invoke(CfJspPage.java:2994) at cf2016_recruit_form2ecfm644605836.runPage(\\american.edu\au\APPS\CMS\PROD10\CMSData\au\renderhandlers\2016_recruit_form.cfm:177) at coldfusion.runtime.CfJspPage.invoke(CfJspPage.java:253) at coldfusion.filter.CFVariablesScopeFilter.invoke(CFVariablesScopeFilter.java:56) at coldfusion.tagext.lang.ModuleTag.doStartTag(ModuleTag.java:332) at coldfusion.runtime.CfJspPage._emptyTcfTag(CfJspPage.java:3696) at cfutil2ecfm452337259$funcCALLRENDERHANDLER.runFunction(C:\webIIS\commonspot\udf\util.cfm:777) at coldfusion.runtime.UDFMethod.invoke(UDFMethod.java:492) at coldfusion.runtime.UDFMethod$ReturnTypeFilter.invoke(UDFMethod.java:425) at coldfusion.runtime.UDFMethod$ArgumentCollectionFilter.invoke(UDFMethod.java:388) at coldfusion.filter.FunctionAccessFilter.invoke(FunctionAccessFilter.java:95) at coldfusion.runtime.UDFMethod.runFilterChain(UDFMethod.java:339) at coldfusion.runtime.UDFMethod.invoke(UDFMethod.java:234) at coldfusion.runtime.CfJspPage._invokeUDF(CfJspPage.java:3542) at coldfusion.runtime.CfJspPage._invokeUDF(CfJspPage.java:3522) at coldfusion.runtime.CfJspPage._invoke(CfJspPage.java:3117) at coldfusion.runtime.CfJspPage._invoke(CfJspPage.java:3074) at cfcpe2dcustom2ecfm441340303._factor30(C:\webIIS\commonspot\controls\custom\cpe-custom.cfm:1105) at cfcpe2dcustom2ecfm441340303.runPage(C:\webIIS\commonspot\controls\custom\cpe-custom.cfm:1) at coldfusion.runtime.CfJspPage.invoke(CfJspPage.java:253) at coldfusion.tagext.lang.IncludeTag.handlePageInvoke(IncludeTag.java:737) at coldfusion.tagext.lang.IncludeTag.doStartTag(IncludeTag.java:573) at coldfusion.runtime.CfJspPage._emptyTcfTag(CfJspPage.java:3696) at cfelement2ecfm1046556909$funcCALLELEMENT.runFunction(C:\webIIS\commonspot\udf\element.cfm:338) at coldfusion.runtime.UDFMethod.invoke(UDFMethod.java:492) at coldfusion.runtime.UDFMethod$ReturnTypeFilter.invoke(UDFMethod.java:425) at coldfusion.runtime.UDFMethod$ArgumentCollectionFilter.invoke(UDFMethod.java:388) at coldfusion.filter.FunctionAccessFilter.invoke(FunctionAccessFilter.java:95) at coldfusion.runtime.UDFMethod.runFilterChain(UDFMethod.java:339) at coldfusion.runtime.UDFMethod.invoke(UDFMethod.java:234) at coldfusion.runtime.CfJspPage._invokeUDF(CfJspPage.java:3542) at coldfusion.runtime.CfJspPage._invokeUDF(CfJspPage.java:3522) at coldfusion.runtime.CfJspPage._invoke(CfJspPage.java:3117) at coldfusion.runtime.CfJspPage._invoke(CfJspPage.java:3074) at cfrun2delement2ecfm260740188.runPage(C:\webIIS\commonspot\utilities\run-element.cfm:35) at coldfusion.runtime.CfJspPage.invoke(CfJspPage.java:253) at coldfusion.tagext.lang.IncludeTag.handlePageInvoke(IncludeTag.java:737) at coldfusion.tagext.lang.IncludeTag.doStartTag(IncludeTag.java:573) at coldfusion.runtime.CfJspPage._emptyTcfTag(CfJspPage.java:3696) at cfct2drender2delement2dcore2ecfm466716990._factor31(C:\webIIS\commonspot\utilities\ct-render-element-core.cfm:895) at cfct2drender2delement2dcore2ecfm466716990.runPage(C:\webIIS\commonspot\utilities\ct-render-element-core.cfm:1) at coldfusion.runtime.CfJspPage.invoke(CfJspPage.java:253) at coldfusion.tagext.lang.IncludeTag.handlePageInvoke(IncludeTag.java:737) at coldfusion.tagext.lang.IncludeTag.doStartTag(IncludeTag.java:573) at coldfusion.runtime.CfJspPage._emptyTcfTag(CfJspPage.java:3696) at cfct2drender2delement2ecfm75739034.runPage(C:\webIIS\commonspot\utilities\ct-render-element.cfm:2) at coldfusion.runtime.CfJspPage.invoke(CfJspPage.java:253) at coldfusion.filter.CFVariablesScopeFilter.invoke(CFVariablesScopeFilter.java:56) at coldfusion.tagext.lang.ModuleTag.doStartTag(ModuleTag.java:332) at coldfusion.runtime.CfJspPage._emptyTcfTag(CfJspPage.java:3696) at cfp47115122dc43384912dl702dt512ddAny2eread363375846.runPage(C:\commonspot-data\customers\commonspot-users\sites\commonspot-site-au\mapped\cache\882\p4711512-c4338491-l70-t51-dAny.read:81) at coldfusion.runtime.CfJspPage.invoke(CfJspPage.java:253) at coldfusion.tagext.lang.IncludeTag.handlePageInvoke(IncludeTag.java:737) at coldfusion.tagext.lang.IncludeTag.doStartTag(IncludeTag.java:573) at coldfusion.runtime.CfJspPage._emptyTcfTag(CfJspPage.java:3696) at cfelement2ecfm1046556909$funcUSECACHEFILE.runFunction(C:\webIIS\commonspot\udf\element.cfm:1294) at coldfusion.runtime.UDFMethod.invoke(UDFMethod.java:492) at coldfusion.runtime.UDFMethod$ReturnTypeFilter.invoke(UDFMethod.java:425) at coldfusion.runtime.UDFMethod$ArgumentCollectionFilter.invoke(UDFMethod.java:388) at coldfusion.filter.FunctionAccessFilter.invoke(FunctionAccessFilter.java:95) at coldfusion.runtime.UDFMethod.runFilterChain(UDFMethod.java:339) at coldfusion.runtime.UDFMethod.invoke(UDFMethod.java:234) at coldfusion.runtime.CfJspPage._invokeUDF(CfJspPage.java:3542) at coldfusion.runtime.CfJspPage._invokeUDF(CfJspPage.java:3522) at coldfusion.runtime.CfJspPage._invoke(CfJspPage.java:3117) at coldfusion.runtime.CfJspPage._invoke(CfJspPage.java:3074) at cfct2drender2delement2dcore2ecfm466716990._factor18(C:\webIIS\commonspot\utilities\ct-render-element-core.cfm:532) at cfct2drender2delement2dcore2ecfm466716990._factor30(C:\webIIS\commonspot\utilities\ct-render-element-core.cfm:143) at cfct2drender2delement2dcore2ecfm466716990.runPage(C:\webIIS\commonspot\utilities\ct-render-element-core.cfm:1) at coldfusion.runtime.CfJspPage.invoke(CfJspPage.java:253) at coldfusion.tagext.lang.IncludeTag.handlePageInvoke(IncludeTag.java:737) at coldfusion.tagext.lang.IncludeTag.doStartTag(IncludeTag.java:573) at coldfusion.runtime.CfJspPage._emptyTcfTag(CfJspPage.java:3696) at cfct2drender2delement2ecfm75739034.runPage(C:\webIIS\commonspot\utilities\ct-render-element.cfm:2) at coldfusion.runtime.CfJspPage.invoke(CfJspPage.java:253) at coldfusion.tagext.lang.IncludeTag.handlePageInvoke(IncludeTag.java:737) at coldfusion.tagext.lang.IncludeTag.doStartTag(IncludeTag.java:573) at coldfusion.runtime.CfJspPage._emptyTcfTag(CfJspPage.java:3696) at cfct2drender2dnamed2delement2ecfm970456590.runPage(C:\webIIS\commonspot\utilities\ct-render-named-element.cfm:242) at coldfusion.runtime.CfJspPage.invoke(CfJspPage.java:253) at coldfusion.filter.CFVariablesScopeFilter.invoke(CFVariablesScopeFilter.java:56) at coldfusion.tagext.lang.ModuleTag.doStartTag(ModuleTag.java:332) at coldfusion.runtime.CfJspPage._emptyTcfTag(CfJspPage.java:3696) at cf2016_tier22d3_layout2ecfm203986691.runPage(\\american.edu\au\APPS\CMS\PROD10\CMSData\au\customcf\layouts\2016_tier2-3_layout.cfm:15) at coldfusion.runtime.CfJspPage.invoke(CfJspPage.java:253) at coldfusion.filter.CFVariablesScopeFilter.invoke(CFVariablesScopeFilter.java:56) at coldfusion.tagext.lang.ModuleTag.doStartTag(ModuleTag.java:332) at coldfusion.runtime.CfJspPage._emptyTcfTag(CfJspPage.java:3696) at cfcpe2dcustomcf2ecfm1189542383.runPage(C:\webIIS\commonspot\controls\customcf\cpe-customcf.cfm:130) at coldfusion.runtime.CfJspPage.invoke(CfJspPage.java:253) at coldfusion.tagext.lang.IncludeTag.handlePageInvoke(IncludeTag.java:737) at coldfusion.tagext.lang.IncludeTag.doStartTag(IncludeTag.java:573) at coldfusion.runtime.CfJspPage._emptyTcfTag(CfJspPage.java:3696) at cfelement2ecfm1046556909$funcCALLELEMENT.runFunction(C:\webIIS\commonspot\udf\element.cfm:338) at coldfusion.runtime.UDFMethod.invoke(UDFMethod.java:492) at coldfusion.runtime.UDFMethod$ReturnTypeFilter.invoke(UDFMethod.java:425) at coldfusion.runtime.UDFMethod$ArgumentCollectionFilter.invoke(UDFMethod.java:388) at coldfusion.filter.FunctionAccessFilter.invoke(FunctionAccessFilter.java:95) at coldfusion.runtime.UDFMethod.runFilterChain(UDFMethod.java:339) at coldfusion.runtime.UDFMethod.invoke(UDFMethod.java:234) at coldfusion.runtime.CfJspPage._invokeUDF(CfJspPage.java:3542) at coldfusion.runtime.CfJspPage._invokeUDF(CfJspPage.java:3522) at coldfusion.runtime.CfJspPage._invoke(CfJspPage.java:3117) at coldfusion.runtime.CfJspPage._invoke(CfJspPage.java:3074) at cfrun2delement2ecfm260740188.runPage(C:\webIIS\commonspot\utilities\run-element.cfm:35) at coldfusion.runtime.CfJspPage.invoke(CfJspPage.java:253) at coldfusion.tagext.lang.IncludeTag.handlePageInvoke(IncludeTag.java:737) at coldfusion.tagext.lang.IncludeTag.doStartTag(IncludeTag.java:573) at coldfusion.runtime.CfJspPage._emptyTcfTag(CfJspPage.java:3696) at cfct2drender2delement2dcore2ecfm466716990._factor31(C:\webIIS\commonspot\utilities\ct-render-element-core.cfm:895) at cfct2drender2delement2dcore2ecfm466716990.runPage(C:\webIIS\commonspot\utilities\ct-render-element-core.cfm:1) at coldfusion.runtime.CfJspPage.invoke(CfJspPage.java:253) at coldfusion.tagext.lang.IncludeTag.handlePageInvoke(IncludeTag.java:737) at coldfusion.tagext.lang.IncludeTag.doStartTag(IncludeTag.java:573) at coldfusion.runtime.CfJspPage._emptyTcfTag(CfJspPage.java:3696) at cfct2drender2delement2ecfm75739034.runPage(C:\webIIS\commonspot\utilities\ct-render-element.cfm:2) at coldfusion.runtime.CfJspPage.invoke(CfJspPage.java:253) at coldfusion.filter.CFVariablesScopeFilter.invoke(CFVariablesScopeFilter.java:56) at coldfusion.tagext.lang.ModuleTag.doStartTag(ModuleTag.java:332) at coldfusion.runtime.CfJspPage._emptyTcfTag(CfJspPage.java:3696) at cfp47115122dc13512dl702dt512ddAny2eread191598236.runPage(C:\commonspot-data\customers\commonspot-users\sites\commonspot-site-au\mapped\cache\882\p4711512-c1351-l70-t51-dAny.read:17) at coldfusion.runtime.CfJspPage.invoke(CfJspPage.java:253) at coldfusion.tagext.lang.IncludeTag.handlePageInvoke(IncludeTag.java:737) at coldfusion.tagext.lang.IncludeTag.doStartTag(IncludeTag.java:573) at coldfusion.runtime.CfJspPage._emptyTcfTag(CfJspPage.java:3696) at cfelement2ecfm1046556909$funcUSECACHEFILE.runFunction(C:\webIIS\commonspot\udf\element.cfm:1294) at coldfusion.runtime.UDFMethod.invoke(UDFMethod.java:492) at coldfusion.runtime.UDFMethod$ReturnTypeFilter.invoke(UDFMethod.java:425) at coldfusion.runtime.UDFMethod$ArgumentCollectionFilter.invoke(UDFMethod.java:388) at coldfusion.filter.FunctionAccessFilter.invoke(FunctionAccessFilter.java:95) at coldfusion.runtime.UDFMethod.runFilterChain(UDFMethod.java:339) at coldfusion.runtime.UDFMethod.invoke(UDFMethod.java:234) at coldfusion.runtime.CfJspPage._invokeUDF(CfJspPage.java:3542) at coldfusion.runtime.CfJspPage._invokeUDF(CfJspPage.java:3522) at coldfusion.runtime.CfJspPage._invoke(CfJspPage.java:3117) at coldfusion.runtime.CfJspPage._invoke(CfJspPage.java:3074) at cfct2drender2delement2dcore2ecfm466716990._factor18(C:\webIIS\commonspot\utilities\ct-render-element-core.cfm:532) at cfct2drender2delement2dcore2ecfm466716990._factor30(C:\webIIS\commonspot\utilities\ct-render-element-core.cfm:143) at cfct2drender2delement2dcore2ecfm466716990.runPage(C:\webIIS\commonspot\utilities\ct-render-element-core.cfm:1) at coldfusion.runtime.CfJspPage.invoke(CfJspPage.java:253) at coldfusion.tagext.lang.IncludeTag.handlePageInvoke(IncludeTag.java:737) at coldfusion.tagext.lang.IncludeTag.doStartTag(IncludeTag.java:573) at coldfusion.runtime.CfJspPage._emptyTcfTag(CfJspPage.java:3696) at cfct2drender2delement2ecfm75739034.runPage(C:\webIIS\commonspot\utilities\ct-render-element.cfm:2) at coldfusion.runtime.CfJspPage.invoke(CfJspPage.java:253) at coldfusion.tagext.lang.IncludeTag.handlePageInvoke(IncludeTag.java:737) at coldfusion.tagext.lang.IncludeTag.doStartTag(IncludeTag.java:573) at coldfusion.runtime.CfJspPage._emptyTcfTag(CfJspPage.java:3696) at cfct2drender2dnamed2delement2ecfm970456590.runPage(C:\webIIS\commonspot\utilities\ct-render-named-element.cfm:242) at coldfusion.runtime.CfJspPage.invoke(CfJspPage.java:253) at coldfusion.filter.CFVariablesScopeFilter.invoke(CFVariablesScopeFilter.java:56) at coldfusion.tagext.lang.ModuleTag.doStartTag(ModuleTag.java:332) at coldfusion.runtime.CfJspPage._emptyTcfTag(CfJspPage.java:3696) at cftemplate2d20162ecfm1646230211.runPage(\\american.edu\au\APPS\CMS\PROD10\CMSData\au\templates\template-2016.cfm:338) at coldfusion.runtime.CfJspPage.invoke(CfJspPage.java:253) at coldfusion.tagext.lang.IncludeTag.handlePageInvoke(IncludeTag.java:737) at coldfusion.tagext.lang.IncludeTag.doStartTag(IncludeTag.java:573) at coldfusion.runtime.CfJspPage._emptyTcfTag(CfJspPage.java:3696) at cfrender2dpage2dmeat2ecfm1609676500.runPage(C:\webIIS\commonspot\render-page-meat.cfm:269) at coldfusion.runtime.CfJspPage.invoke(CfJspPage.java:253) at coldfusion.tagext.lang.IncludeTag.handlePageInvoke(IncludeTag.java:737) at coldfusion.tagext.lang.IncludeTag.doStartTag(IncludeTag.java:573) at coldfusion.runtime.CfJspPage._emptyTcfTag(CfJspPage.java:3696) at cfrender2dpage2ecfm1719185178.runPage(C:\webIIS\commonspot\render-page.cfm:36) at coldfusion.runtime.CfJspPage.invoke(CfJspPage.java:253) at coldfusion.tagext.lang.IncludeTag.handlePageInvoke(IncludeTag.java:737) at coldfusion.tagext.lang.IncludeTag.doStartTag(IncludeTag.java:573) at coldfusion.runtime.CfJspPage._emptyTcfTag(CfJspPage.java:3696) at cfmaster2drender2ecfm1974405207.runPage(C:\webIIS\commonspot\master-render.cfm:19) at coldfusion.runtime.CfJspPage.invoke(CfJspPage.java:253) at coldfusion.tagext.lang.IncludeTag.handlePageInvoke(IncludeTag.java:737) at coldfusion.tagext.lang.IncludeTag.doStartTag(IncludeTag.java:573) at coldfusion.runtime.CfJspPage._emptyTcfTag(CfJspPage.java:3696) at cfuncached2dmaster2ecfm205391752.runPage(C:\webIIS\commonspot\uncached-master.cfm:222) at coldfusion.runtime.CfJspPage.invoke(CfJspPage.java:253) at coldfusion.tagext.lang.IncludeTag.handlePageInvoke(IncludeTag.java:737) at coldfusion.tagext.lang.IncludeTag.doStartTag(IncludeTag.java:573) at coldfusion.runtime.CfJspPage._emptyTcfTag(CfJspPage.java:3696) at cfcached2dpage2drender2ecfm1093107327.runPage(C:\webIIS\commonspot\utilities\cached-page-render.cfm:245) at coldfusion.runtime.CfJspPage.invoke(CfJspPage.java:253) at coldfusion.tagext.lang.IncludeTag.handlePageInvoke(IncludeTag.java:737) at coldfusion.tagext.lang.IncludeTag.doStartTag(IncludeTag.java:573) at coldfusion.runtime.CfJspPage._emptyTcfTag(CfJspPage.java:3696) at cfmaster2ecfm819633156._factor23(C:\webIIS\commonspot\master.cfm:285) at cfmaster2ecfm819633156._factor25(C:\webIIS\commonspot\master.cfm:14) at cfmaster2ecfm819633156.runPage(C:\webIIS\commonspot\master.cfm:1) at coldfusion.runtime.CfJspPage.invoke(CfJspPage.java:253) at coldfusion.tagext.lang.IncludeTag.handlePageInvoke(IncludeTag.java:737) at coldfusion.tagext.lang.IncludeTag.doStartTag(IncludeTag.java:573) at coldfusion.runtime.CfJspPage._emptyTcfTag(CfJspPage.java:3696) at cfmfa2dstar2ecfm2041498113.runPage(\\american.edu\AU\APPS\CMS\PROD10\CMSData\au\cas\studio\mfa-star.cfm:85) at coldfusion.runtime.CfJspPage.invoke(CfJspPage.java:253) at coldfusion.tagext.lang.IncludeTag.handlePageInvoke(IncludeTag.java:737) at coldfusion.tagext.lang.IncludeTag.doStartTag(IncludeTag.java:573) at coldfusion.filter.CfincludeFilter.invoke(CfincludeFilter.java:65) at coldfusion.filter.IpFilter.invoke(IpFilter.java:45) at coldfusion.filter.ApplicationFilter.invoke(ApplicationFilter.java:505) at coldfusion.filter.RequestMonitorFilter.invoke(RequestMonitorFilter.java:43) at coldfusion.filter.MonitoringFilter.invoke(MonitoringFilter.java:40) at coldfusion.filter.PathFilter.invoke(PathFilter.java:153) at coldfusion.filter.ExceptionFilter.invoke(ExceptionFilter.java:94) at coldfusion.filter.BrowserDebugFilter.invoke(BrowserDebugFilter.java:78) at coldfusion.filter.ClientScopePersistenceFilter.invoke(ClientScopePersistenceFilter.java:28) at coldfusion.filter.BrowserFilter.invoke(BrowserFilter.java:38) at coldfusion.filter.NoCacheFilter.invoke(NoCacheFilter.java:60) at coldfusion.filter.GlobalsFilter.invoke(GlobalsFilter.java:38) at coldfusion.filter.DatasourceFilter.invoke(DatasourceFilter.java:22) at coldfusion.filter.CachingFilter.invoke(CachingFilter.java:62) at coldfusion.CfmServlet.service(CfmServlet.java:219) at coldfusion.bootstrap.BootstrapServlet.service(BootstrapServlet.java:89) at org.apache.catalina.core.ApplicationFilterChain.internalDoFilter(ApplicationFilterChain.java:231) at org.apache.catalina.core.ApplicationFilterChain.doFilter(ApplicationFilterChain.java:166) at coldfusion.monitor.event.MonitoringServletFilter.doFilter(MonitoringServletFilter.java:42) at coldfusion.bootstrap.BootstrapFilter.doFilter(BootstrapFilter.java:46) at org.apache.catalina.core.ApplicationFilterChain.internalDoFilter(ApplicationFilterChain.java:193) at org.apache.catalina.core.ApplicationFilterChain.doFilter(ApplicationFilterChain.java:166) at org.apache.tomcat.websocket.server.WsFilter.doFilter(WsFilter.java:52) at org.apache.catalina.core.ApplicationFilterChain.internalDoFilter(ApplicationFilterChain.java:193) at org.apache.catalina.core.ApplicationFilterChain.doFilter(ApplicationFilterChain.java:166) at sun.reflect.GeneratedMethodAccessor225.invoke(Unknown Source) at sun.reflect.DelegatingMethodAccessorImpl.invoke(DelegatingMethodAccessorImpl.java:43) at java.lang.reflect.Method.invoke(Method.java:498) at com.intergral.fusionreactor.j2ee.filterchain.WrappedFilterChain.doFilter(WrappedFilterChain.java:134) at com.intergral.fusionreactor.j2ee.filter.FusionReactorRequestHandler.doNext(FusionReactorRequestHandler.java:755) at com.intergral.fusionreactor.j2ee.filter.FusionReactorRequestHandler.doHttpServletRequest(FusionReactorRequestHandler.java:344) at com.intergral.fusionreactor.j2ee.filter.FusionReactorRequestHandler.doFusionRequest(FusionReactorRequestHandler.java:207) at com.intergral.fusionreactor.j2ee.filter.FusionReactorRequestHandler.handle(FusionReactorRequestHandler.java:792) at com.intergral.fusionreactor.j2ee.filter.FusionReactorCoreFilter.doFilter(FusionReactorCoreFilter.java:36) at sun.reflect.GeneratedMethodAccessor224.invoke(Unknown Source) at sun.reflect.DelegatingMethodAccessorImpl.invoke(DelegatingMethodAccessorImpl.java:43) at java.lang.reflect.Method.invoke(Method.java:498) at com.intergral.fusionreactor.j2ee.filterchain.WrappedFilterChain.doFilter(WrappedFilterChain.java:71) at sun.reflect.GeneratedMethodAccessor175.invoke(Unknown Source) at sun.reflect.DelegatingMethodAccessorImpl.invoke(DelegatingMethodAccessorImpl.java:43) at java.lang.reflect.Method.invoke(Method.java:498) at com.intergral.fusionreactor.agent.filter.FusionReactorStaticFilter.doFilter(FusionReactorStaticFilter.java:54) at com.intergral.fusionreactor.agent.pointcuts.NewFilterChainPointCut$1.invoke(NewFilterChainPointCut.java:41) at org.apache.catalina.core.ApplicationFilterChain.doFilter(ApplicationFilterChain.java) at org.apache.catalina.core.StandardWrapperValve.invoke(StandardWrapperValve.java:199) at org.apache.catalina.core.StandardContextValve.invoke(StandardContextValve.java:96) at org.apache.catalina.core.StandardHostValve.invoke(StandardHostValve.java:140) at org.apache.catalina.valves.ErrorReportValve.invoke(ErrorReportValve.java:81) at org.apache.catalina.core.StandardEngineValve.invoke(StandardEngineValve.java:87) at org.apache.catalina.connector.CoyoteAdapter.service(CoyoteAdapter.java:357) at org.apache.coyote.ajp.AjpProcessor.service(AjpProcessor.java:513) at org.apache.coyote.AbstractProcessorLight.process(AbstractProcessorLight.java:66) at org.apache.coyote.AbstractProtocol$ConnectionHandler.process(AbstractProtocol.java:790) at org.apache.tomcat.util.net.NioEndpoint$SocketProcessor.doRun(NioEndpoint.java:1459) at org.apache.tomcat.util.net.SocketProcessorBase.run(SocketProcessorBase.java:49) at java.util.concurrent.ThreadPoolExecutor.runWorker(ThreadPoolExecutor.java:1149) at java.util.concurrent.ThreadPoolExecutor$Worker.run(ThreadPoolExecutor.java:624) at org.apache.tomcat.util.threads.TaskThread$WrappingRunnable.run(TaskThread.java:61) at java.lang.Thread.run(Thread.java:748) Caused by: java.sql.SQLNonTransientConnectionException: [Macromedia][SQLServer JDBC Driver][SQLServer]Cannot open database "RecruiterProd_MSCRM" requested by the login. The login failed. at macromedia.jdbc.sqlserverbase.ddcw.b(Unknown Source) at macromedia.jdbc.sqlserverbase.ddcw.a(Unknown Source) at macromedia.jdbc.sqlserverbase.ddcv.b(Unknown Source) at macromedia.jdbc.sqlserverbase.ddcv.a(Unknown Source) at macromedia.jdbc.sqlserver.tds.ddr.v(Unknown Source) at macromedia.jdbc.sqlserver.tds.ddr.a(Unknown Source) at macromedia.jdbc.sqlserver.tds.ddj.a(Unknown Source) at macromedia.jdbc.sqlserver.tds.ddr.c(Unknown Source) at macromedia.jdbc.sqlserver.tds.ddj.a(Unknown Source) at macromedia.jdbc.sqlserver.SQLServerImplConnection.f(Unknown Source) at macromedia.jdbc.sqlserverbase.BaseConnection.b(Unknown Source) at macromedia.jdbc.sqlserverbase.BaseConnection.k(Unknown Source) at macromedia.jdbc.sqlserverbase.BaseConnection.b(Unknown Source) at macromedia.jdbc.sqlserverbase.BaseConnection.a(Unknown Source) at macromedia.jdbc.sqlserverbase.BaseDriver.connect(Unknown Source) at macromedia.jdbc.MacromediaDriver.$fr$connect(Unknown Source) at macromedia.jdbc.MacromediaDriver.connect(Unknown Source) at coldfusion.server.j2ee.sql.pool.JDBCPool.createPhysicalConnection(JDBCPool.java:644) at coldfusion.server.j2ee.sql.pool.ConnectionRunner$RunnableConnection.run(ConnectionRunner.java:67) ... 1 more
Suppressed
TagContext

array
1

struct
COLUMN
0
ID
CFQUERY
LINE
72
RAW_TRACE
at cfrecruiter2ecfc1154250551$funcGETGUID2.runFunction(\\american.edu\AU\APPS\CMS\PROD10\CMSData\au\customcf\degrees\cfc\recruiter.cfc:72)
TEMPLATE
\\american.edu\AU\APPS\CMS\PROD10\CMSData\au\customcf\degrees\cfc\recruiter.cfc
TYPE
CFML

2

struct
COLUMN
0
ID
CF_TEMPLATEPROXY
LINE
177
RAW_TRACE
at cf2016_recruit_form2ecfm644605836.runPage(\\american.edu\au\APPS\CMS\PROD10\CMSData\au\renderhandlers\2016_recruit_form.cfm:177)
TEMPLATE
\\american.edu\au\APPS\CMS\PROD10\CMSData\au\renderhandlers\2016_recruit_form.cfm
TYPE
CFML

3

struct
COLUMN
0
ID
CFMODULE
LINE
777
RAW_TRACE
at cfutil2ecfm452337259$funcCALLRENDERHANDLER.runFunction(C:\webIIS\commonspot\udf\util.cfm:777)
TEMPLATE
C:\webIIS\commonspot\udf\util.cfm
TYPE
CFML

4

struct
COLUMN
0
ID
CF_UDFMETHOD
LINE
1105
RAW_TRACE
at cfcpe2dcustom2ecfm441340303._factor30(C:\webIIS\commonspot\controls\custom\cpe-custom.cfm:1105)
TEMPLATE
C:\webIIS\commonspot\controls\custom\cpe-custom.cfm
TYPE
CFML

5

struct
COLUMN
0
ID
CF_CPE-CUSTOM
LINE
1
RAW_TRACE
at cfcpe2dcustom2ecfm441340303.runPage(C:\webIIS\commonspot\controls\custom\cpe-custom.cfm:1)
TEMPLATE
C:\webIIS\commonspot\controls\custom\cpe-custom.cfm
TYPE
CFML

6

struct
COLUMN
0
ID
CFINCLUDE
LINE
338
RAW_TRACE
at cfelement2ecfm1046556909$funcCALLELEMENT.runFunction(C:\webIIS\commonspot\udf\element.cfm:338)
TEMPLATE
C:\webIIS\commonspot\udf\element.cfm
TYPE
CFML

7

struct
COLUMN
0
ID
CF_UDFMETHOD
LINE
35
RAW_TRACE
at cfrun2delement2ecfm260740188.runPage(C:\webIIS\commonspot\utilities\run-element.cfm:35)
TEMPLATE
C:\webIIS\commonspot\utilities\run-element.cfm
TYPE
CFML

8

struct
COLUMN
0
ID
CFINCLUDE
LINE
895
RAW_TRACE
at cfct2drender2delement2dcore2ecfm466716990._factor31(C:\webIIS\commonspot\utilities\ct-render-element-core.cfm:895)
TEMPLATE
C:\webIIS\commonspot\utilities\ct-render-element-core.cfm
TYPE
CFML

9

struct
COLUMN
0
ID
CF_CT-RENDER-ELEMENT-CORE
LINE
1
RAW_TRACE
at cfct2drender2delement2dcore2ecfm466716990.runPage(C:\webIIS\commonspot\utilities\ct-render-element-core.cfm:1)
TEMPLATE
C:\webIIS\commonspot\utilities\ct-render-element-core.cfm
TYPE
CFML

10

struct
COLUMN
0
ID
CFINCLUDE
LINE
2
RAW_TRACE
at cfct2drender2delement2ecfm75739034.runPage(C:\webIIS\commonspot\utilities\ct-render-element.cfm:2)
TEMPLATE
C:\webIIS\commonspot\utilities\ct-render-element.cfm
TYPE
CFML

11

struct
COLUMN
0
ID
CFMODULE
LINE
81
RAW_TRACE
at cfp47115122dc43384912dl702dt512ddAny2eread363375846.runPage(C:\commonspot-data\customers\commonspot-users\sites\commonspot-site-au\mapped\cache\882\p4711512-c4338491-l70-t51-dAny.read:81)
TEMPLATE
C:\commonspot-data\customers\commonspot-users\sites\commonspot-site-au\mapped\cache\882\p4711512-c4338491-l70-t51-dAny.read
TYPE
CFML

12

struct
COLUMN
0
ID
CFINCLUDE
LINE
1294
RAW_TRACE
at cfelement2ecfm1046556909$funcUSECACHEFILE.runFunction(C:\webIIS\commonspot\udf\element.cfm:1294)
TEMPLATE
C:\webIIS\commonspot\udf\element.cfm
TYPE
CFML

13

struct
COLUMN
0
ID
CF_UDFMETHOD
LINE
532
RAW_TRACE
at cfct2drender2delement2dcore2ecfm466716990._factor18(C:\webIIS\commonspot\utilities\ct-render-element-core.cfm:532)
TEMPLATE
C:\webIIS\commonspot\utilities\ct-render-element-core.cfm
TYPE
CFML

14

struct
COLUMN
0
ID
CF_CT-RENDER-ELEMENT-CORE
LINE
143
RAW_TRACE
at cfct2drender2delement2dcore2ecfm466716990._factor30(C:\webIIS\commonspot\utilities\ct-render-element-core.cfm:143)
TEMPLATE
C:\webIIS\commonspot\utilities\ct-render-element-core.cfm
TYPE
CFML

15

struct
COLUMN
0
ID
CF_CT-RENDER-ELEMENT-CORE
LINE
1
RAW_TRACE
at cfct2drender2delement2dcore2ecfm466716990.runPage(C:\webIIS\commonspot\utilities\ct-render-element-core.cfm:1)
TEMPLATE
C:\webIIS\commonspot\utilities\ct-render-element-core.cfm
TYPE
CFML

16

struct
COLUMN
0
ID
CFINCLUDE
LINE
2
RAW_TRACE
at cfct2drender2delement2ecfm75739034.runPage(C:\webIIS\commonspot\utilities\ct-render-element.cfm:2)
TEMPLATE
C:\webIIS\commonspot\utilities\ct-render-element.cfm
TYPE
CFML

17

struct
COLUMN
0
ID
CFINCLUDE
LINE
242
RAW_TRACE
at cfct2drender2dnamed2delement2ecfm970456590.runPage(C:\webIIS\commonspot\utilities\ct-render-named-element.cfm:242)
TEMPLATE
C:\webIIS\commonspot\utilities\ct-render-named-element.cfm
TYPE
CFML

18

struct
COLUMN
0
ID
CFMODULE
LINE
15
RAW_TRACE
at cf2016_tier22d3_layout2ecfm203986691.runPage(\\american.edu\au\APPS\CMS\PROD10\CMSData\au\customcf\layouts\2016_tier2-3_layout.cfm:15)
TEMPLATE
\\american.edu\au\APPS\CMS\PROD10\CMSData\au\customcf\layouts\2016_tier2-3_layout.cfm
TYPE
CFML

19

struct
COLUMN
0
ID
CFMODULE
LINE
130
RAW_TRACE
at cfcpe2dcustomcf2ecfm1189542383.runPage(C:\webIIS\commonspot\controls\customcf\cpe-customcf.cfm:130)
TEMPLATE
C:\webIIS\commonspot\controls\customcf\cpe-customcf.cfm
TYPE
CFML

20

struct
COLUMN
0
ID
CFINCLUDE
LINE
338
RAW_TRACE
at cfelement2ecfm1046556909$funcCALLELEMENT.runFunction(C:\webIIS\commonspot\udf\element.cfm:338)
TEMPLATE
C:\webIIS\commonspot\udf\element.cfm
TYPE
CFML

21

struct
COLUMN
0
ID
CF_UDFMETHOD
LINE
35
RAW_TRACE
at cfrun2delement2ecfm260740188.runPage(C:\webIIS\commonspot\utilities\run-element.cfm:35)
TEMPLATE
C:\webIIS\commonspot\utilities\run-element.cfm
TYPE
CFML

22

struct
COLUMN
0
ID
CFINCLUDE
LINE
895
RAW_TRACE
at cfct2drender2delement2dcore2ecfm466716990._factor31(C:\webIIS\commonspot\utilities\ct-render-element-core.cfm:895)
TEMPLATE
C:\webIIS\commonspot\utilities\ct-render-element-core.cfm
TYPE
CFML

23

struct
COLUMN
0
ID
CF_CT-RENDER-ELEMENT-CORE
LINE
1
RAW_TRACE
at cfct2drender2delement2dcore2ecfm466716990.runPage(C:\webIIS\commonspot\utilities\ct-render-element-core.cfm:1)
TEMPLATE
C:\webIIS\commonspot\utilities\ct-render-element-core.cfm
TYPE
CFML

24

struct
COLUMN
0
ID
CFINCLUDE
LINE
2
RAW_TRACE
at cfct2drender2delement2ecfm75739034.runPage(C:\webIIS\commonspot\utilities\ct-render-element.cfm:2)
TEMPLATE
C:\webIIS\commonspot\utilities\ct-render-element.cfm
TYPE
CFML

25

struct
COLUMN
0
ID
CFMODULE
LINE
17
RAW_TRACE
at cfp47115122dc13512dl702dt512ddAny2eread191598236.runPage(C:\commonspot-data\customers\commonspot-users\sites\commonspot-site-au\mapped\cache\882\p4711512-c1351-l70-t51-dAny.read:17)
TEMPLATE
C:\commonspot-data\customers\commonspot-users\sites\commonspot-site-au\mapped\cache\882\p4711512-c1351-l70-t51-dAny.read
TYPE
CFML

26

struct
COLUMN
0
ID
CFINCLUDE
LINE
1294
RAW_TRACE
at cfelement2ecfm1046556909$funcUSECACHEFILE.runFunction(C:\webIIS\commonspot\udf\element.cfm:1294)
TEMPLATE
C:\webIIS\commonspot\udf\element.cfm
TYPE
CFML

27

struct
COLUMN
0
ID
CF_UDFMETHOD
LINE
532
RAW_TRACE
at cfct2drender2delement2dcore2ecfm466716990._factor18(C:\webIIS\commonspot\utilities\ct-render-element-core.cfm:532)
TEMPLATE
C:\webIIS\commonspot\utilities\ct-render-element-core.cfm
TYPE
CFML

28

struct
COLUMN
0
ID
CF_CT-RENDER-ELEMENT-CORE
LINE
143
RAW_TRACE
at cfct2drender2delement2dcore2ecfm466716990._factor30(C:\webIIS\commonspot\utilities\ct-render-element-core.cfm:143)
TEMPLATE
C:\webIIS\commonspot\utilities\ct-render-element-core.cfm
TYPE
CFML

29

struct
COLUMN
0
ID
CF_CT-RENDER-ELEMENT-CORE
LINE
1
RAW_TRACE
at cfct2drender2delement2dcore2ecfm466716990.runPage(C:\webIIS\commonspot\utilities\ct-render-element-core.cfm:1)
TEMPLATE
C:\webIIS\commonspot\utilities\ct-render-element-core.cfm
TYPE
CFML

30

struct
COLUMN
0
ID
CFINCLUDE
LINE
2
RAW_TRACE
at cfct2drender2delement2ecfm75739034.runPage(C:\webIIS\commonspot\utilities\ct-render-element.cfm:2)
TEMPLATE
C:\webIIS\commonspot\utilities\ct-render-element.cfm
TYPE
CFML

31

struct
COLUMN
0
ID
CFINCLUDE
LINE
242
RAW_TRACE
at cfct2drender2dnamed2delement2ecfm970456590.runPage(C:\webIIS\commonspot\utilities\ct-render-named-element.cfm:242)
TEMPLATE
C:\webIIS\commonspot\utilities\ct-render-named-element.cfm
TYPE
CFML

32

struct
COLUMN
0
ID
CFMODULE
LINE
338
RAW_TRACE
at cftemplate2d20162ecfm1646230211.runPage(\\american.edu\au\APPS\CMS\PROD10\CMSData\au\templates\template-2016.cfm:338)
TEMPLATE
\\american.edu\au\APPS\CMS\PROD10\CMSData\au\templates\template-2016.cfm
TYPE
CFML

33

struct
COLUMN
0
ID
CFINCLUDE
LINE
269
RAW_TRACE
at cfrender2dpage2dmeat2ecfm1609676500.runPage(C:\webIIS\commonspot\render-page-meat.cfm:269)
TEMPLATE
C:\webIIS\commonspot\render-page-meat.cfm
TYPE
CFML

34

struct
COLUMN
0
ID
CFINCLUDE
LINE
36
RAW_TRACE
at cfrender2dpage2ecfm1719185178.runPage(C:\webIIS\commonspot\render-page.cfm:36)
TEMPLATE
C:\webIIS\commonspot\render-page.cfm
TYPE
CFML

35

struct
COLUMN
0
ID
CFINCLUDE
LINE
19
RAW_TRACE
at cfmaster2drender2ecfm1974405207.runPage(C:\webIIS\commonspot\master-render.cfm:19)
TEMPLATE
C:\webIIS\commonspot\master-render.cfm
TYPE
CFML

36

struct
COLUMN
0
ID
CFINCLUDE
LINE
222
RAW_TRACE
at cfuncached2dmaster2ecfm205391752.runPage(C:\webIIS\commonspot\uncached-master.cfm:222)
TEMPLATE
C:\webIIS\commonspot\uncached-master.cfm
TYPE
CFML

37

struct
COLUMN
0
ID
CFINCLUDE
LINE
245
RAW_TRACE
at cfcached2dpage2drender2ecfm1093107327.runPage(C:\webIIS\commonspot\utilities\cached-page-render.cfm:245)
TEMPLATE
C:\webIIS\commonspot\utilities\cached-page-render.cfm
TYPE
CFML

38

struct
COLUMN
0
ID
CFINCLUDE
LINE
285
RAW_TRACE
at cfmaster2ecfm819633156._factor23(C:\webIIS\commonspot\master.cfm:285)
TEMPLATE
C:\webIIS\commonspot\master.cfm
TYPE
CFML

39

struct
COLUMN
0
ID
CF_MASTER
LINE
14
RAW_TRACE
at cfmaster2ecfm819633156._factor25(C:\webIIS\commonspot\master.cfm:14)
TEMPLATE
C:\webIIS\commonspot\master.cfm
TYPE
CFML

40

struct
COLUMN
0
ID
CF_MASTER
LINE
1
RAW_TRACE
at cfmaster2ecfm819633156.runPage(C:\webIIS\commonspot\master.cfm:1)
TEMPLATE
C:\webIIS\commonspot\master.cfm
TYPE
CFML

41

struct
COLUMN
0
ID
CFINCLUDE
LINE
85
RAW_TRACE
at cfmfa2dstar2ecfm2041498113.runPage(\\american.edu\AU\APPS\CMS\PROD10\CMSData\au\cas\studio\mfa-star.cfm:85)
TEMPLATE
\\american.edu\AU\APPS\CMS\PROD10\CMSData\au\cas\studio\mfa-star.cfm
TYPE
CFML

Type
Database
queryError
[Macromedia][SQLServer JDBC Driver][SQLServer]Cannot open database "RecruiterProd_MSCRM" requested by the login. The login failed.
where
(param 1) = [type='IN', class='java.lang.String', value='MFA.STAR', sqltype='CF_SQL_CHAR']