Facilities & Resources
The MFA Studio Art Program is located in the Katzen Arts Center, a multi-use academic building home to the Department of Art, Department of Performing Arts, and the American University Museum.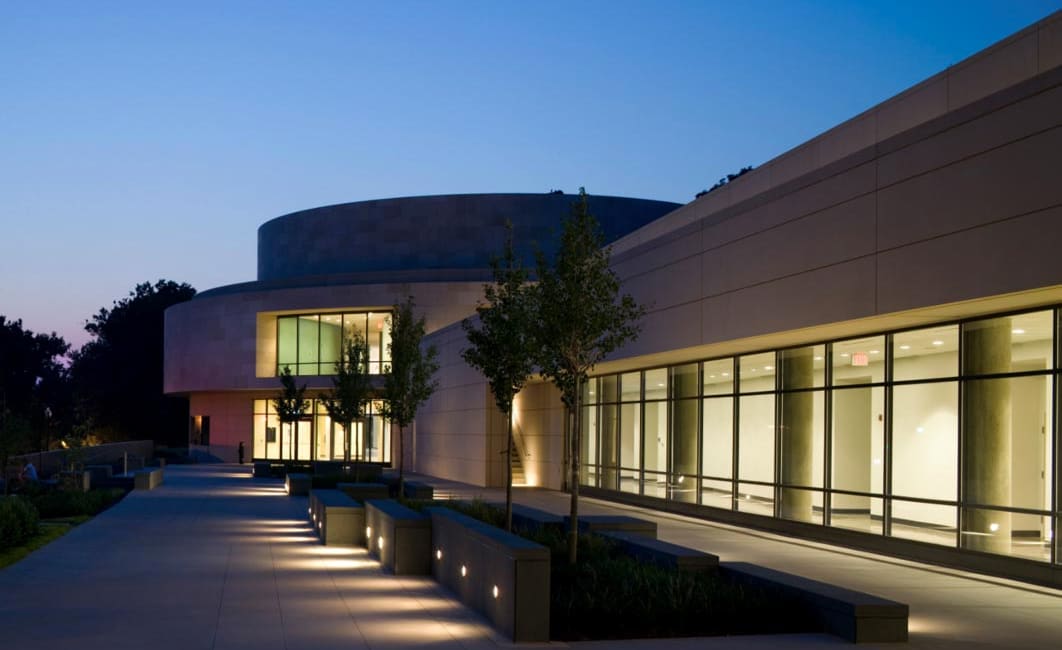 Katzen Arts Center Rotunda.
All MFA candidates get 24-hour access to their own private studios in the Katzen, also home to a printmaking studio, sculpture workspace, faculty and department offices, the Rotunda exhibition and event space, and new media lab, in addition to more labs, workshops, and resources across campus. Please explore our facilities—and community—below!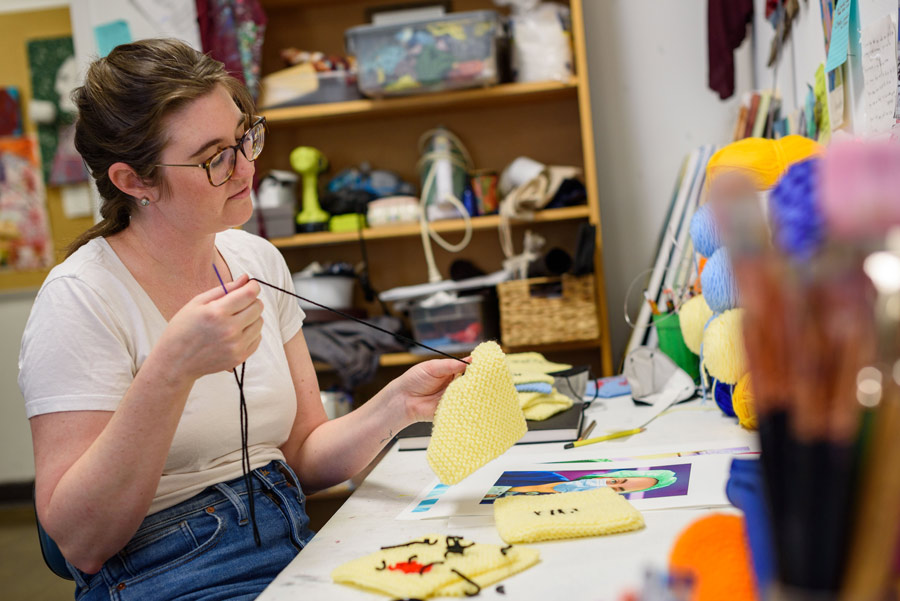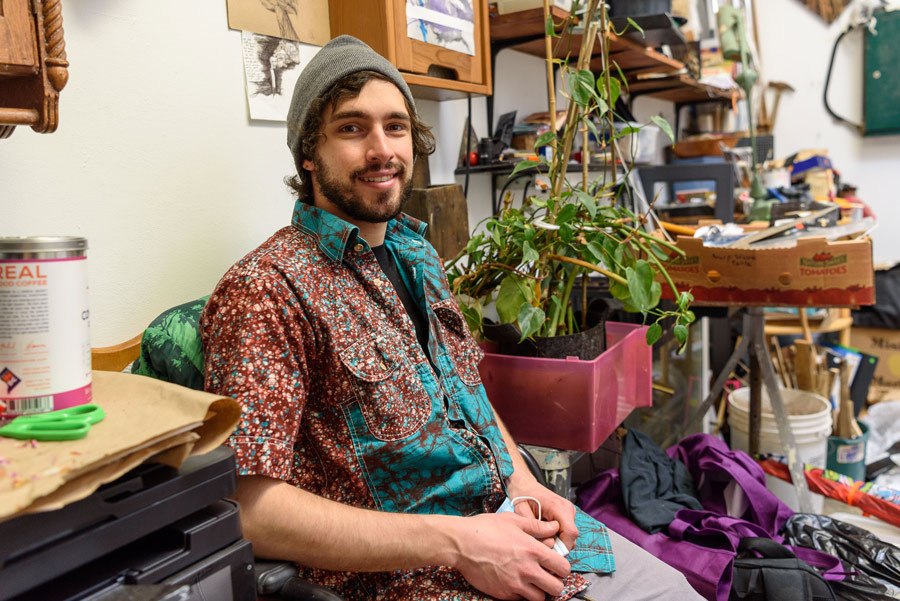 MFA private studios in the Katzen.
 
In the Katzen Arts Center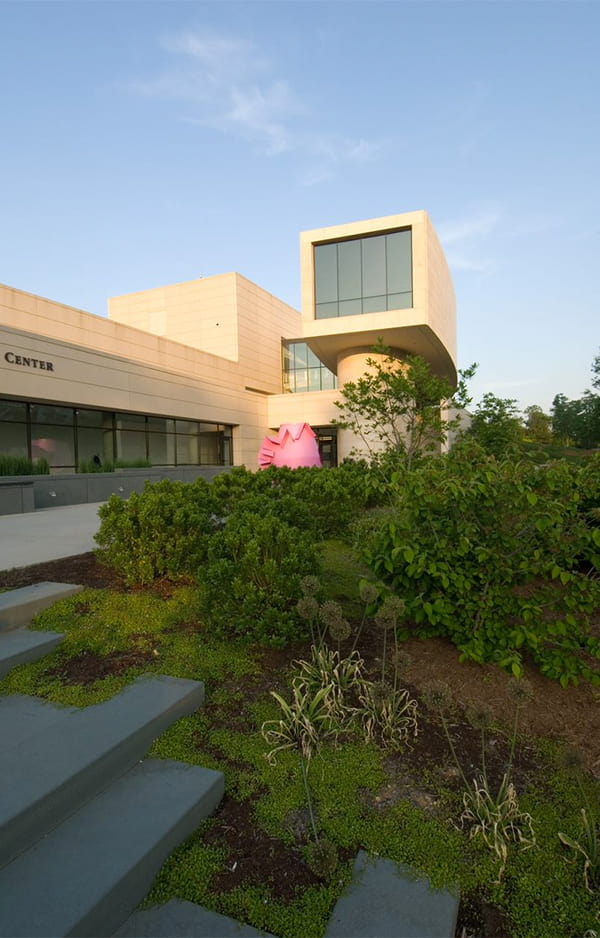 The Katzen Arts Center brings all the visual and performing arts programs at AU into one 130,000 square foot space. Designed to foster interdisciplinary collaboration in the arts, the new center provides state-of-the-art instructional, exhibition, and performance space for all the arts disciplines. The Center features an extraordinary 30,000 square foot art museum with a variety of gallery spaces for exhibition of exciting contemporary art from the nation's capital region and the world, along with AU's own Watkins Collection and the collection of Cyrus and Myrtle Katzen. The Katzen Arts Center stands as a clear statement to the community that at the heart of the city, there exists a place where the arts are honored as the heart of higher education. That place is American University.
AU Museum
The American University Museum is a three-story public museum and sculpture garden located within the university's dynamic and multidisciplinary Katzen Arts Center. The region's largest university facility for exhibiting art, the museum has a permanent collection that highlights AU's Watkins Collection and The Rothfeld Collection of Contemporary Israeli Art, in addition to our Alper Initiative for Washington Art.
Rotating exhibitions emphasize regional, national, and international contemporary art. The museum's collections enable us to present the art history of Washington, while our Kunsthalle style ensures constantly changing, highly relevant and provocative programming.
Studio Art MFA students display their works in incidental the Katzen Arts shows and in annual group exhibitions with the completion of their theses in the AU Museum, most recently the 2022 show in • position(where you can find all previous shows too).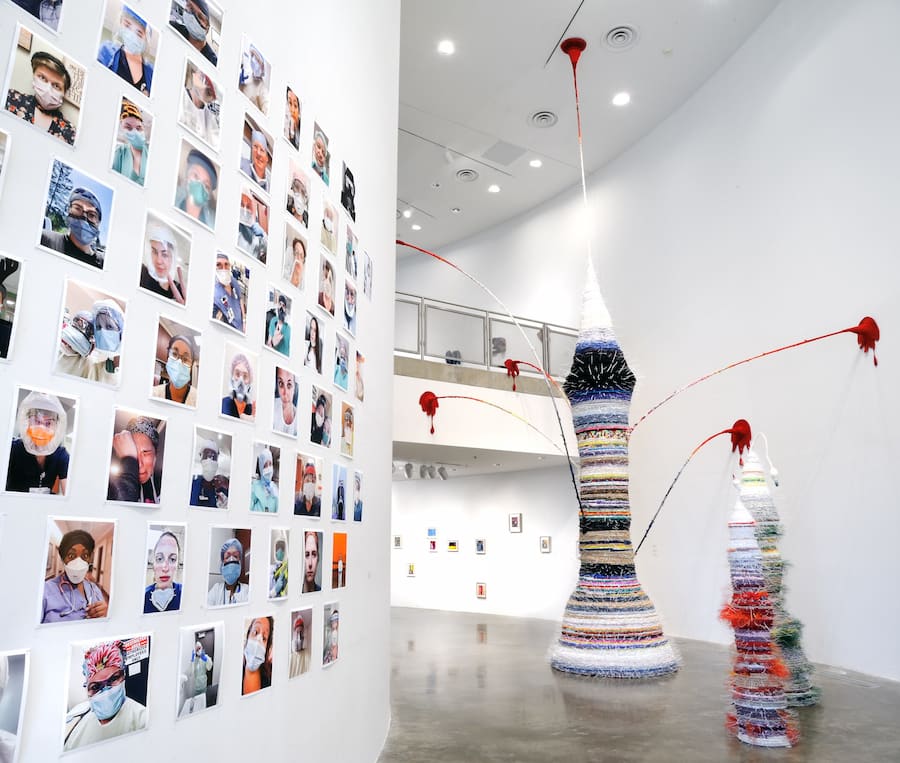 Studio MFA Exhibition in the AU Museum.
Studio Art
Sculpture suite: a sculpture suite that contains a large flexible classroom/assembly room for the instruction of sculpture and installation; a plaster/sink casting room; and a full service woodshop with all new professional equipment, hand tools, and state of the art CNC router
State of the art multimedia studio for video and digital photography: a designated state of the art multimedia studio lab and classroom equipped with large format digital printers, large format SLR and video equipment, current Apple computers and hardware and Adobe image, video, and audio editing software
Four studios for painting and drawing: 3 flexible classroom spaces for the instruction of acrylic based painting and drawing and one flexible classroom space for the instruction of advanced oil and acrylic based painting and drawing
Printmaking studio: A printmaking studio with individualized workstation ventilation, acid and solvent area with separate controlled ventilation and a designated safety room
Screenprinting studio: a dedicated silkscreen studio and classroom
Individual graduate studios with designated storage areas for graduate student work and designated graduate critique room
Rotunda student art gallery: The Katzen rotunda features a rotating showcase of student work across disciplines from all levels of art classes. The studio art program has an agreement in place that makes installation projects possible within all public Katzen areas.
Visual Resources Center
The Visual Resources Center (VRC) is a hub for image research and production, study and collaboration, print resources on the arts and graphic design, and audio/video equipment circulation for all programs of the Art Department. The VRC image collection, available through Artstor, supports faculty teaching needs in the areas of art, architecture, and graphic design. Of particular strength is a focus on women artists from the Renaissance to today.
Campus Resources
Makerspace
The library's Makerspace is a place where people with similar interests can come together to work on projects while sharing ideas and knowledge. It facilitates the construction of knowledge through the manipulation and creation of material objects. The space is well-equipped with many different tools, materials, and information resources so patrons feel comfortable working on projects independently or in groups within the space that fall under three workbenches.
3D Creation: 3D Printer, Carvey
Digital Production: poster printing (large format printer) and circuits (Raspberry Pi and e-textiles)
Craft Fabrication: manual/power tools (hammer, screwdriver, wrench, plier, power drill, dremel kit, sander), sewing (sewing machine, dress form), and handcrafting (soldering iron, hot glue gun, embroidery, paper crafts, carving tools)
Design and Build Lab
The Design and Build Lab is an educational resource that supports all members of the AU community as they "create things that solve problems." DaBL has a wide selection of digital and analog fabrication equipment including a workbench, 3D printer, laser cutter, vinyl cutter, sewing machine, and heat press.
Mac Lab
The Mac Lab is located in the Anderson Computing Complex in room B-16. The lab hosts nine high-level Mac computers and a wide variety of multimedia development software.
SOC Open Editing Lab
The Editing Lab is an open work space designed for students to complete projects in film, video and graphics. The lab contains 13 MacPro and iMac computer systems equipped with the latest versions of Final Cut Pro and Adobe Creative Cloud software, including Photoshop, Premiere Pro, After Effects and Audition. The lab is located in McKinley T13 and is open 24/7.