Visiting Artists and Other Activities

One of the primary goals of this program is to provide a meaningful interaction with the distinct art community in Berlin. The opportunity to connect with artists and other arts professionals with a great variety of backgrounds, processes, strategies, and goals is tremendously valuable as artists begin to form their own post-grad-school trajectories; this program brings participants into direct contact and conversation.
Through a mixture of artist talks, guest critiques, and visits to working artists' studios, participants see first-hand how Berlin-based artists have tackled the challenges we all face, and can ask directly about the decisions and experiences that brought these artists to their current point.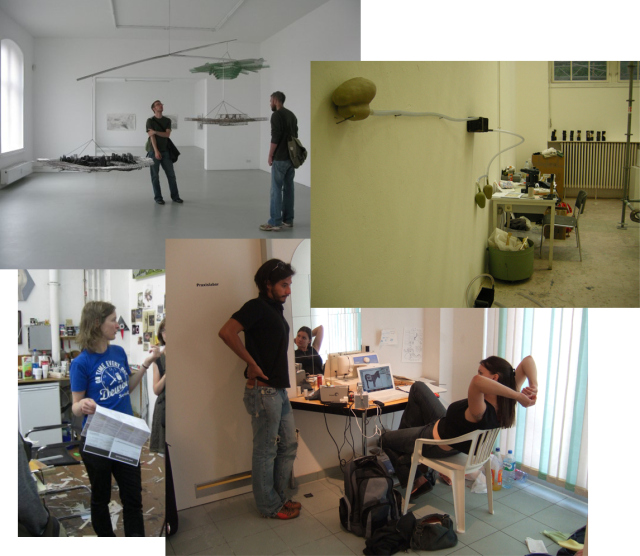 Artists who have worked with previous programs include:
Other group activities focus on connecting with the many artists' organizations and resources in Berlin. From the amazing state-support workshops at the BBK, to the creative-professionals utopia BetaHaus, to the artists-supporting-artists groups like Agora Collective, Co-Verlag, and Werkstadt Neukölln, participants will see first-hand what can grow out of a critical mass of engaged artists.
This year's program has the added benefit of local assistance from Rebecca Loyche. Rebecca is an artist working primarily in video, photography, sound and film. She currently curates re:MMX in Berlin with her partner Jonathan Gröger and has curated programs throughout the United States, China and Europe. Her work has also been shown with great international breadth. Collaborative projects include: Spaceallover.org a series of Nomadic Art events; tART Women's Collective in NYC; BUFF Brooklyn Underground Film Festival; and working for the David Smith Estate and ArtOmi international art residencies and sculpture park. She holds an MFA from Hunter College, NYC, BFA from Pratt Institute, NYC, and received a Meisterschüler studying with Candice Breitz at the Braunschweig School of Art, Germany in 2011. Currently, she writes for a couple of Berlin's Art & Culture blogs with a concentration on art exhibitions and culture event listings happening throughout the city.