Alumni Success Story
Sign Language and Culture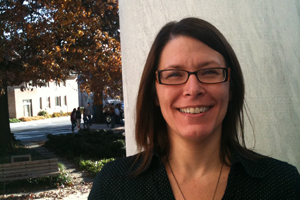 Once a professional dancer, Audrey Cooper knows how to express herself through her body. While studying American Sign Language and dance movement therapy, Cooper became interested in the social worlds of signed language users and the ways non-signing people explain and construct social policy in relation to the deaf experience. Cooper, who received her PhD in anthropology from AU in 2011, won this year's award for best dissertation from the Council on Anthropology and Education (CAE) for her work analyzing the connections between the spoken Vietnamese language and the country's modernization, and how these connections contribute to the displacement of Vietnamese signed languages within schools, markets, and other public spaces.
"When I was a dancer, I felt like I could use my body to say so many things," says Cooper, "but I couldn't say things as specifically as I wanted." This led Cooper to the world of signing, to interpretation studies, and eventually to working as an interpreter in the U.S. When a colleague working in Vietnam invited her to consult on establishing a Vietnamese signed language/interpreter training program, she took the opportunity to also conduct preliminary fieldwork. 
While in Vietnam, Cooper learned more about the country's system of educating deaf students. While a signed language-based school for the deaf had been built and maintained outside the capital of Ho Chi Minh City (formerly Saigon) during the French colonial period, but after the Vietnam War, the state decided to establish a national system of special schools using speech-based methods, not sign. 
When Cooper returned to Vietnam for additional fieldwork, she conducted research in five of these schools, as well as in a high school completion/college entry program for deaf adults using Vietnamese signed language and a club for the deaf. "Because the special schools insisted on teaching deaf students to speak as a primary educational objective," says Cooper, "these deaf students were missing out on a great deal of what they were meant to be learning." While teachers at these schools were using some signing to communicate to students, they were not using Vietnamese sign language and were simply signing certain parts of their Vietnamese speech, causing many students to lose out on part of the lesson. 
Cooper set out to understand why Vietnam was so insistent on teaching deaf students to speak Vietnamese and soon discovered the roots of the country's emphasis on language through its colonial history. "First under the Chinese, and then the French, the Vietnamese have been consistently prevented from speaking their own language," says Cooper. "After the war, Vietnamese was elevated to a national language and it became a point of pride for citizens to speak it." The modern Vietnamese government launched a massive literacy campaign when it took power and has continued to insist on universal use of Vietnamese over time—including among the deaf.
In interviews with former special school students, Cooper learned about the challenges they were facing. "Former students expressed that while they were writing down everything the teacher wrote on the board, they didn't understand why they were writing it down," says Cooper. According to Cooper, many deaf students in Vietnam don't even make it to high school because the special education system is capped at the primary or lower-secondary level, depending on each school's resources. 
"This issue goes far beyond language," says Cooper. "This has to do with fundamental views about how we use our bodies." She goes on to explain how frustrating it is for deaf children to be denied the use of sign language in favor of forcing students to speak. "Deaf students—deaf people—already have languages, so one question is why governments and localities should want to prohibit such languages rather than using them to teach the written form of the national language and other subjects," says Cooper. "You don't teach French to an English speaker by teaching in Russian." 
"This is one of very few studies that takes a serious look at the politics of deaf education in post-Socialist Vietnam," says Anthropology Department chair Bill Leap, who chaired Cooper's dissertation committee and served as her mentor. "Deaf education studies are generally based in the U.S., Europe, or places that are very familiar to us. This is one of the first studies to look at deaf education in terrain that is unfamiliar to an American audience."
The CAE is a branch of the American Anthropological Association, whose mission is "to advance anti-oppressive, socially equitable, and racially just solutions to educational problems through research using anthropological perspectives, theories, methods, and findings." Each year, CAE designates one student's dissertation for its best dissertation award based on the researcher's ability to "bridge the theories and practices of anthropology and education." 
"This award recognizes young people in our field who have great potential for inquiry," says Leap. "Audrey's work is exemplary because it represents a perspective on deaf education that many haven't even thought to look at before."
Cooper currently serves as a visiting scholar in the International Development Department at Gallaudet University, where she is lecturing on deaf education in Vietnam and is co-organizing a conference planned for the spring related to signed languages and citizenship in South Africa. She has also begun working on the World Bank-sponsored Intergenerational Deaf Education Outreach Project in Vietnam, where she will train interpreters to work on teams with deaf family mentors teaching families and school personnel to communicate with deaf children in signed language.
Believing, as she did in her dance career, that the world comes to have meaning through embodied experience, Cooper is also driven by a range of questions related to bodies and social justice. According to Cooper, "There is [still] so much important work to be done."