Alumni Profile
Alum Transforms Adversity
into Altruism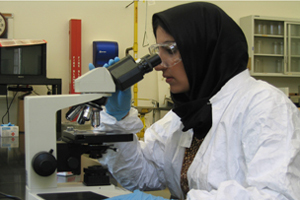 Batul Al-zubeidy, BS chemistry and BA international relations '08, will remember June 16, 1996, forever. For the previous six years, she and her family had lived in an Iraqi refugee camp in the Saudi Arabian desert. Makeshift tents offered flimsy relief from the 120-degree heat; food was scant or spoiled; water was scarce; supervising soldiers were violent toward refugees; and people were dying from a lack of medical attention.
But on that day in June, her family's name was drawn in the annual United Nations-sponsored lottery that gave 5,000 refugees a chance to immigrate to America; of these, roughly five percent would ultimately be allowed to go.
New Home, New Challenges
After a year of interviews and background checks, Al-zubeidy and her family arrived in Washington in July 1997. Twelve years old, with no knowledge of American culture or language, Al-zubeidy felt both elated and apprehensive. "We were so lucky—but we were also afraid of the unknown," she says. "We didn't speak any English, and we didn't know anyone here."
Her desire to help people like those her family left behind, however, inspired her to persevere. "I would read about Doctors without Borders or the Medical Corps, and I decided I really wanted to do that," she explains. "But I knew that in order to get there, I would have to work really hard and deal with all these difficulties."
Overcoming Obstacles to Help Others
By the time Al-zubeidy entered high school, she was an excellent student, fluent in English, with her sights set on college. "American University was this very liberal, politically active institution, and I liked that," she says. "I also wanted to pursue both science and politics, which I was able to do here." At AU, Al-zubeidy distinguished herself with her academic achievements and her commitment to social causes. For two years, under the supervision of chemistry professor Monika Konaklieva, she researched new antibiotics for the treatment of tuberculosis. She also volunteered at four local hospitals.
Al-zubeidy's dedication has brought her one step closer to her dream. This fall, she began her first year at Georgetown University School of Medicine. "Academics are very important, but really it's what you do with them that matters most," she says. "Giving a helping hand to those in need is really my goal." She pauses, then adds, "It's the goal that kept me going."