Alumni Profile
Danielle Goldberg, SIS/BA/MA '02/'04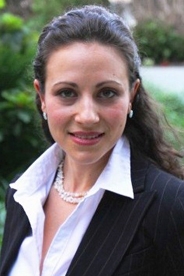 Why I chose SIS:
I was initially a communications major. I remember the moment when my roommate, an SIS major, told me about the human rights abuses committed against women in Afghanistan. I switched to SIS once I realized that if I wanted to "communicate," I had to do so with purpose and a greater understanding of world affairs.
How I make a difference in the world:
As Program Coordinator for Columbia University's Program on Peace-building and Rights, I seek to support countries undergoing post-conflict transition through dialogue initiatives, educational exchanges and curriculum reforms that reduce hostile perceptions.
In this role, I've conducted capacity building activities for Darfuri civil society leaders and facilitated track-two dialogue among Turks and Armenians. I co-authored a conflict resolution curriculum for Sri Lanka's Ministry of Higher Education, and will soon train faculty throughout the Western Balkans to transfer the curriculum to their universities. Last summer, I worked with the Association of War Affected Women and 2011 Nobel Laureate Leymah Gbowee to launch the Sri Lankan Women's Agenda for Peace Security and Development. I'm also working with women's networks in Myanmar to launch a similar program catered to the needs of Myanmar women.
Field of Study:
International Peace and Conflict Resolution, with a particular focus on the role of women in peace-building and a geographic concentration on both Africa and Latin America.
SIS Activities:
I participated in training through AU's Mediation Services, helped launch the "Journal of Peacebuilding and Development," and facilitated dialogue groups with undergraduate students studying peace paradigms. I studied abroad in Madrid my junior year and conducted graduate field research in Mexico.
Languages:
English and Spanish  
World Issues of Interest:
Peace-building and reconciliation, youth leadership, women's role in peace-building, peace education, social entrepreneurship, civil society building, dialogue processes and post-conflict reconstruction.
Professional role model:
My colleague David L. Phillips, Director of the Program on Peace-building and Rights at Columbia University. He demonstrates what is possible when you combine a policy relevant, practical course of action with strong partners on the ground and the will to see anything through with integrity and hard work.
Favorite Poem:
"If" by Rudyard Kipling. Through all the challenges I have faced working in delicate political environments in peace-building, the words of this poem always serve as a beacon of light to maintain my conviction and higher intention through it all.

Favorite Movie:
Clint Eastwood's "Invictus," on Nelson Mandela. I watched it while I was living in Colombia, a country itself struggling to achieve long-term reconciliation. The film was an incredibly inspiring story on what it takes to be a catalyst for change.