Alumni Success Story
Meet the AU Alumni Behind Ke$ha's Upcoming MTV Series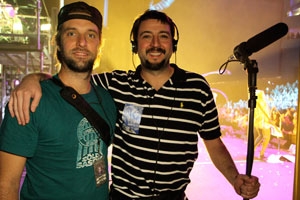 When American University alumnus (SOC/MA '08) Lagan Sebert began to document his sister Ke$ha's rise to fame in 2010, he had no idea that his inside look at his sister's career and life would become a highly anticipated series on MTV.
"Every day you struggle to come up with a new story. I came to the realization that the best story I was aware of was happening right in front of me in my family," says Sebert, who was working as a video journalist for the Financial Times when he started the project.
With just an idea and a video camera, Sebert began to film his sister and her life on and off the stage. He also enlisted some old friends to help with the filming process, including Ted Roach, another successful SOC alumnus. With the additional help of Steven Greenstreet and Sebert's wife, Sandra Sampayo, the small crew began single-handedly dealing with filming, sound and technical skills, as well as determining what to do with the finished product. Both Sebert and Roach strongly agree that without the skills they developed through SOC, their current projects would not have been possible.
"I use the skills that I developed at AU every day, from camera, sound and technical skills to documentary theory and story structure," says Roach. "I compare the work that I did before coming to AU to the work I've produced since, and I feel the SOC professors, curriculum and course work are the biggest reasons that I have developed to the point I'm at today."
Sebert agrees.
"One of the greatest things about the SOC program is that there are so many opportunities outside of the classroom –cameras whenever I wanted and access to facilities for post-production,"Sebert says. "I wanted to come to AU because of its partnership of journalism and film. I really wanted to tell stories visually through documentary with journalistic integrity," he adds.
With the Ke$ha project, Sebert realized that documenting his sister gave him a new journalistic insight, one that would create a unique experience for the viewer unlike what any other producer could do.
"When you are documenting someone, your goal is to be an objective viewer and not interfere with reality," explains Sebert. "But when you are documenting your sister, that unique barrier between the audience and camera is totally broken."
Over 1,000 hours of film will be broken down into six, 30-minute episodes that will premiere on MTV on April 23 under the title "My Crazy Beautiful Life." Sebert and his team capture Ke$ha behind the scenes of her concert tour, but also the moments that only a brother would be a part of, which range from serious to borderline ridiculous.
As with every star that exposes their personal life for public audiences, the question of a motive for publicity is always raised. However Ted Roach explains that there is much more to this series than a PR boost.
"I believe that one key factor in Ke$ha agreeing to let us film the series was that she wanted her brother to be around during this critical point in her career. People around you change when you become a star, and if I was in her shoes, I would look back to the people I knew before to keep me grounded. So I've always felt one big incentive was having Lagan there to support her, and he really is a great guy to have around," Roach says.
After over two years of working on documenting his sister's journey through fame, Sebert still considers his sister to be one of the biggest stories of his career.
"To me, it is a simple story: a story about a girl who realizes her dream to write and sing her songs to people all over the world and then struggles to hold onto her dream," he says. "The story is so good it shouldn't matter if she is famous or not.""