Alumni Success Story
Novelist and Former Professor McLaughlin '78 Says AU is the Place for Literature-Lovers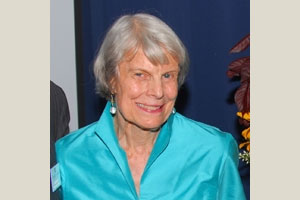 "I knew I was in the right place when the impassioned argument I overheard in the main office over nondescript grey cubicle walls wasn't office politics or gossip, it was all about Dostoevsky. People here took literature seriously," says Ann McLaughlin, CAS/PhD '78, who also took literature seriously and was looking for a place to study her passion.
AU was the place. It also helped to keep it in the family as her husband, Charlie C. McLaughlin, was a professor in the history department. Despite the fact that she was turning 50 at graduation and was the oldest person in her class, McLaughlin always felt that the literature department was a special place and the age difference didn't keep her from feeling a significant sense of camaraderie with her classmates, many of whom she remains in touch with today.
However, things were a bit different in the 70's. As a student, McLaughlin admits to sneaking coffee into the library during early study mornings, a practice that was taboo at the time but is commonplace today. She took advantage of the library's quiet work atmosphere in the time most current students cannot imagine, before the computer.
After completing her degree, McLaughlin taught English at AU for eight years. She also taught a course with her husband in London, and held fellowships at Yaddo, an artistic community in New York, and the Virginia Center for the Creative Arts.
McLaughlin, a long time member of AU's Friends of the Library, now teaches at the Bethesda Writer's Center, where she also serves on the board. Family is the subject of McLaughlin's most recent novel, Leaving Bayberry House, which tells the story of two estranged sisters struggling to put aside their past and reconcile in the face of tumultuous times. This is McLaughlin's sixth novel, published in addition to various short stories and scholarly articles on a range of topics, including Virginia Woolf, Katherine Mansfield, D.H. Lawrence, and King Lear.
This fall McLaughlin is coming back to AU to participate in the Alumni Book Club Series held in the library during All-American Weekend on October 23 at Bender Library's Mudbox Café.
Today, McLaughlin encourages students to "follow their bliss, maintaining that everything will fall into place as long as you do what you love." And her life is an example of just that.