Student Success Story
Student Revisits Trade
Adjustment Assistance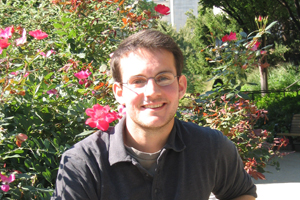 "In class, we typically talk about the benefits of trade liberalization, but there are going to be winners and losers in the real world," says Jay Palatucci, BA economics '09. "I started to wonder what actually happens when these theories are put into practice."
The senior economics student got his chance to pursue that question, after meeting with economics professor Kara Reynolds last spring. "We were brainstorming about the different topics we were interested in studying, and Dr. Reynolds brought up trade adjustment assistance," Palatucci recalls.
Supported by a summer research grant from the CAS dean's office, he worked on a project with Reynolds to analyze the efficacy of the United States Trade Adjustment Assistance program (TAA). Launched in the 1970s, this initiative provides income support, job training, and relocation benefits to workers who have lost their jobs to increased international trade.
According to the pair's findings, the program's benefits are surprisingly uncertain. While their data indicated that TAA participants were more likely to find employment sooner than their nonparticipating counterparts, it also showed that they tended to accept a 10 percent–higher pay cut. Reynolds presented their findings in a paper entitled "Does Trade Adjustment Assistance Make a Difference?" at the Department of Economics Brown Bag Seminar Series on October 1.
"We see this research as bringing up a lot of questions," Palatucci says. "If displaced workers from the program end up working at minimum wage, low-skilled jobs, is the program really benefiting them? On the other hand, are they transitioning into new career paths that call for an initial pay cut but place them on a positive income trajectory? We hope that this paper will provide other researchers some questions that they can build upon."