Faculty Success Story
Evolution of a Revolution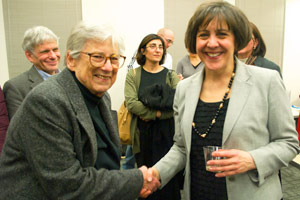 When the Department of Economics began planning an inaugural event for its Program on Gender Analysis in Economics (PGAE), Barbara Bergmann's name kept coming up. Given the role that the professor emerita played in the department's adoption of feminist economics, this was no surprise. "In the end, it was really Barbara who brought these gender issues to the department," says Caren Grown, scholar in residence and PGAE cofounder.
Earlier this spring, the Department of Economics honored Bergmann's contribution to feminist economics at AU with a public panel on progress toward gender equity in economics. Panelists included University of Massachusetts–Amherst professor Nancy Folbre, Cornell professor Francine Blau, and Heidi Hartmann, president of the Washington-based Institute for Women's Policy Research (IWPR).
When Bergmann came to AU's economics department in 1988, feminist economics—a field that explores women's impact in the workforce and on the family, as well as the conflicts between these two spheres—was virtually unexplored. "It was being taught nowhere," she recalls. "The outstanding view of the profession was that all the differences between men and women in the labor force—in terms of pay, in terms of positions—were a response to different talents and tastes. There was no problem so there was nothing to complain about."
Bergmann believed otherwise. A self-described feminist who has encountered gender-based workforce discrimination since applying for her first job in the late 1940s, she became one of the first scholars to address the unique role of women in the economy. In 1986 she published the seminal Economic Emergence of Women. The book, which examines evidence from labor discrimination cases involving women, is still used in gender economics classes today.
Bergmann's tenure at AU marked the beginning of the university's role as a leader in incorporating gender issues into economics education. Shortly after arriving, she founded the university's first two courses in gender and economics. And her influence helped bring the International Association for Feminist Economics' first annual meeting to AU in 1992.
Since then, the demand for gender analysis of economic issues has increased considerably. Despite this, "there are still very few places that teach it," says Grown. "We see a huge demand and not many places supplying it."
Last year, Grown and economics professor Maria Sagrario Floro founded AU's Program on Gender Analysis in Economics to help meet the growing interest in this field. The PGAE includes a graduate certificate, a track in the MA, and a PhD field on gender analysis in economics. All three components require that students complete Gender Perspectives on Economics Analysis: Microeconomics and Macroeconomics, a two-part course derived from Bergmann's original graduate course.
"Founding the PGAE was the right idea at the right time," says Grown. "Feminist economics is now 25 years old, and there is a lot of great scholarship from which to create a rigorous and well-rounded curriculum."
AU's location in the nation's capital will also allow the PGAE to produce graduates well-positioned to obtain jobs in D.C.'s high-profile policy agencies. "At the end of the day, this field's potential influence on policy is so important," says Floro. "You really want to help instigate adoption of policies that make a difference for single mothers, health and child care issues, and poverty remediation strategies."
—Adapted from "Evolution of a Revolution," Connections Magazine, Spring 2010.