Alumni Success Story
History Alumna Becomes Director of Fort Ticonderoga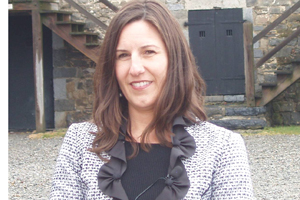 For Beth Hill, creating an accurate, authentic, and engaging museum experience for the public is a 21st century necessity.
"The days are long gone where we can have a passive museum experience with stagnant exhibits," the history alumna explains. "We have to find a way to engage the audience. People want an experience, to be lost in that time period, whenever it was. That is the responsibility of the public historian—to be the catalyst of that discussion." 
This month, Hill began her new job as executive director of Fort Ticonderoga, a historical site in Ticonderoga, New York. She brings an extensive resume of public history experience to her new position, which will require her to oversee nearly every aspect of the site, which once served as a military fortress from the Revolutionary and French and Indian Wars.
Prior to taking her position at Fort Ticonderoga, Hill was manager of Fort Dobbs in Statesville, North Carolina, where she developed educational programs, historical reenactments, a non-profit support group, and a campaign to help reconstruct the fort itself.
Hill began these initiatives to help create an authentic, engaging, and accurate experience for the public. Because Fort Dobbs is not yet reconstructed, Hill and her former colleagues had to find creative means of developing a comprehensive educational experience for a modern audience. In addition to its reenactment events and daily programming that provides an authentic 18th century experience, Fort Dobbs plans to include many virtual opportunities for people to learn about the site, including a digital classroom and an e-museum. 
"That philosophy is taking the best of both worlds—[starting with] the authentic 18th century experience and also incorporating modern technology to reach an audience that is accustomed to iPods or virtual reality," says Hill. 
Hill hopes to continue this philosophy at Fort Ticonderoga by emphasizing the engaging, interdisciplinary aspects of history to the site's audiences.  
"It's very common for people in the history profession today to wring their hands and say, 'people don't like history. Nobody wants to study it. We're losing our knowledge of how we became a people,'" she says. "My answer to that is that history is life. It's not just learning dates and facts; it incorporates science, math, music… It's everything that's happened in the past." 
At AU, Hill concentrated on modern European history, especially 19th century British history. After receiving her Master's in 1995, she worked in archives at the General Douglas MacArthur Foundation, followed by the Department of Education in Japan. Soon after, she moved to South Carolina to run a research center for the York County Culture and Heritage Commissions.