Alumni Profile
AU Alumna: Senator Mary Margaret Whipple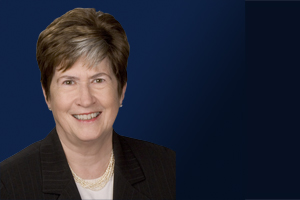 Whipple has long been dedicated to improving the welfare and future of young people. A former instructor at Northern Virginia Community College, she began her career in public service as a volunteer at her daughters' schools. In 1976 she was appointed to the Arlington County School Board and became chair in 1978. Committed to change, she ran for office and was elected to the Arlington County Board in 1983, serving until 1995. During her tenure, Whipple represented Arlington on the Washington Metropolitan Area Transit Authority Board of Directors in 1985 and from 1988 through 1995, when she was elected to the state senate. 
"I felt that my strong ties and valuable experiences in the local communities while on the County Board," said Whipple, "would allow me to help make decisions that would improve the lives of the people. I knew firsthand how they would be affected through the various programs." Whipple represents the 31st district in the Virginia State Senate, which includes Arlington County north of Columbia Pike, the City of Falls Church, and eight precincts in eastern Fairfax County. 
Known for her environmental support and legislation, Whipple is a three-time recipient of the Chesapeake Bay Foundation's Legislator of the Year Award—in 1998, 2000, and 2009. She is a member of the Board of Trustees of the Arlington Community Foundation and an Honorary Member of the Board of Scenic Virginia. She also is a member of the Arlington branch of the American Association of University Women, the Arlington Kiwanis Club, the League of Women Voters, the Arlington Historical Society, the Committee of 100, and the Arlington County, Virginia, Commission on Aging. 
Four terms after she arrived in Richmond, Whipple announced that she would retire in 2011. She will remain active in the Arlington Community Foundation, which provides grants to nonprofit organizations and scholarships to students pursuing higher education.