Faculty Success Story
Prof Fosters Albanian Connection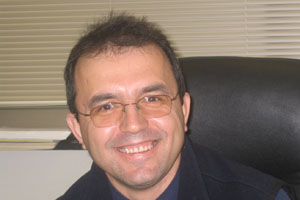 Albania will always be a part of Artur Elezi, no matter how long his absence. "I was born and grew up in Albania," says the math professor. "For about two and a half decades, I saw its dark side during its Communist era. But since I came to the United States in 1993, I've been interested in two things: helping people of Albanian descent living in the U.S. and improving the quality of higher education institutions in Albania."
Elezi's most recent effort to improve Albania's higher education is the newly forged relationship between AU's College of Arts and Sciences and the University of Vlora. Last June, university president Tanush Shaska visited AU to sign a memorandum of understanding delineating the institutions' intentions to work collaboratively.
Presently, this agreement establishes mentor and mentee relationships between AU math faculty and students in the University of Vlora's fledgling PhD math program—the first in the country. Next year's goal is to bring these young mathematicians to AU as exchange students. "These are students with strong mathematical backgrounds—many of whom have been teaching the subject at the university level—who have jumped at the chance to be involved in a PhD program," says Elezi. "Our faculty members will advise them on the type of math they should focus on based on their interests, and what types of additional background knowledge they might need in order to move in those directions."
In the long term, Elezi hopes to see the relationship between the two universities continue to grow. On the broadest level, he seeks to explore the benefits of establishing a university-wide, two-way study abroad program with the school. "Vlora is a culturally rich, geographically well-located city, with a lot of very interesting, relevant history," Elezi explains. "Students from AU with history, political science, and law aspirations could find an exchange experience in Vlora rewarding in many ways."
Elezi has also brought high-profile academic conferences to Albania, including last spring's NATO Advanced Study Institute on cryptology and coding theory. Closer to home, he established the Albanian-American Academy in Bethesda, Maryland. A cultural center serving the D.C. area, it offers Americans of Albanian descent—or anyone else who might be interested—a place for immersion in the nation's language, customs, and heritage.