Alumni Success Story
Arts Management Alumna Named Strathmore President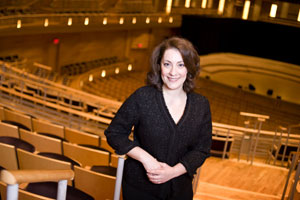 Monica Jeffries Hazangeles, CAS/MA '96, began her career in arts management like many do, as a practicing artist. It wasn't long, though, before she found her true calling thanks to an entry-level arts management position she held with the Friends of Chamber Music in Kansas City, Missouri.
Now in her 17th year at Strathmore, a multi-disciplinary arts organization located in North Bethesda, Maryland, Hazangeles is stepping into a new role as president of the organization.
In her new position, Hazangeles will oversee Strathmore's day-to-day administration. Her main goal is to further develop and invest in the organization's staff of 35. To encourage the staff to be engaged and excited about the work, she wants to "let people be wild in their thinking." Hazangeles hopes to foster a culture of entrepreneurship as a way of keeping Strathmore fresh and innovative.
Strathmore is certainly no stranger to innovation. Bucking conventional wisdom in the field, the organization eliminated subscription sales for its 2010 – 2011 performance season. Although only halfway through the season, Hazangeles deems the change "a full-on success." Ticket sales have expanded dramatically, surpassing the $2 million ticket sales mark for the first time in Strathmore's history.
As Hazangeles settles into her new position, her predecessor Founder and CEO Eliot Pfanstiehl, will focus his energy on long-range planning. Strathmore has seen enormous growth over the years, with the renovations to the Mansion in 1997 and opening of the Music Center in 2005. The next step, Hazangeles says, is to "focus on taking Strathmore beyond its campus." With a great deal of development taking place up and down Rockville Pike, Strathmore aims to forge relationships and understand its new neighbors' needs and interests.
Hazangeles says her master's degree in arts management has been a great help to her during her time at Strathmore. "There is no question the program is valuable," she says.
During her time at AU, Hazangeles was able to build key relationships and identify her place in the field—she urges those pursuing a career in arts management to do the same. She recommends getting involved as much as possible, whether it's as an intern, volunteer, or staff position. "There is no substitute for experience," she says, adding that making connections with faculty, both full-time and adjunct, can make a huge impact on your career.