Alumni Success Story
No Winning Weapons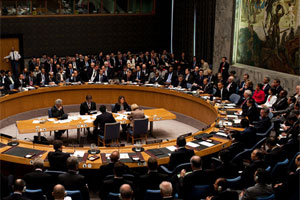 Asked about nuclear disarmament's future prospects, history alum Ward Wilson, CAS/BA '80, sees reasons for optimism—often from a ringside seat. A senior fellow at the Monterrey Institute's Martin Center for Nonproliferation Studies and director of the Rethinking Nuclear Weapons project, Wilson took part in the UN Nonproliferation Treaty review conference this May, delivering a study he co-authored, "Delegitimizing Nuclear Weapons: Examining the Validity of Nuclear Deterrence." In October Wilson meets with British parliamentary leaders considering for the first time not only scaling back the country's Trident nuclear submarine arsenal, but scrapping it entirely.
In the US, while Obama has yet to push the new Strategic Arms Reduction Treaty (START) through the Senate, the president has already shown, in Wilson's view, that "he really gets it—he's smart, committed, he's thinking tactically eight moves ahead. He helps one feel there's hope that current work can change the discussion—move it beyond discussion."
Wilson's own tactical approach might best be described as multifaceted: while widening the evidentiary field of nuclear studies, he wants also to revise its intellectual foundations and reconnect them to wider realms. Backed by a $392,000 grant awarded this February by the Foreign Ministry of Norway, Wilson's current focus is a book project, titled New Realism: Rethinking Nuclear Weapons, which he describes as a pragmatic reevaluation of nuclear weapons. Simultaneously he's preparing a study of military attacks on cities, researching notions of apocalypse in the American mind, writing an adventure novel about Nazi Germany getting the Bomb first, and speaking on nuclear weapons issues worldwide.
Wilson credits his AU historical and philosophical studies for helping ballast the intellectual core beneath his swirl of activity. "Robert Beisner's War and Society class was foundational for me, and for years Bob has remained someone I can trust to take the temperature of my ideas," says Wilson. "Beisner helped me learn to value historical knowledge and not to trust established accounts, whether about Truman and the Bomb or anything else."
In publications like his game-changing 2007 study, "The Winning Weapon? Rethinking Nuclear Weapons in Light of Hiroshima," Wilson tends not to stress traditional nuclear studies debates about whether or not Truman's decisions were morally justifiable, or whether they ultimately saved American and Japanese lives. Using recently released archival material and declassified documents, Wilson patiently unearths the historical record to show that the bombings of Hiroshima and Nagasaki did not end the war. That can be difficult to accept for many, and Wilson's work-in-progress extends the argument. But he has already persuaded many experts why it makes sense that atomic bombs would hardly have fazed Japanese leaders: American bombers had already destroyed 66 Japanese cities, many with damage worse than Hiroshima suffered; and the possibility of a second front in the Pacific being opened by the Soviets, who the Japanese knew would keep whatever territory they took, was of far greater concern.
For Wilson, unearthing such facts helps advance the field and remains endlessly absorbing, but only a step toward dislodging longstanding nuclear studies groupthink. He admits that like many analysts he spent years trudging the established nuclear studies channels—the military perspective, the moral perspective, the political leadership perspective—none of which adequately interrogate either each other or the discipline's core concepts.
Wilson explains, "Once one questions Hiroshima, then everything else in nuclear studies becomes dubious. That's a start. If Hiroshima didn't coerce, if you come to see that bombing civilians never proves decisive in war, or that nuclear arsenals never seem to deter combatants—not the Soviet Union when it blockaded Berlin, not China when it backed North Korea, not North Vietnam, not Syria and Egypt in the Yom Kippur war—then is there any basis for the concept of nuclear deterrence?"
Wilson adds that the field's groupthink isn't just a matter of mythologized concepts like deterrence or escalation, but that these ideas and faith in them have substituted for so long for a more substantive foundation. According to Wilson, a primary limitation of nuclear studies as a field is its over-reliance on theory, often facilitating little more than storytelling within the established framework. Wilson argues that where other disciplines have core concepts and assumptions that help advance discussion, nuclear studies has relied on ideas that turn out to be hollow men with little analytical value.
For Wilson, the turning point in his own thinking arrived when it occurred to him that philosophical concepts of use, practical outcomes, and language games, which he had studied at AU in the work of Wittgenstein and William James, might serve as part of the analytical foundation nuclear studies has lacked. These ideas have helped Wilson launch his groundbreaking interrogation of the fields'  varying strands, whether budget figures from the US Department of Energy, diaries of Japanese leaders, or reflections on Just War Theory and escalation.
While pushing the policy debate toward the ultimate goal of disarmament, Wilson entertains a more humble aim for the near future: "I just hope to see that a group of people can visit these issues with an unbiased view and say to each other, 'We've misunderstood history and need to examine a new perspective.'"