On Campus
TESOL Workshop Provides Action Research Training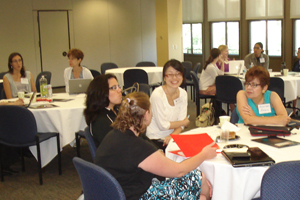 The TESOL Program's Summer Institute brings renowned TESOL scholars to campus to provide training in important issues in the TESOL field. The seventeenth annual institute featured prominent figures in the field of TESOL action research in the workshop "Doing Action Research in the ESL/EFL [English as a Second Language/English as a Foreign Language] Classroom."
Action research includes studies that teachers undertake in their own classrooms with the aim of improving their instruction and their students' learning experience. The importance and contribution of action research to the field of TESOL has long been recognized as a valuable tool in the exploration and improvement of the second language classroom, as it involves a self-reflective, systematic, and critical approach to inquiry by second language educators. 
"Action research allows teachers to step back and discover what they actually do in the classroom (although they might not always like what they find!) and about their learners' reactions to what they do. This is a really important step in identifying what they might want to change and how they might go about it." With this ringing endorsement, Dr. Sue Garton opened the workshop. 
The workshop was led by two prominent figures in the field of TESOL action research – Garton, Director of Postgraduate Programs in English and Academic Director of the Center for English Language and Communication at Aston University, UK, and Dr. Anne Burns, Professor of TESOL at both Aston University, UK, and the University of New South Wales, Australia. 
"I've been an advocate of action research for a long time because I have seen over and over again how it enthuses teachers about their work and allows them to deepen their knowledge of the very context that is the most important to them – their own classrooms," says Burns. "In my experience, teachers who want to do action research are very dedicated to finding really effective ways to teach their learners and to maximize the classroom experience both for themselves and their learners."
The workshop introduced TESOL students to the practical elements and theoretical constructs of action research and explored how it informs classroom teaching and improves language learning. The workshop provided students with valuable tools to conceptualize and conduct their own action research, and several of the students who participated in the workshop will be carrying out action research projects this summer.
"Although many teachers may have learned about theoretical ideas on language learning and teaching in their training, their daily work is intricately concerned with developing and refining their own local pedagogies and understanding what makes for good practice. Teaching has traditionally been a solitary activity and action research opens this situation up and leads to the chance to gain deeper insights, which are based on good evidence," says Burns.  Garton adds, "Perhaps the most important aspect for me is the idea of developing local pedagogies. I do not believe that there's any such thing as best practice. Teachers need to develop pedagogies that are appropriate to their local contexts, and they shouldn't feel they have to follow any particular theoretical idea or feel guilty if they don't. And it is through action research that this process can take place."
"Many of the things that happen in classroom interaction can become routinized and perhaps intuitive, which can sometimes lead to practitioners becoming burnt-out or stale," says Burns. "Action research, especially when it is done collaboratively, can provide a new lens on what we may take for granted in classroom interaction."

Rebecca Wilner, former administrator of the TESOL Program, stated that the AU program "highlights the balance between research and practice, and action research is a wonderful way to sustainably combine those things in real teaching contexts." Wilner wanted to give AU students and alumni the chance to learn about and experience action research outside of their regular classes. "The projects that students completed in the workshop were very interesting. For example, one student focused her research on student motivation and autonomous learning. Another student researched teacher beliefs about group work and classroom implementation. A third student researched inter-tutor communication. I hope that having had this experience, students will be able to move forward confidently with future classroom research projects, even taking them to publication."

The workshop was only one part of the TESOL Program's Summer Institute. The annual institute consists of two 7-week sessions of courses, workshops, and lectures. Students have an opportunity to earn a TESOL certificate during the course of one summer or work towards earning a TESOL master's degree.