TESOL
4400 Massachusetts Avenue NW
Washington
,
DC
20016-8169
United States
Silvia Hildesheim (MA TESOL '17) tells us what led her to the TESOL field, her area of interest and also shares what she has been doing now as an ESL teacher and curriculum developer.
Silvia Hildesheim MA TESOL '17
What led to your decision to study TESOL/Applied Linguistics at the graduate level?
After volunteer teaching and tutoring, I decided I wanted to work in adult education, but I didn't have a background in education. I wanted to learn more about teaching and about TESOL so I could better help my students.
What work have you been doing in the field of English language education?
My main work has been as a teacher in adult life skills ESL classes. I also develop curricula for workplace ESL classes.
What was your time at AU like as a graduate student? What's your favorite memory from your time here?
My favorite part about being a grad student was the community of students. It was wonderful to be a part of a cohort that was working towards similar goals and was supporting one another along the way.
What did you do as soon as you graduated from AU TESOL program?
I started teaching and writing curricula. I now work at one of Pennsylvania's Intermediate Units (IUs) which are educational service agencies that provide support to school districts. They also provide educational services to the broader community outside of K-12 education (including adult education). I like to explain IUs as regional government organizations bigger than a school district, but smaller than the State Department of Education.
What is your specific field or area of study? How did you become interested in this particular topic?
I'm very interested in workplace ESL courses. I was thrown into a couple of workforce projects last year and found it challenging and rewarding. It's a very interesting time for workforce education and ESL because companies all over the country are facing low unemployment (https://data.bls.gov/timeseries/LNS14000000), need to hire, and want to hire qualified workers who may just not have the English necessary to complete the job (there is a link* to an interesting article about this topic at the end of this entry). That's where I come in. One of the reasons I love workplace courses is it is great to have a very focused class where all the students have similar goals. I also find it extremely interesting to learn about different sectors of the workforce I had little previous knowledge about. Not only do I get to see how things we use every day are made in factories or distributed to our stores, which is very cool, but I also get to learn about some of the power dynamics or relationships between NNES employees, NES employees, NNES supervisors, and NES supervisors. In this, the workforce ESL classes are of course about vocabulary, and grammar, but also about pragmatics and intercultural communication. I'm still figuring out what that balance looks like in the classroom and how I can best support and meet the needs of the students and the companies.
Can you tell us what you are working on currently?
I'm currently teaching 2 levels of adult ESL. In my classes now I'm working to integrate civics units in to the curriculum to address the upcoming election and help students stay informed. South Central Pennsylvania has many recently arrived Puerto Ricans who are, of course, eligible to vote. I hope the classes help them find their voice in their new community and motive others to work towards citizenship (if that is one of their goals). I recently helped coordinate a tour of the Pennsylvania Capitol Building and a meeting between students and State Representatives in Harrisburg.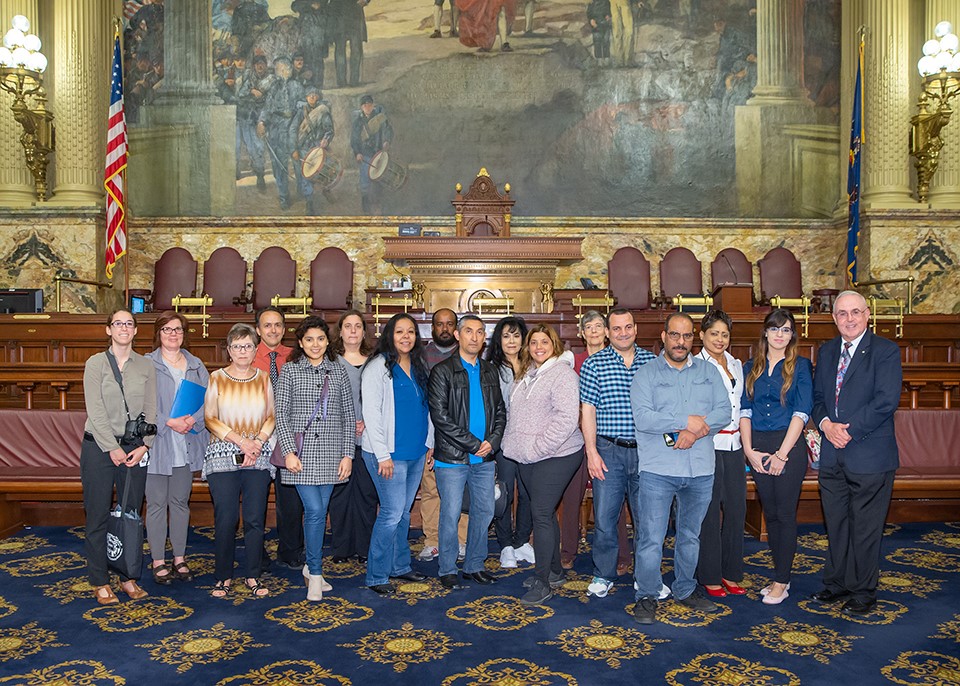 What advice would you give to current AU TESOL students and recent graduates?
My advice is advocate for yourself as a TESOL professional. If you plan on working in adult education in particular, don't be afraid to ask for what you need. In general, adult education tends to be under funded; I think it is crucial we advocate for ourselves as professionals and push for the resources, time, or pay that we need to be successful and for our students and programs to be successful.