Dr. Tabitha Kidwell tells us about her teaching experiences and travels and how these experiences have influenced her area of study that ultimately led her to joining our community.
How long have you been a member of the AU community and what roles have you filled at AU during your time here?
This is my first semester at AU – I just completed my Ph.D. at the University of Maryland, College Park last spring. Living in the DC area for the past five years has given me many opportunities to meet program alumni and hear about the great work done in the AU TESOL program, so I'm really excited to join the team!
What is your language learning history?
I've always been fascinated by foreign languages and cultures.  I credit my grandparents for my early curiosity and awareness – they loved to travel, and they always brought me gifts from exciting places.  I studied French and Spanish in secondary school and college, then learned Malagasy (the language of Madagascar) and Indonesian while living in those countries as a participant in U.S. Department of State exchange programs.  I also spent 3 months living in Pune, India, and studied Marathi, the only language I've studied with a different writing system.  That was a big challenge, but it gave me a better understanding of the process of learning to read! 
What work have you been doing in the field of language education?
My first teaching experience was as a Peace Corps volunteer, teaching English at secondary schools in Madagascar.  After that, I spent a year teaching English to primary school students in France, then returned to my native Ohio to teach middle school French and Spanish.  While I was teaching K-12, I completed my MA in Foreign and Second Language Education at Ohio State.  After graduating, I spent two years in Indonesia as an English Language Fellow through the U.S. State Department.  When my host institution learned I had a MA in language teaching, they asked me to teach their teaching methods courses!  That was a big challenge for me, but I loved the experience, and realized I would need a Ph.D. to continue working with teachers in the future.  I wanted to live in a place with an international outlook, so I came to the DC area to study at UMD.  
What courses are you teaching in the TESOL program? Could you tell us about them?
I teach TESL-010: Academic Writing for Graduate Students.  This course is for international students in their first or second semester at AU, and it is intended to prepare them for success in a master's program.  We discuss academic integrity, writing strategies, critical reading, and citation systems.  I wish I could have taken a course like this when I started my graduate studies!
What do you think are the most important attributes of a good instructor? Why?
I learned early in my career that relationships are at the heart of the teaching profession.  As a first-year middle-school French and Spanish teacher, I desperately wanted to share my passion for foreign languages and cultures with my students, but I struggled to get them to put their names on their paper or bring their binders to class.  Seeing my frustration, my principal gave me advice I will never forget: "You're not teaching language, you're teaching students."  I had been so focused on the subject matter that I had neglected the essential teacher-student relationship.  As I have grown as a teacher, I have learned that strong relationships are the foundation for all meaningful learning, and I make efforts to establish positive, caring, supportive relationships with my students at the beginning of each semester. 
What is your specific field or area of study? How did you become interested in this particular topic?
My research focuses are on the role of culture in language education, and how to prepare language teachers to integrate culture in their instruction.  My interest in this topic grew out of my own cultural learning experiences. While living in various countries, I learned to dance Cumbia, to save the most pungent cheese for last, and to carry a bucket of water on my head. More importantly, I developed a cross-cultural awareness that helped me understand the cultural values beneath these surface features. I learned about gender relations while dancing in Mexico, about taking time for pleasure while dining in France, and about the value of community when walking to the well in Madagascar. These experiences helped me see that language learning is not an end in itself; rather, the ability to speak another language is a tool to help bridge cultural divides and foster mutual understanding among diverse communities.  Language classes are a great place to help students develop intercultural competence, but I've met many language teachers who aren't sure how to integrate culture in their language lessons.  My research focuses on developing models and strategies that teachers can use to teach about culture more effectively. 
What do you look forward to in the upcoming year?
I'm looking forward to learning more about the AU TESOL community and how I can support the program!  I love collaborating on writing, research, and service projects, so if you have something you are working on, I'd love to hear more about it.  Climb the stairs to Gray 217 and say hello!  
What advice would you give to current TESOL students?
I would encourage current TESOL students to follow your passions, even if they lead you in unconventional directions.  At the middle school in Ohio where I taught, my colleagues thought I was crazy to leave a school that I loved right after I had earned tenure.  I knew, however, that there were other opportunities out there for me, and I went to teach in Indonesia.  My experience there pushed me to develop new skills, and has led to the opportunity to work with teachers in India, Rwanda, Ethiopia, Tanzania, and the US.  Looking back on my career so far, I'm always amazed at how the many twists and turns led me to where I am now – but I wouldn't want to be anywhere else!
What are your interests or hobbies outside your work?
I love to exercise and be outdoors.  Last fall, my husband and I moved to a little house in Annapolis that overlooks the Severn River, so I've started paddle boarding and kayaking.  I also love biking, running, swimming and doing yoga.  I've tried to do yoga on a paddle board, but that is way more difficult than they make it look on Instagram!  Mostly I just end up falling in the water!  I also enjoy reading and cooking.  I've recently learned to make my own Greek yogurt and kombucha!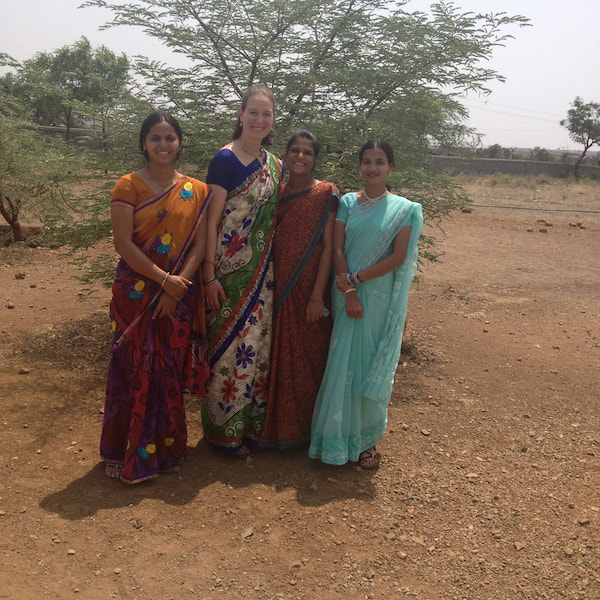 While living in various countries [...] I developed a cross-cultural awareness that helped me understand the cultural values beneath these surface features.