World Languages and Cultures
4400 Massachusetts Avenue NW
Washington
,
DC
20016-8045
United States
Meet our End of Year Award Winners
Elliott Sanders
Jack Child Undergraduate Achievement Award in Arabic
Elliott Sanders majored in Arabic because he wanted to study a critical language with a new alphabet and cultural framework that would challenge him in all aspects. Before arriving on campus, he was introduced to Arabic on his bridge trip to Thessaloniki with the Frederick Douglass Distinguished Scholars, in which he and fellow Scholars raised money for grassroots NGOs aiding Syrian refugees. During his sophomore year, he worked as a research assistant for Dr. Akbar Ahmed and helped to create syllabi for his courses on Islam. He used Arabic in both his Arabic and SIS senior capstones. His Arabic senior capstone studied the role of female authors in Arab literature surrounding the Lebanese Civil War. His SIS senior capstone analyzed Nasser's use of economic nationalism in place of democratization following the Egyptian Revolution of 1952. He enjoyed the dedication of his professors in the Arabic program in World Languages and Cultures to push students past their comfort zone and the required material in the textbooks and syllabi. He learned the most when he was able to ask questions that made the language relevant and personal instead of simply relying on what the textbooks had to offer. Elliott is currently applying for translation and analyst positions in the DC area.
Khadija Butt
Jack Child Undergraduate Achievement Award in Spanish
Khadija Butt majored in Political Science (Comparative Politics) and Spanish Studies, and completed the Undergraduate Spanish Translation certification. Her senior capstone addresses transgenerational trauma and indigenous feminism in film, and her final translation project contributed to the D.C. government's Grandparent Caregivers Program.
One of the most impressive things about Khadija's language achievements is the way in which she draws connections between language and society and uses Spanish across her areas of interest. In her own words: "The classes within the Spanish major correlated very heavily with the classes in the Comparative Politics focus and have helped me to think critically in ways I hadn't before… For example, I took a class on the politics of Cuba, and my Spanish skills definitely came in handy when I could read through sources that were in Spanish. This allowed me to broaden my horizons in conducting research." Khadija credits her Spanish studies with discovering new passions. She put her Spanish skills to good use as a Research Assistant at the Center for Latin American and Latino Studies, where she translated interviews in order to help draft expert declarations for the U.S. immigration process, and in her internship.
Reflecting on her language journey, Khadija shared: "One of the biggest aspects of my experience in the Spanish program in World Languages and Cultures was how close I was able to become with my professors. The classes are generally smaller, and I was able to foster such important relationships with my professors, some of whom I still talk to! Each professor offers such a unique experience within Spanish and their respective specialties within the language and I found myself constantly going to office hours to learn more. Additionally, I loved how applicable the classes felt to my other major and my personal life. I felt really connected to the community within the WLC program and that is an experience I will carry with me for a lifetime." In future, she hopes to continue using her language skills in intercultural and international strategic communications and public relations. Post-graduation she is considering her next steps and catching up on reading and Spanish film.
Marlee Kosakowski
Jack Child Award for Outstanding Translation in Spanish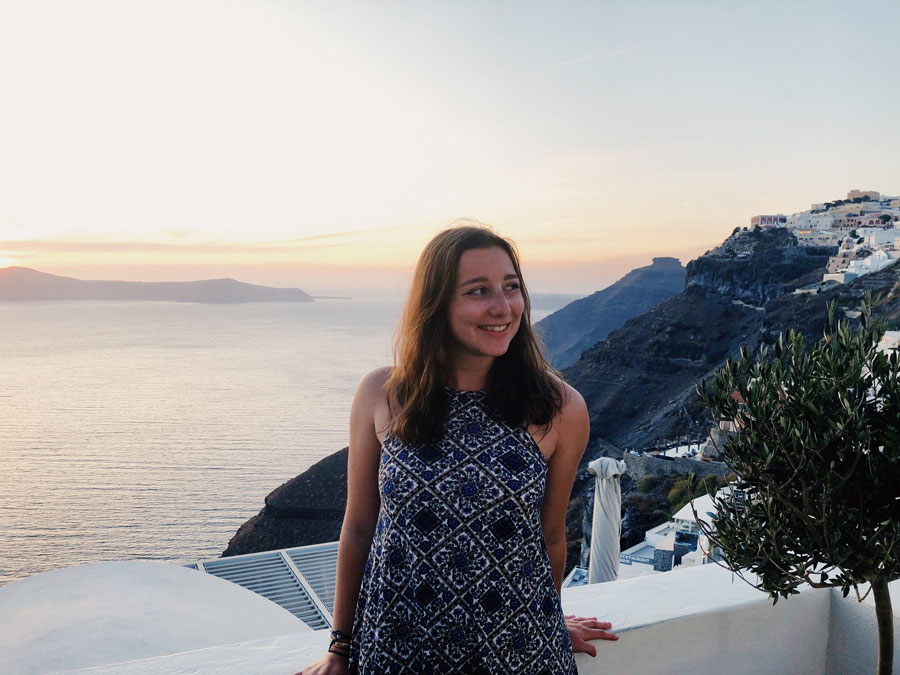 Marlee has always loved the Spanish language and at AU she was able to continue to develop her Spanish skills, taking advanced level courses in literature and culture and completing the Spanish Translation Certificate program. She remarks, "I especially loved my experience regarding the translation certificate program…, as I believe the coursework truly transformed and improved my comprehension of the Spanish language.
During her time at AU, she studied abroad in Madrid, where she lived with a host family, took several Spanish-only classes, and was able to travel throughout Spain. In addition, she worked as a communications intern at a small nonprofit organization that raised cancer patient advocacy issues nationwide. Moreover, she made a short documentary for her Spanish Backpack Documentary class, in which she focused on a Venezuelan chocolatier living and working in D.C. In Marlee's own words, "Studying abroad was definitely the most formative experience for me during my studies at AU."
Marlee just graduated from AU (in three years!) with a 4.0 GPA! She hopes to pursue a career in international relations or global health, and she looks forward to incorporating her Spanish skills into her career so that she can continue to use and speak a language she loves.
Lilia Spiro
Jack Child Outstanding Translation Award in French
Lilia Spiro majored in French (Foreign Language and Communication Media) because she has always loved the French language and she has been studying French language and culture since middle school. One of her favorite courses, a semester-long course on French cinema, helped her appreciate the cultural importance of classic French films and gain a better understanding of film in general. Throughout her studies at American University, she enjoyed immersing herself in French culture and learning how to use translation as a tool to study and appreciate a new language. One of her favorite final translations was a review about the film Portrait of a Lady on Fire. Lilia will be working as a production assistant for a video editing firm called Georgetown Post. She also hopes to continue to work in the field of translation.
Tianhan Yang
Recipient of the Outstanding TESOL Graduate Student Award
Tianhan Yang came to AU and the TESOL Program from Southwest China via Master's Accelerator Program. As she majored in English during her undergraduate studies in China, pursuing an MA in Teaching English to Speakers of Other Languages (TESOL) seemed like a natural choice. However, as she said, she was not "familiar with the TESOL field per se and English teaching before entering the TESOL program," and had a lot to learn. Now Tianhan sees herself as a multilingual English language teacher who gets great satisfaction from teaching, interacting with, and helping students, and also learning together with them in the teaching process. To her, being an English language teacher means practicing what she has learned in the TESOL program and also constantly learning more and growing as a teacher. While in the program, Tianhan was particularly impacted by her volunteer tutoring experience at the Washington English Center (a volunteer-based adult English language program) and her teaching practicum with the English Language and Training Academy at AU where she was mentored by another TESOL Program alumna and taught a New Media and Culture class under her guidance. Now, Tianhan hopes to complete her Optional Practical Training and teach a variety of English language learners before returning to China where she wants to integrate what she learned during her master's studies and promote students' autonomy in a traditional Chinese English classroom. Tianhan will remember the TESOL program as "really friendly, open, and warm. Students come from all over the world, and most of us have multilingual and multicultural backgrounds. Professors and students are very welcoming of different cultures and ideas. In this program, we can not only learn professional knowledge in class, but also communicate different cultures and languages. This was the most unexpected aspect of the TESOL program." Congratulations, Tianhan! You will make a difference in the lives of many English language learners.
Sofia George
The Italian Cultural Society of Washington DC and American University Award for Excellence in Italian Studies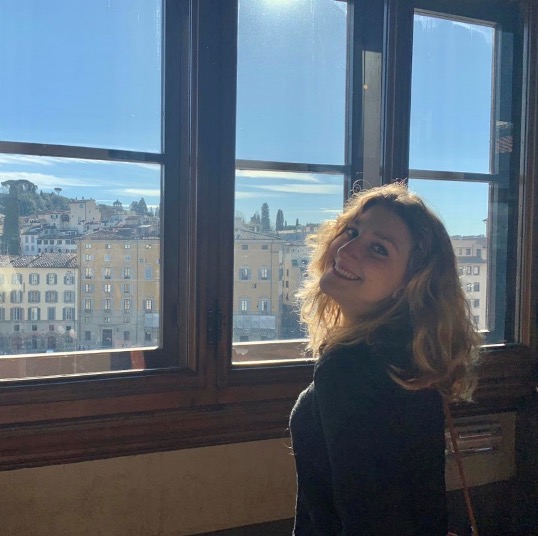 Italian language has been a part of my life since I was a young girl and my mother began to teach me Italian as her Abruzzese mother did for her. I began to study Italian three years ago as a first year student eager to connect with my family. Over these past three years I have not only been able to connect with my Italian relatives but the parts of my Italian heritage I never quite understood until I learned to speak the language. In my third year I decided to minor in Italian for this reason. I decided to minor in Italian so I could nourish my Italian heritage and everyday be able to learn new things about my culture and family simply by speaking and communicating with them. While studying Italian and Art History in Florence this spring at the Studio Arts College International I had the incredible opportunity to tutor young Italian students. Working with these funny, intelligent, and often devious young boys and girls I was able to use my Italian skills in the way I have always wanted to. Teaching them the semantics of their own language helped me to develop my own skills and feel connected to the language in a more professional manner. In the future I wish to expand upon this continuing my Italian education on the graduate level. Thank you to Professor Ranieri Cavaceppi and the World Languages Department for this award and the opportunity to learn, connect, and grow through the Italian Language.
Eve Hauser
The Italian Cultural Society of Washington DC and American University Award for Excellence in Italian Studies
I enrolled in Italian classes at American University to continue learning the language after having taken it in high school. It felt impossible to truly understand the language without also learning about the culture, so when my professor let me know about other course offerings in Italian culture, I enrolled. The first class I took covered Italian migration and international influence and it really amazed me how such a small country could culturally permeate nations worldwide. After this, I was hooked and enjoyed my courses so much that I decided to declare a minor in Italian Studies.
The opportunity to live and study in Italy for four months was definitely the highlight of my experience in the AU Italian Program. Having a prior knowledge of Italian was an asset that enabled me to explore beyond the touristic center of Rome and to travel to smaller cities and get by independently. In turn, my time in Italy greatly improved my conversational skills. I also had the advantage of learning in such an immersive environment. Getting to observe the places that I was learning about firsthand really enhanced my understanding of the culture. I was able to converse with residents for a sociology project on Rome's changing neighborhoods. I was able to learn about architectural history with the churches and statues in question right in front of me. I always remember watching the last scene of a film in my cinema class and being so excited that from just one shot of a statue, I recognized that the characters were walking along Ponte Sant'Angelo, because I had sat there for two hours straight sketching each statue for a drawing midterm. I really appreciated how the abroad program allowed all the different pieces of Italian culture to fit together before my eyes.
I am a psychology major who is really interested in the relationship between healthy diets and healthy minds. Learning about the Slow Food movement that began in Italy and witnessing the respect that Italians put into what they cook and eat really solidified my inclination down this path. In the future, I want to have a career involved in gardening education and promoting food justice through local agriculture and urban farming. I want children to have a better understanding of where their food comes from and to spread the healing power of tending to a garden. I hope I can to return to Italy one day to learn more about sustainable agriculture and the Slow Food movement in order to help create a more ethical and inclusive model back home in New York.
Grace Hitchens
The Italian Cultural Society of Washington DC and American University Award for Excellence in Italian Studies
I first started studying the Italian language during my first year in high school and was so grateful I was able to continue studying it at American University. The first thing which drew me to the language was the beauty and eloquence of it. An important aspect for me was being able to learn not only about the Italian language but also about Italian culture, and experience it firsthand.
In the fall semester of 2019, I was able to study abroad in Rome, Italy. Knowing how to speak the language while abroad was especially helpful. I found myself being able to connect and feel more a part of the culture with locals in grocery stores and shops and while attending football games and exploring the town. This connection made it feel less like I was a study abroad student and more like I was a local during my time there. It definitely made my entire study abroad experience better! Through spending nearly four months living in Rome, I grew in my ability to speak Italian more confidently, and of course ate lots of pizza, pasta, and prosciutto.
One of the aspects I enjoyed most about my experience in the AU Italian Program of the Dept. of World Languages and Culture was the vast array of topics we were able to learn about. In addition to learning the language, we read books and watched movies about the history and culture of Italy and how that shapes the minds of Italians today. My classes at AU expanded my knowledge of the Italian language and of Italy, and I am so grateful for the experience I had.