Internship in Spanish Interpreting and Translation with Washington College of Law
In Spring 2020, the Department of World Languages and Cultures partnered with the Washington College of Law to pilot a new internship in Spanish translation and interpreting for American University students completing their translation certificates in Spanish. Professor Isaac, Director of the Translation Certificate Program in Spanish, collaborated with law faculty and staff to create this exciting opportunity for students. In the Spring, Anneli Sánchez and Piper Neulander, both International Studies majors, interned at the Washington College of Law, where they assisted attorneys and clients in legal interpreting and translation at several of the ten in-house clinics supported by WCL. Learn more about Anneli's and Piper's experiences.
Describe the kinds of tasks you performed during the internship.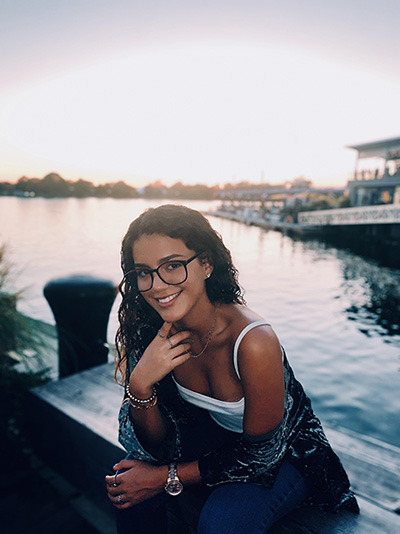 While at WCL, the tasks I performed included legal interpreting and document translation. In my case, it was mostly for the Human Rights and Immigration clinics.
What were some of the biggest challenges you faced?
At first, I found the legalese while interpreting to be a bit of a challenge. As opposed to translation, which allows you the time to look up the correct translation of the word; in interpreting, it's an in-the-moment kind of thing and it does catch you by surprise even though you might feel like you know the case by heart. Another big challenge was not getting attached to the client, nor the case, nor the story. I found it troubling at times because there were situations a loved one, or at times, even I had gone through and it's definitely hard to have to create that boundary with such short notice.
What was most rewarding about the experience?
I have two for this question. The first was definitely getting to work through an entire case and seeing the client's face of relief at the end; and their gratitude! It's simply fulfilling. The second one is the fact that you feel like you're making a difference, no matter how small or insignificant your job might seem in a case. I think a lot of people could also relate to this and "being a part of something bigger."
Did the experience foster your interest in translation/interpreting professionally?
It did! It's incredible to find out that something you saw as the norm can become such a big movement. I grew up code-switching and unknowingly interpreting for my family given our Hispanic background, but I had never considered the professional experience it could also be. It also motivated me to start learning other languages in the hopes of being able to translate and interpret in these as well.
What surprised you about the experience?
I think I surprised myself more than anything. When I was first offered the incredible opportunity at pioneering Proyecto Amistad, I was scared, to say the least. I remember telling Professor Isaac that I did not consider myself the most apt candidate given my lack of familiarity with the legal field. Yet here I am, five months later with an entirely new set of skills that I plan on improving and expanding.
Describe the kinds of tasks you performed during the internship.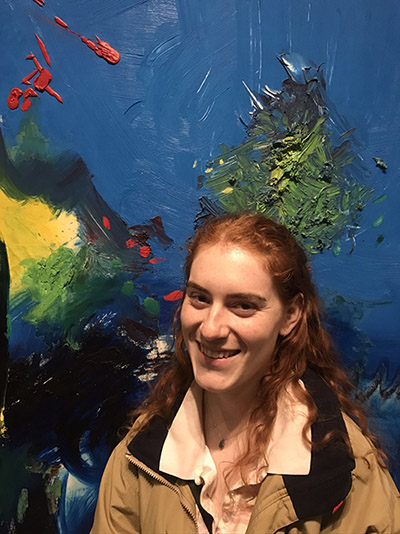 I translated text messages, emails, and letters between clients and lawyers and sometimes news articles, and legal or political documents to help build clients' cases. I also interpreted for client/lawyer meetings. Sometimes this was at the WCL clinic, sometimes they were held in Mt. Pleasant, and sometimes they were over the phone or on Skype. Interpretation sometimes also required sight translations of documents, and helping clients fill out paperwork.
What were some of the biggest challenges you faced?
The biggest challenges were the emotional tolls of wanting to get everything perfect, and also learning about the difficult experiences of clients, while fulfilling the professional role of an interpreter. I often was very nervous about meetings with clients beforehand, because I was worried I might not understand their accent or certain vocabulary terms. It was also a difficult role of having to be very precise and humble, because any mistakes I did make had an effect on other people, not just myself. There was an emotional fatigue to interpreting and learning about the difficult experiences of many clients. It was rewarding to be helping, but also hard to deliver bad news to clients, or to be worried about what their legal and personal outcomes would be. It was a learning curve to remain stoic on the outside, and having to mold into the role of an interpreter, which often felt unnatural.
What was most rewarding about the experience?
The most rewarding aspect was using my Spanish language skills for good. It made me really proud to know that I could use my second language to have a positive impact on peoples' lives, and that learning Spanish brought me an experience I otherwise never could have had. I enjoyed learning about clients' cases, and what goes into the legal journey for asylum, refugee status, or even proper wage compensation. The human connection made interpreting extremely meaningful, and it gave urgency to translating news articles and documents, since I knew they were building a better possible future for that client. It was also fun to take what I had learned in class and apply it to the real world, and I was amazed by how much we learned in class actually really did apply in the work.
Did the experience foster your interest in translation/interpreting professionally?
Translating and interpreting are super hard, but I found interpreting especially meaningful, and I gained a huge amount of respect for professional interpreters/translators. While I don't think I would want to be an interpreter as a long-term career path, I do feel more qualified now to do it as a job, and it could be such a cool way to get to live and work in Spanish-speaking countries. I don't want to be an interpreter forever, but I would totally do it again to supplement travelling. I also think I will utilize my skills in translation in my career. If I am ever publishing any writing, I want to translate it into Spanish as well, to reach the wider Spanish-speaking audience.
What surprised you about the experience?
What surprised me was how hard interpreting and translating is. I gained so much respect for the skills that professional interpreters and translators have to be able to switch between languages accurately.