Alumni
Spanish MA Alum Wins Grant to Help Latino Community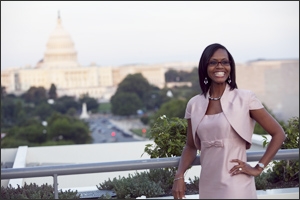 AU alumna Lanaea Featherstone's friends call her "Latina in the heart." "I really do love the people, the culture, the music," she says. When she moved to Baltimore about 11 years ago, she got a job at the International Center for Journalists, which sent her around the world to organize media training programs. She traveled extensively through Latin and Central America, where her appreciation deepened.
Featherstone enrolled in a master's program at AU to learn more about the history of the countries she'd visited. She graduated with a master's in Spanish and Latin American studies in 2006. In 2008, she and her husband started the William & Lanaea C. Featherstone Foundation, a nonprofit that addresses the needs of Latino immigrants across the country and provides resources and travel grants for underprivileged youth to travel abroad. Her husband was the one who encouraged her to start the organization. "When I was running community projects in Baltimore, I was doing so on small grants as an individual," she says. "He said, if you want to have a lasting impact in the community, you should start a nonprofit."
Recently, Featherstone's foundation won a $60,000 grant from the Open Society Institute - Baltimore to design and implement computer literacy classes for Latino immigrant parents. "The institute was looking for social entrepreneurs that could tackle critical issues in low-income communities in Baltimore," she says. "These classes can help the Latino immigrant adult population get better paying jobs and support their children academically."
The classes will be held at the Patterson Park Public Charter School, which is her partner on the grant. The nonprofit will run three six-week classes on Saturdays that will serve 65 Latino immigrants and 30 children. "We'll teach them how to build resumes, use the internet and Microsoft Office, search the Internet for job opportunities, sign up for email, and use Skype so that they can talk to their relatives abroad," Featherstone says. Participants will also be paired with mentors from the Hispanic business community.
The last time the foundation ran these types of classes, Featherstone discovered that 70 percent of participants didn't have an email address. "We also found that the children of immigrants generally know how to use computers, but this generation of adults didn't learn to use them formally," she says. "They may have access to a smartphone, but the concept of using a computer is different. We're helping them to connect all of the dots."
At the end of the six-week course, participants attend a closing ceremony and receive certificates of completion and their own refurbished computers. They also get first crack at job openings at the Featherstone Foundation's partner organizations. "Some of these groups are looking to hire Spanish speakers, and program participants will get first dibs at these jobs," says Featherstone.
She is beyond grateful to the Open Society Institute - Baltimore for the grant. "They're investing in me and in the Latino community," she says. "The fact that they're investing early in people who are trying to make positive changes in the community is commendable."
The hope is that the program changes the lives of its participants. "Once you get the skills you need, you're empowered," says Featherstone. "There are so many obstacles in Latino communities, including the cost. My goal is to eliminate barriers and present opportunities for success, to enable Latinos to pursue the 'American dream.'"
Featherstone makes a point to acknowledge the importance of her time at AU. "It's one thing to be passionate about a community, but to also have the background and to know what's going on in their home countries is a real asset," she says. "I'm grateful for that."