On Campus
Writing the Taboo: An Evening with Playwright Ismail Khalidi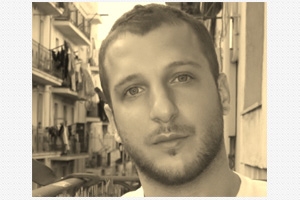 Join the Arab World Studies program on 7 March 2013 in the Hughes Formal Lounge* for an evening with Ismail Khadili!
A discussion with Q&A about the craft of play-writing will begin at 3:00 p.m. Note: RSVP is required as there will be limited seating: http://bit.ly/XZdydi.
A brief break with catered snacks will follow at 4:30 p.m. At 5:00 p.m., Khalidi will give a reading from his published works. This portion is open to all and does not require an RVSP.
This evening promises a thoughtful discussion on the intersections of politics and play-writing, as Ismail will discuss his past works and the difficulties of bringing taboo subjects into US theaters.
Ismail Khalidi is an award-winning playwright. Tennis in Nablus premiered at Atlanta's Tony Award-winning Alliance Theater in 2010. His other works include Truth Serum Blues (Pangea World Theatre) and Final Status. A former board member of the Friends of the Jenin Freedom Theatre and a current Policy Member at Al-Shabaka, Khalidi's other writing has appeared in Mizna, The Daily Beast, American Theatre Magazine, The Nation, and The Atlanta Journal Constitution.
*Hughes Formal Lounge is located in the Hughes Building, opposite the Kogod Building — see AU Campus Maps.